If you happen to notice a deeper than normal camaraderie between the characters of Tunny and Johnny in Keegan's upcoming production of American Idiot, it's no coincidence. While the characters are best friends in the play, their portrayers – Hasani Allen and Harrison Smith respectively – share the same distinction in real life.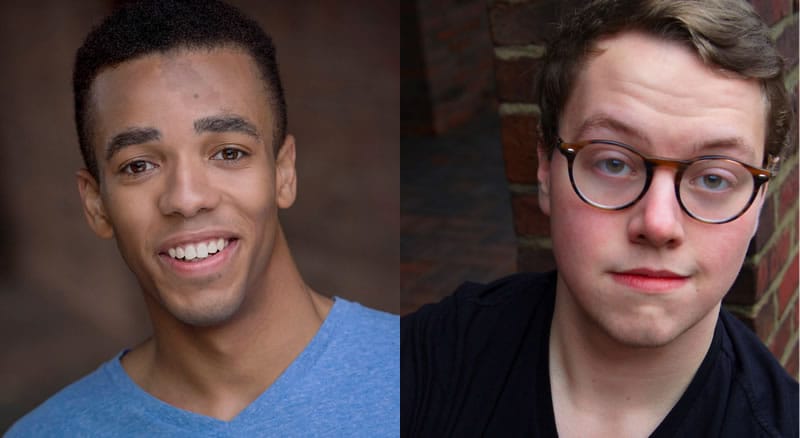 "We're roommates and best friends," Allen says. "This production marks our fifth show together, so we have a bit of an established partnership."
Both current musical theater majors at Catholic University, the two met when they were both called back for the same role in the school's production of Carousel.
"We hit it off pretty well and ended up being good friends and buddies," Smith said. "We ended up playing best friends in that show and our friendship escalated. We have done five shows together overall, and we almost always wind up playing friends."
And while the two may be close in age, they have different appearances, but that doesn't stop casting directors in the area from usually pitting the two against each other for roles. While it might be awkward to constantly be up against your best friend for a part, both young actors take it all in stride.
"We're not too worried about competition and we never try to plan ahead about parts," Allen says. "We go into auditions separately and it's really funny we get called back often for the same role."
Whoever hasn't gotten a part, gets cast in another role anyway, so it's worked out nicely for both so far.
"Being on stage together with your roommate, I liken it to having a teammate you've played with for a long time. If you're going to pass the ball to a certain spot, you know they will be there for you and you don't have to think about it," Allen says. "Knowing each other so well, we can hold each other accountable and we're each other's biggest motivators."
When rehearsal is over, the two will go home and discuss the show and the roles they are playing, and do what they can to make it better.
"We are always discussing what we can do to further the relationship in the show and dissect characters deeply," Smith says. "It's allowed our roles on stage to become so much richer with all the different aspects of our friendship. We understand each other so well. We know how each other thinks and how each other works."
And if one of them is having an off day or perhaps isn't paying attention on stage, the other will speak up.
"In Carousel we were doing a scene and I got sidetracked and Harrison could see I wasn't focused and he—in character—slapped me to get my attention and I was immediately back in the scene," Allen says. "We keep each other grounded."
With a book by Green Day's Billie Joe Armstrong and Michael Mayer and lyrics by Armstrong, American Idiot tells the story of three lifelong friends who are grappling with the decision to either challenge the status quo and break out of their aimless rut or to remain in the safe confines of their suburban existence. Their quest for true meaning in a post-9/11 world leads them on a journey of self-discovery, heartache, and revelation.
The show was nominated for a Tony for Best Musical in 2010, and won the Grammy Award that same year for Best Musical Show Album.
Neither performer knew much about the musical going in, although both were familiar with the music of Green Day. Allen had listened to the band for years, and Smith had seen a documentary about the making of American Idiot when he was younger, and was a fan of punk music growing up.
Popular Green Day tunes such as "Boulevard of Broken Dreams," "Wake Me Up When September Ends" and "When It's Time" pepper the musical, but you don't have to be a fan of the band to enjoy the show.
"It's a very strong character piece," says Allen. "Tunny is a very interesting character. He's a poet and artist, and he's not afraid to say how he feels at any point. He's a lost character who doesn't know where he belongs and spends most of the show trying to find his niche and what will give his life meaning."
Johnny, on the other hand, has a sort-of reverse journey, according to Smith.
"He runs away from this suburban wasteland and to escape the way that everyone's apathy has sort of fueled his own," he says. "So he goes to the city only find much of that same apathy and tries to fill the voids in his heart with all these things: drugs, women, music, etc only to find out that if he isn't comfortable with who he is and what the sum total of his life amounts to then he will never be satisfied. Ultimately, he comes home with that sense of clarity that he has to own his life and his experiences or else life will be wasted away."

AMERICAN IDIOT
March 12 – April 9
Keegan Theatre
1742 Church Street, NW
Washington, DC 20036
Tickets: $45 – $55
Details
Tickets


———————
Smith finds it interesting that the events of the play—which take place circa 2004—are very similar to what young people are facing in a 2016 world.
"You look around and see the presidential candidates and every way you go seems a little scary," he says. "I think both characters are at an age where the world is much larger than their backyard. There's adventure but also fear of the unknown. One of things we discuss in the show is the feeling of being trapped by yourself and your choices and how you find that freedom and express yourself and fit into the world. I think people are dealing with that a great deal today."
American Idiot runs March 12 through April 9. Mark A. Rhea and Susan Marie Rhea share directing duties, Jake Null serves as musical director and Rachel Leigh Dolan is choreographing the show.
After American Idiot is over, the two will re-team for their sixth production in 1st Stage's production of Floyd Collins this June. Allen is playing Fredrick Jordan, while Smith takes on Jewell Estes.
"We're both finding great opportunities here and are meeting a lot of people and having fun," Smith says. "We have our dream list of other roles we'd like to play—we'd love to be Melchior and Mortiz from Spring Awakening."