While, for many of us this election cycle is fraught with drama, there are clutches of writers around the country cheering every twist, failure and faux pas. Yes, it is playing into the hands of America's comedy writers. And to take their measure, we contacted DC's own year-round political comedy revue troupe, the Capitol Steps and were turned over to comedy writer and founding member, none other than Elaina Newport.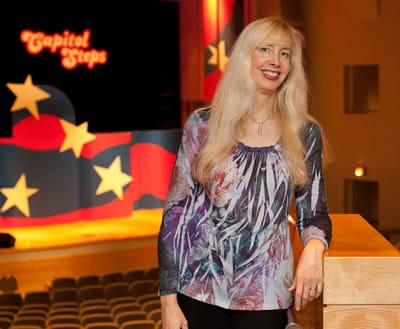 DCTS:  This election cycle might be terrifying for some of us, but a feast for Capitol Steps writers.  Right now who is comedy gold for you?
Elaina Newport:  We have a saying – "What's bad for the country is good for the Capitol Steps!"   When we first started, back in 1981, we worried that the politicians would suddenly get quietly competent and solve all the problems.  We worried about that for, maybe, five minutes.  Then we realized we'd always have material.  Right now, the funniest is Trump, but the challenge from a comedy standpoint is keeping up with him.  We're re-writing every day!
DCTS:  Do you have actors who specialize in playing Trump, Clinton, Sanders, Cruz, etc? 
EN:    Yes, we have actors who have been playing all of those characters.   It's really fun to see them hone their impressions as the race continues.  Trump, of course, is very much about the hair, although it was a challenge for our prop department to find a wig that bad!  And it's also in the writing.  You have to work in the word "loser" a lot.  For Bernie, it's the cranky old man who keeps ranting about the one percent and who also can't understand why his VCR has been blinking 12:00 for the past 25 years.
As for Hillary, the women in our cast are very excited about Hillary because they would love to play the president.  But on the writing side, we are excited about Hillary because it would give us lots of jokes about Bill as First Lady!
We have several people who play these roles, but the people who play them most frequently are:
Trump:  Kevin Corbett, Jamie Zemarel, Brian Ash, Mike Thornton
Hillary Clinton:  Janet Gordon, Tracey Stephens, Ann Schmitt, Emily Levey, Jenny Corbett
Bernie Sanders:  Jack Rowles, Mike Carruthers, Brad Van Grack, Evan Casey
Some of the Trump and Sanders guys also double as Cruz (wig change!)
DCTS:  How much time do they have to learn new material?
EN:   Sometimes the actors have very little time to learn a new song.  The most extreme example of this that I can recall is the day the new pope was elected.  We saw the white smoke, and we had no idea who this new pope was, except that we heard he was from Argentina.  So, we took the song "Don't Cry For Me, Argentina," re-wrote it about the pope, and hurled it on stage THAT NIGHT.  The performer, Evan Casey, had about four hours to learn it.  Of course, it helped that we already had a pope costume!

THE CAPITOL STEPS


Ongoing
Ronald Reagan Building
1300 Pennsylvania Ave NW
Washington, DC
Tickets: $40
Fridays and Saturdays
Details and Tickets
Check for discounts
or call (202) 397-SEAT

DCTS: 
What new material are you working on for this weekend?
EN:   Our newest song is a finale based on something I read in the news last week.  It said that one of the mostly frequently-Googled phrase after Super Tuesday was "how to move to Canada."  Seriously!  So I took "O Canada" and wrote a song about that.
DCTS:  Who's funnier – the Democrats or Republicans?
EN:   The party in power is always funnier.   But for the past few years, with the White House having a Democrat and the Congress being controlled by the Republicans, we've had the best of both worlds.  And now, with the election…well, let me just remind you that at one point last fall we had more than 20 announced candidates for President.  There were so many that we had to write an opener called "76 Unknowns" in order to put all of them in the show.
DCTS:  What song has been getting the biggest audience reaction lately?
EN:   Oh, that's hard.  The audience loves seeing the return of Sarah Palin endorsing Donald Trump.  They really like Bernie singing "If There Were No Rich Men" [hear it here].  And they love our Vladimir Putin song, but that might be because he performs shirtless.
DCTS:  In terms of four years of funny, who do you hope wins the election?
EN:   In terms of funny, we can't lose!  I think right now Donald Trump is the funniest, but I remember a cautionary tale from our past.  In 1996, Bill Clinton was running against Bob Dole.  And Bob Dole was very funny, and Bill Clinton hadn't had his Monica scandal yet.  So, we were thinking that Bob Dole was the better outcome from a comedy standpoint.  Boy, were we wrong!
DCTS:    How long have you been writing for Capitol Steps?
EN:   Since 1981, when we started.  That was the early days of Ronald Reagan.  I think my first song suggestion was a song about his Secretary of the Interior, James Watt, called "Mine Every Mountain."  And I had an idea for Reagan, who wasn't known for his long work days, which was "Workin' Nine to Ten."
DCTS:  Is this your fulltime job?
EN:   Yes.  I did this part-time while also working on the Hill.  After a few years, the Steps started traveling more…and they started to notice I wasn't showing up as much for my Hill job.  So, I had to pick.  And basically I ran away and joined the circus!