Baltimore's Center Stage will kick off the 2016-2017 back in its Calvert Street home after a $28 million renovation with a production Les Liaisons Dangereuses, Choderos le Laclos' tale about competitive rutting among the aristocracy. The Marquise de Merteuil and her ex-lover, the Vicomte de Valmont, joust to see who can seduce more innocents. After that, the bad things happen. From November 26 to December 23 of this year, this Christopher Hampton adaptation will be directed by Hanna S. Sharif.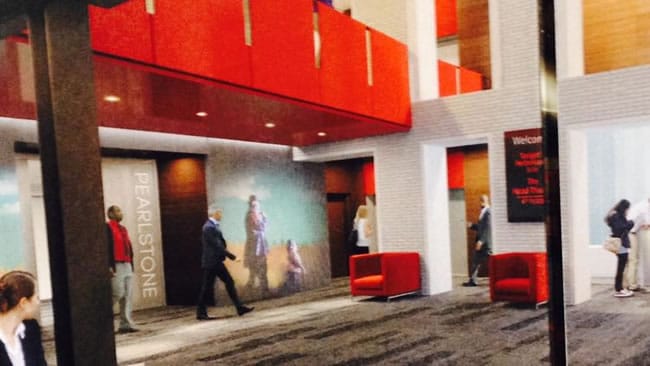 With the new year will come the formal dedication of the new Center Stage space, including a major redesign of the Head Theater, a new 99 seat theatre and new entrance and lobby. The Head Theater will be configured flexibly to accommodate a maximal variety of productions, and the Deering Lobby will include a full (and fully stocked) bar. The renovated space will also include classrooms, and redone cafes and bars, restaurant spaces and remodeled restrooms.
The White Snake, Mary Zimmerman's adaptation of an ancient Chinese fable, will be the first beneficiary of Center Stage's revitalized space. This is the story of a supernatural snake that turns into a maiden and, in that form, meets a poor, honest man. She leaves her serpentine past behind to live with her beloved until an evil "holy man" becomes the snake in the garden. Ken Jaworowski of the New York Times calls The White Snake, " a play that doesn't want a single scene to whiz by without a wow from the audience. More often than not," Jaworowski observes, "this bold show…sparks that kind of excitement." The White Snake will run from February 24 to March 28, 2017. Natsu Onodu Power directs.
Twisted Melodies, Kevin Roston's one-actor exploration of the brilliant, tormented musician Donny Hathaway (probably most noted for "Where is the Love" with Roberta Flack) is next. Hathaway was unquestionably a creative force, but he was also a paranoid schizophrenic who leaped to his death in 1979. Lawrence Bommer of Chicago Theater Beat called Roston's play "explosive." From March 17 to April 18, directed by Derrick Sanders.
Center Stage will close its season with a world premiere adaptation of the Toni Morrison novel Jazz, in which a 1920s Harlem couple confront and experience violence and tragedy. Morrison wrote her novel in a style and rhythm which reflects jazz itself, so it will be interesting to see how adapter Nambi E. Kelley and Center Stage Artistic Director Kwame Kwei-Armah, who directs, will approach Morrison's structure. From May 19 to June 28.
Some time in April, Center Stage will perform the dark Polly Stenham comedy, That Face. The play, which Stenham wrote when she was nineteen, tells the story of an alcoholic woman with an unhealthy interest in her thirteen-year old son. That Face won three Olivier Award nominations; Alison Croggin (theatre notes) called it "a play that doesn't want a single scene to whiz by without a wow from the audience. More often than not," she observed, "this bold show…sparks that kind of excitement."
In the Spring of 2017, actor and storyteller Maria Broom (The Wire) will be at the theater. Details are pending.
Subscriptions are available online or by calling the box office: 410.332.0033
To close out this season, Center Stage is getting ready to open Detroit '67 by Dominique Morisseau at Towson University, followed, in May, by a workshop production of a new opera about boxer Joe Lewis, Shadowboxer.