The last time Playwright Motti Lerner, Director Sinai Peter, and Producing Artistic Director Ari Roth got together for a production, they created the controversial play The Admission, which sparked protests, counter-protests, a 2015 Helen Hayes Award nomination for Best New Play and eventually a separation between Roth and his former company, Theater J.
Now that Roth has his own company (the recent million dollar grantee Mosaic Theatre Company of DC), he has brought in Lerner and Peter for a world premiere production of After the War, a thoughtful and morally complicated combination of family and political drama that could serve as both a calling card for the kind of theater Mosaic may produce and a litmus test for audiences to experiment with Mosaic's unique, though still developing, brand of theater.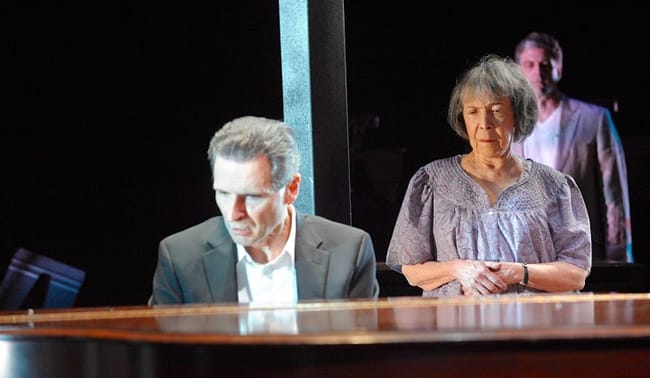 The plot of the play follows Joel (played by Paul Morella with mature angst and tortured defiance), an acclaimed pianist who returns to Israel after 18 years of exile to a combination of welcome and hate for his absence and his very public anti-war, and in some eyes anti-Israel, stance.  The reason for his return is professional and artistic: Joel wants to play a concert at the Israel Philharmonic in Jerusalem. But will his politics prevent his art from taking place? And if it does, will he be able to open his heart and the hearts of those around him with his playing?
Like all powerful political plays, After the War is autobiographically tinged. Joel's predicament has evidently grown from Lerner's own: some of his plays have been reviled  in Israeli newspapers and in the Knesset (Israel's parliamentary body) as offensive and even anti-Semitic. In After the War, Lerner smartly converts this controversy from the abstractly political to the deeply personal, filling Joel's family with archetypal characters who have affecting reactions to Joel's return shaped not only by their politics, but by their desires.
Most welcoming to Joel are his mother, Bella, and her nurse, Trudy. Bella (the spunky Barbara Rappaport) welcomes him in accordance with the long tradition of Jewish mothers, with nitpicky complaints, insistent offers of food, and a healthy dose of the silent treatment. Rappaport's silence is a secret key to her character: not only does she do her best work as a passive thermometer of the emotional intensity of the scenes that she's in, but also as a thermostat, changing the tempo and feeling of situations where she chooses to intervene.
The ever-fierce Tonya Beckman plays Trudy, brash Romanian migrant, a pianist in her own right and object of the sometimes undesired attentions of every male character in the play. She and her ex-husband Bernard (played with charming, comedic, and graceful bumbling by the top class Michael Tolaydo) are outside the family, but, in being so, they can see the pain that Joel has inflicted and the pain that has been afflicted on him, with exceptional clarity. They are exceptionally clear as actors as well, delivering a crucial sense of presence in their bodies as characters in a production that desperately needs these elements.
Least welcoming of Joel are his brother Freddie and his son Izzy. Both characters despise Joel for his politics, but also for his personality and conduct. Freddie (a fiery James Whalen) feels like he was left holding the bag for 18 years while Joel was off galavanting around the world and insulting his home, and Izzy (sharply realistic newcomer Guy Kapulnik) feels that Joel has not only abandoned him as a son but insulted him as a member of the Israeli Defense Forces.
Lerner carefully gives each of these characters faults, though some more than others. Freddie particularly plays the part of blood-boiling chauvinist and antagonizer, which contributes to audience empathy for Joel's anti-war cause, but also speaks to Whalen's talents as an actor for portraying such a hateable character in such an accessible way. Freddie's (and Izzy's) accusations against Joel have the ring of truth, though not verifiable truth. Joel has abandoned his family. He has embarrassed his people by accusing them of war crimes without, perhaps, the fullest of investigation. The nature of these accusations give them a Walter Sobchak air, but their inevitability gives this play needed moral complexity. After the War never becomes an agitprop play against Israeli war policies, just merely one that favors a side in that argument.

AFTER THE WAR



March 24 – April 17, 2016
Mosaic Theater Company of DC
at Atlas Performing Arts Center
1333 H Street NE
Washington, DC 22202
1 hour, 45 minutes with no intermission
Tickets: $15 – $60
Details
Tickets
Check for discounts

And that's what this play feels like at its core: an argument. For Jewish people, argument is not just a way of resolving differences or making decisions, it is a sacred tenet of community. After the War takes that principle to the aesthetic level, anthropomorphizing and distilling positions in the Jewish community on the Israeli conflict into characters that can present those positions in intellectually stimulating ways onstage.
Most potently, this play is built so that argument can be carried from the stage to the audience, to the cafe, to the commute home, to arguments spanning into the future. That powerful intellectual stimulation has been both Lerner and Roth's modus operandi for years, and it is gratifying to see that carry on through Mosaic Theater Company.
But there is an unspoken risk held within that positivity. After the War works well as a platform for the exchange of powerful ideas but still needs growth as an exchange of equally powerful emotions. There were too many times during this play when I was concerned about what some call "neck up" acting and directing, that is, artistic work that focuses on intellectual exchange to the detriment of the connection of bodies: connecting the character to the entire body of the actor, connecting the bodies of the actors to each other, and connecting the bodies of the actors to the bodies of the audience. Without these connections, the emotions of a production can feel unfilled or incomplete, and I see that as a risk with After the War, especially with audience members who may not already be invested in the political issues of the play.
Director Sinai Peter finds ways of mitigating this, but hasn't been completely successful. He has made a few great moments by using Frida Shoham's orchestra-inspired set (upstage, empty chairs with top lit music stands set in a semi circle) to draw focus on Joel in an accusatory way. He has also gotten the ability of some characters to turn on a dime in conversations done with excellent sharpness, showing some quality work with his actors. But he misses many opportunities of integrating the set, so the times when he does take advantage of it, those moments feel lonely.
These issues don't sink this play though. After the War stands as a strong contemporary critique not only of Israeli war policy, but also of Israeli culture and of those who make sweeping pronouncements against Israel. In this way, After the War is a complex journey that explores the intellectual depths of human pain and the struggles of Jewish identity.
I would recommend this play for someone looking for an idea-driven play, someone who wants who wants to engage in a political repartee over coffee or schnapps after the show, or someone who wants to see the conflicts within themselves portrayed smartly on a DC stage.
————————-
After the War by Motti Lerner. Directed by Sinai Peter . Featuring Barbara Rappaport, Paul Morella, Tonya Beckman, James Whalen, Michael Tolaydo, and Guy Kapulnik . Setting and Costume Design: Frida Shoham . Lighting Design: Michael Lincoln . Composer and Sound Designer: Eric Shimelonis . Properties Design: Michelle Elwyn . Production Stage Manager: Allie Roy . Produced by Mosaic Theater Company . Review by Alan Katz.