One of the greatest stress tests imaginable for a couple would be having their only child go missing.  Lauren Yee's in a word focuses on the challenges of a couple with a missing child and the difficulties of communicating long after the tragic event.  The Hub Theatre's regional premiere of this new play slowly builds to a spellbinding reveal of the heartrending backstory, but even an adroit production can't fully compensate for a play imbued with too many distracting elements.
The play is set on the two-year anniversary of the disappearance of Tristan, a seven-year-old boy who is the adopted son of Fiona and Guy.  While Guy is ready to try and move on, Fiona is still unable to work or cry or be with Guy.  She is obsessed with Tristan's old toys and clothes and can't even go out to dinner with her husband.
Fiona (Kerri Rambow) is wracked with guilt about how Tristan was able to slip away from her.  As a result, her memories reflect a distorted reality of Tristan and her feelings for him.  In contrast to her affection and rose-colored recollections, Guy (Colin Hovde) reveals to the audience that Tristan was a very challenging child, one with attention deficit hyperactivity disorder (and perhaps autism as well).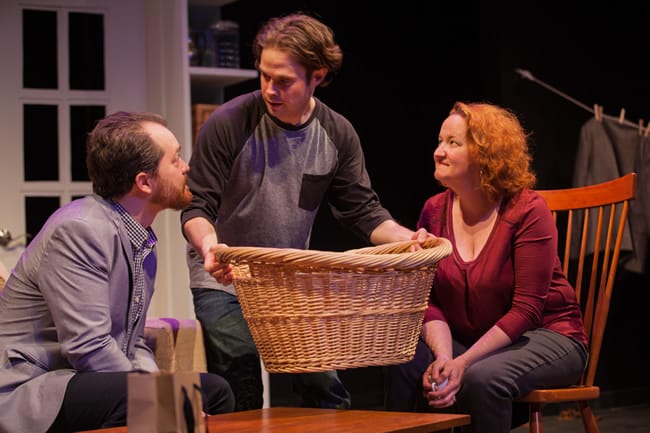 Fiona's damaged mental state leads her to have some imaginary or at least twisted encounters with the possible abductor of her child (at the supermarket where she believes a cantaloupe is an important clue) and with the detective investigating Tristan's disappearance.  Robert Bowen Smith plays Tristan, and all of the additional characters, including the principal at the school where Fiona taught and Tristan attended, and Guy's drinking buddy Andy who played a role in Tristan's adoption.
Kerri Rambow gives a textured, powerhouse performance as the guilt-stricken mother.  She is torn both by the guilt over Tristan's loss and her mixed feelings about a boy who she describes with great understatement as a "handful."
Colin Hovde gives a realistic portrayal of a decent husband so frustrated with his wife's withdrawal that he questions whether to continue honoring his marriage vows. Robert Bowen Smith is at his best as Tristan, especially when demonstrating the boy's stubbornness and tantrums.
Playwright Lauren Yee is concerned with the problems people have communicating.  At its mildest, the play makes her points subtly (such as an unopened letter from Tristan's birth mother or the argument between Fiona and Guy whether they "have" or "had" a son). Words are often repeated and misunderstood (e.g., a "leave of absence" becomes a "leaf of absence" and ultimately morphs into a "tree of absence").

in a word



April 1 – 24, 2016
The Hub Theatre
at  John Swayze Theatre
The New School of Northern Virginia
9431 Silver King Ct
Fairfax VA 22031
1 hour, 20 minutes, no intermission
Fridays thru Sundays
Tickets: $30
Tickets
Check for discounts!
———————
At the start, the play seems a little artificial and disconnected. Gradually the significance of some words and events come into focus.  As the more fantastical and symbolic elements are put aside, the work becomes stronger.  Had the playwright put more faith in her story and her talent instead of adding too many absurdist distractions,
in a word
could have realized throughout the potential shown when the story of Tristan's disappearance is finally revealed.
The scenic design is a well-suited mix of reality and abstraction, and the lighting and sound design conjures up the memories of the absent child and the flashbacks.  The direction is tightly focused and hits the various notes on the reality scale prescribed by the playwright. Indeed, all of the artistic elements of the production combine to make the story at least interesting even if initially less engaging.
In the play Guy says the word that most describes Tristan is "difficult" even as he hastens to add that there's nothing wrong with that.  in a word is a difficult play that be riveting but also frustrating, both in the set up and an ending that may be a little too neat.  The Hub Theatre gives it a fine production but does not solve the difficulties inherent in a play that tries a little too hard to be clever.
———————–
in a word by Lauren Yee . Directed by Matt Bassett . Assistant Director: Doug Robinson. Featuring Kerri Rambow, Colin Hovde, and Robert Bowen Smith.  Scenic Design: Betsy Zuck, Associate Scenic Design: Johnathan Robertson. Lighting Design: Catherine Girardi.  Composer and Sound Design: Patrick Calhoun, Associate Sound Design: Reid May. Costume Design: Maria Vetsch. Props Design: Deb Crerie and Kay Rzasa. Stage Manager: William Pommerening.  Produced by The Hub Theatre.  Reviewed by Steven McKnight.