I'll get right to it: For all the big-time awards bestowed upon it and its marketing promising profound discoveries at the end of an artful journey, David Auburn's Proof is puzzlingly flat.
The production of Proof currently at 1st Stage, directed by Alex Levy, is tender and well-acted but subdues any resonant takeaway for the audience, whether emotional or intellectual.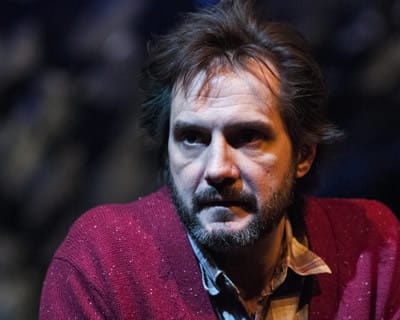 The four-character porch-set play – which won the Pulitzer Prize for Drama and the Tony for Best Play in 2001— is obviously not meant to move you with mathematics. The Proof of the title I assumed was meant to serve double duty as a mathematical formula key to the plot, but more importantly as an insight into the relationship of the characters.
The plot device is surprisingly hammy and the more important character revelations just don't surface in any compelling way. This being my first viewing, I was able to take it all in fresh, ready to be jolted by twists and turns, impressed by clever wordplay and moved by something insightful. Perhaps I was expecting too much, but considering the play's pedigree, there I was.
Proof tells the story of Catherine (Katrina Clark), a young woman who's spent the last several years caring for her increasingly mentally ill father Robert (Ray Ficca), a celebrated mathematician. Now he' has died and over the long weekend that includes Robert's funeral, Catherine interacts with her older, snooty sister Claire (Liz Osborne), just flown in from New York with plans to uproot her, and Hal (Sam Ludwig), a former student of her father.
Presented out of chronological sequence, the scenes provide the audience with pieces of information that tie together to form the whole: Catherine, a, gifted mathematician herself, gave up her schooling to care for her father; like many 25-year-olds, she feels lost and apathetic, and exhibits signs of depression; she may also be extraordinarily brilliant.
When a once-in-a-generation mathematical proof is discovered in the house, you may anticipate that Catherine will have to "prove" its authorship—but no, it's given a light treatment.
And because the play's marketing pushes the idea that Catherine will be drawn into confronting the issue of her own mental instability, a truly terrifying exercise, viewers may think this is where the heart of the drama will pulse—but they would be disappointed. It's only unsatisfyingly alluded to when Catherine converses with the memory of her father (not unusual at all in a play about a recently departed parent) and via the machinations of her sister who finds Catherine's tendencies to sleep and mope around distressing enough to warrant professional help. OK, she's been caring for a mentally ill parent who just died, and a little counseling is understandable, but it's never really evident that she's dealing with an inherited mental disease or even the fear of it.
So I don't really know where Proof's thematic through line lies. And I couldn't ascertain any original drama. Ultimately, the play is a mild story of family relations (with nothing new to add) and a somewhat more-interesting character sketch of a young woman who suppresses her genius. But why? Is she afraid to become like her father? Maybe.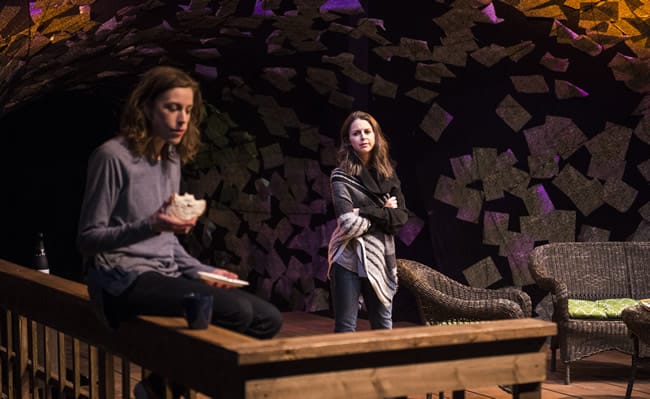 Levy matches the script's naturalism in directing the actors. The interactions between the four performers are conveyed with an easygoing comfort and honesty, whether it be the scenes between Clark and Ficca, which portray their closeness, or between Clark and Osborn, which depicts the nettles between sisters but also the caring, or between Clark and Ludwig, who tread softly into a sweet understanding.

PROOF



March 31 – May 8
1st Stage
1524 Spring Hill Road
Tysons, VA 22102
2 hours with 1 intermission
Tickets: $15 – $30
Fridays thru Sundays
Buy tickets
———————
Clark ranges throughout the play, and nearly always believably, as Catherine emerges from the cocoon of her circumstances into a hopeful, bright future. She goes from caustic and sullen after Robert's death, to sweetly opening up in her burgeoning relationship with Hal, back to angry when provoked, and around again as she begins to follow the breadcrumbs out of her self-imposed isolation.
As Hal, Ludwig is genial and sincere. And Ficca imbues Robert with the booming personality of a renowned academic and the poignant conscience of an ailing father who makes it a point to jot down when he's had a good day with his daughter.
But the honest, intimate acting can't save this one. Proof was a disappointment. I thought for sure there'd be more to it than what I found. The acclaim the play has received only makes sense if the last 100 years of drama had never occurred. Proof contains nothing new, and what there is here exists in a higher form elsewhere.
———————–
Proof by David Auburn. Directed by Alex Levy. Featuring Katrina Clark, Ray Ficca, Sam Ludwig and Liz Osborn. Set and Costume Design: Kathryn Kawecki. Lighting Design: Robbie Hayes. Sound Design: Neil McFadden. Props Design: Deb Crerie and Kay Rzasa. Produced by 1st Stage. Reviewed by Roy Maurer.