In this mesmerizing, dreamlike, must-see GALA adaptation by Jorge Alí Triana of Gabriel Garcia Márquez' masterpiece novella, Chronicle of a Death Foretold/Crónica de una muerte anunciada, one hour and fifteen minutes feels as if we live through several lifetimes of human experience.
As we take our seats, a sense of impending violence is overwhelming: a raw side of beef carcass, white ribs showing, dangles from a hook, over a semi-circle of bare laths of wood. Tiers of odd blood-red orbs, that seem symbolic, rise against the upstage backdrop. A crudely built arena of fence posts and white stones form a bullring center stage, that could serve as an arena for gladiators. Downstage, red stains bleed onto the bare floor. Something bad is going to happen.  (Set design by Elizabeth Jenkins-McFadden)
The original novella, first published in 1981, is considered one of  Márquez' most powerful, if not puzzling, in his canon of literary masterpieces that crowned him the Nobel Laureate in Literature in 1982. And here the adapted novella is breath-taking and terrifying to watch.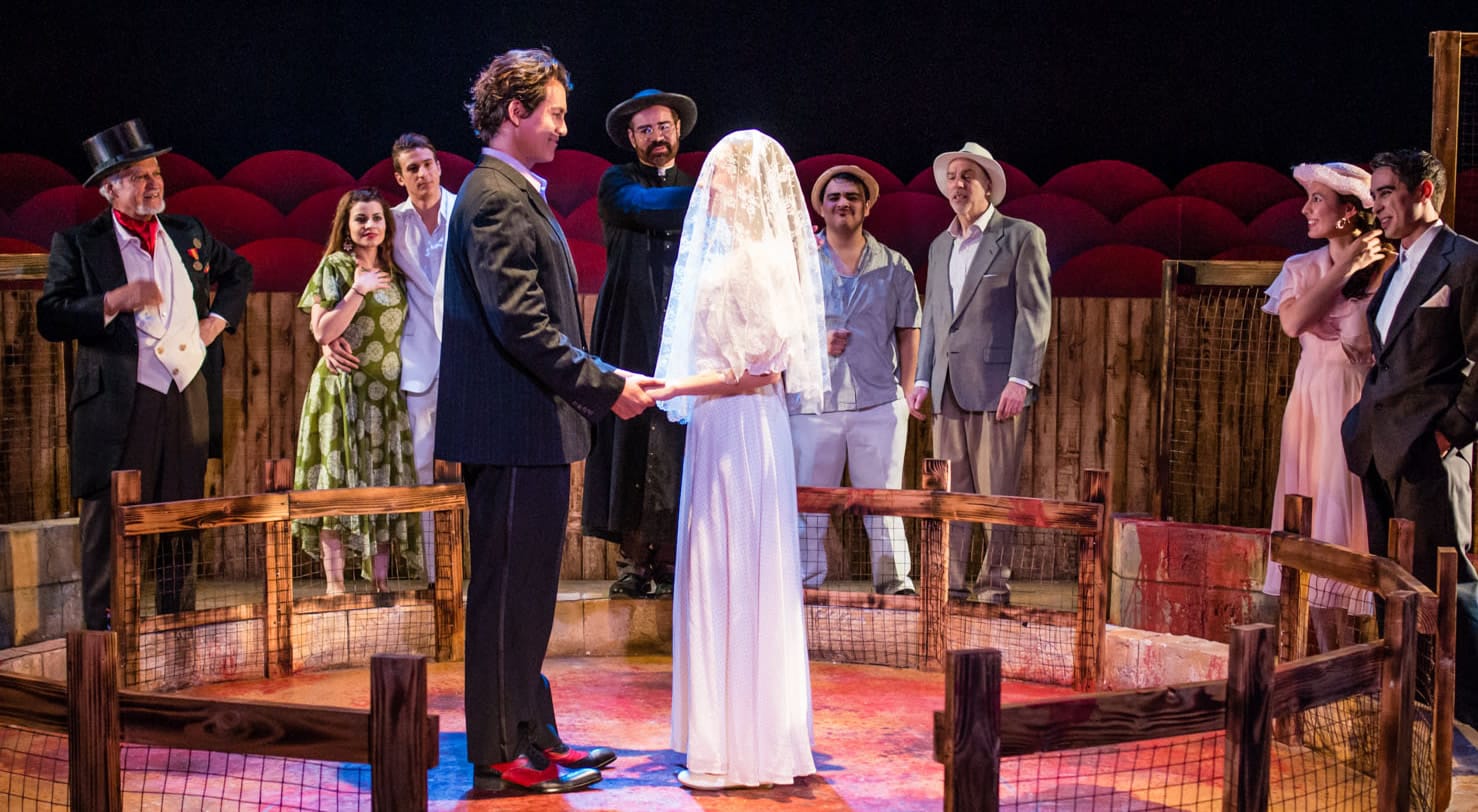 Here's the story, based on a true event that took place in 1951: Angelo Vicario, (Inés Domínguez del Corral), a beautiful small town girl, in a lavish ceremony, is married to a wealthy bridegroom, Bayardo San Roman (Erick Sotomayor). On their wedding night, after Bayardo discovers Angela is not a virgin, he returns her to her mother's doorstep. Pura Vicarío (Marta Cartón), Angela's mother, beats her until the shamed bride points to Santiago Nasar for deflowering her. Based on Angela's hearsay evidence, her twin brothers, Pedro (José González) and Pablo (Edwin R. Bernal) announce to just about everyone: "We are going to kill Santiago Nasar."
What is most jarring is that this non-linear mystery, that jumbles together past, present and future, is also revolutionary. We know what's ahead from the first line, repeated throughout like a refrain:  "On the day you will be killed, Santiago Nasar, you will rise at 5:30 in the morning,…." The narrator, who plays the role of a Coro or chorus, drones to Santiago Nasar, (played by Nicolás Carrá,) standing in the center of the arena, dressed in a stunning white suit. We learn in the first scene who the murderer is, why and how the act is committed, how slaughtering knives for pigs, sharpened and gleaming, are the murder weapons. Yet at the end, nothing is solved. The classic mystery whodunit is overturned. A profounder mystery remains. Why didn't one of the townspeople, who heard the gossip about revenge and honor, stop the brutal savagery from happening?
Marquez appears to delight in the multiple ironies illustrating the absurdity of human behavior: But there's a second big question imbedded:  Why doesn't Angela use the trick to fake virginity on her wedding night? That is, stain the sheets with mercurochrome. "Most women lose their virginity in childhood accidents," one townswoman tells Angela. What the husband sees on the bed sheet is what's important. Keep up appearances. If the sheet has blood on it, she's a virgin. If not, she's an impure, violated woman, an outcast woman of shame. But Angela, who behaves as if guilty, claims she didn't think it honorable to betray an honest man.(Is this another jab at misplaced faith in honor codes?) And in this fusion of chronology, we see the future.
After the murder of Nasar and the conviction of the twin brothers, Pedro and Pablo, Angela falls in love with Bayardo and she faithfully writes him letters every week for 17 years until he returns them to her unopened. It is as if, for acclaimed Nobel Laureate Márquez, there is no Hollywood ending. He mixes in harshly realistic satire of the romantic epistolary novel as well.
So what's this drama all about? It could be Marquez' revulsion against the antiquated, primitive honor codes: Women must be pure at the time of marriage. If not virgins, women are cursed, branded as unclean, like meat unsafe for consumption. (Remember the Sor Juana play, House of Desires/Los Empeños de una casa, in 2015, in which an un-chaperoned woman is forbidden to be alone with a man.). Chronicle of a Death Foretold can be seen as Márquez' satire of the same biases found in rural Colombia, as depicted in Spanish Golden Age honor dramas.
So how does director José Zayas stage this masterpiece? The versatile actors play multiple characters who hover on the rim of the arena like a Greek chorus voicing eerie warnings. Kudos to Karen Morales, Manolo Santalla, Cecilia De Feo, Roberto Colmenares, and others who play multiple characters.
But one  menacing moment that takes center-stage is vividly created when Edwin R. Bernal and José González as the armed-with-knives twins, Pablo and Pedro Vicario, like two bulls ready to charge, are spotlighted in the center-stage bullring. The twins flaunt and sharpen their large swords, used for butchering animals, in the side pens, out in the open marketplace, announcing publicly the murder of Santiago Nasar. Yet, Clotilde Armenta, the owner of the milk shop, (Lorena Sabogal, who portrays four different women,) opines: "They are not eager to carry out the sentence; what they want is to find someone who will do them the favor of stopping them,…." With a variety of excuses, at times humorous, no one stops them or manages to warn Nasar.
Carlos Castillo, in a soothing portrayal of Padre Amador, delivers some dark comic relief, when during the autopsy of the eviscerated corpse he holds up a religious medallion that Nasar swallowed as a four-year-old.
What is effective in this staging is the sense of collective guilt on the part of the townspeople for allowing the murder to take place, based on hearsay evidence from Angela. For example: Even though supporting characters speak as individuals, the actors work in unison like a single unit, a Greek chorus. At one point, the actors writhe together, as if in pain, to cleanse themselves of the stench of Nasar's corpse. The writhing seems to represent the hangover of guilt. Yet, individual voices are heard.  Everyone has excuses for not warning Santiago. "I was so drunk, I couldn't remember anything," says Luis Enrique (Chema Pineda-Fernández). The story is much more universal than poking fun at outdated honor codes. It's an indictment of  the townspeople, and of human nature.

CHRONICLE OF A DEATH FORETOLD



April 7 – May 8, 2016
GALA Hispanic Theatre
3333 14th Street, NW
Washington DC 20010
1 hour, 15 minutes
Tickets: $38 – $42
Details
Tickets
Check for discounts
——————— 
There isn't a gesture or dance step wasted under José Zayas' direction as we learn what has happened in the past. How the arranged marriage between rebellious Angela and acquisitive Bayardo is based on money, power, and class, not love.
"You can learn to love him,"
Angela's mother Pura Vicario (Marta Cartón) tells her daughter. Although Angela has no alternative but to conform, an illusion of connubial bliss in the consummation of marriage scene is staged for Angela's and Bayardo's wedding night, in an exquisite modern dance routine, choreographed by Katie Bücher, and danced by Inés Domínguez del Corral as Angela and Erick Sotomayor. For an intense, beautiful moment we believe everything is going to be all right and end happily.
William K. D'Eugenio does a superb job with sound design, filtering in grotesque sounds throughout to great effect. When Bayardo discovers there is no blood stain on the wedding sheet, and he slaps Angela, there is a weird sound as if from a wind tunnel. Also, at apt moments, there are Biblical echoes of Peter betraying Christ with the crowing of roosters representing the hypocrisy of the town's people.
If everyone is to blame then no one individual is to blame. The character Victoria Guzmán (solidly played by Lorena Sabogal), has a personal motive for wanting Santiago killed. But as in Lope de Vega's Fuente Ovejuna, when villagers act in unison, collective guilt replaces individual guilt. The town of Fuente Ovejuna is absolved of criminal wrongdoing by the King and Queen of Spain because the commander was a brutal tyrant and deserved to die. In Chronicle of a Death Foretold, the situation is more complex. The brothers feel justified to kill Nasar because they're defending family honor. But the murder is based on hearsay from Angela, who is never seen together with Nasar. One of the most puzzling lines of dialogue comes from the chorus of townspeople: "You will die without understanding why." There is lingering doubt about Nasar's guilt or innocence in violating Angela's virginity.
As presented,  in this hypnotic GALA production, Chronicle of a Death Foretold is an exploration of and revelation about the human character, the darkest region of the human soul. The willingness to go along, to conform. To not speak out to stop the murder foretold.
Note: I urge you to read the original novella for its masterful buildup to a gruesome and horrific climax, that is not quite captured because of the limitations of staging.
—————-
Chronicle of a Death Foretold/Crónica de una muerte anunciada by Gabriel Garcia Márquez, adapted by Jorge Alí Triana. Directed by José Zayas. Featuring Nicolás Carrá, as Santiago Nasar, Inés Domínguez as Angela Vicario, Carlos Castillo, Cecilia De Feo, Lorena Sabogal, Erick Sotomayor, Oscar Ceville, Roberto Colmenares, Karen Morales-Chacana, Manolo Santalla, José A Alvárez González, Chema Pineda, Jessyka Rodríguez, Marta Cartón as Placida and Pura and Edwin R. Bernal. Set Designer: Elizabeth Jenkins McFadden. Light Design: Mary Keegan; Sound Design: William D'Eugenio, Choreographer: Katie Bücher; Fight Choreographer: Jonathan Ezra Rubin . Costume and Properties Design: Alicia Tessari. Stage Manager: Lynda Bruce-Lewis. Technical Director: Rueben Rosenthal. Produced by GALA Hispanic Theatre .  Reviewed by Rosalind Lacy.