Maryland Ensemble Theatre's original Oedipus Rox!—based on Sophocles' Oedipus Rex—is filled with cosmic design and some rockin' operatic heights, but it's a tragicomedy that has difficulty finding the right balance of laughter and tears or capturing in its pacing the wonderful mania its set, costume, and song lyrics project.
Oedipus (also known as Eddie and played by Jack Evans) solved the perplexing riddle of the Sphinx, giving him rule of Thebes and the hand of Queen Jocasta (Jo for short and played by Julie Herber) shortly after the death of the beloved King Laius. Thus, he fulfills a rather disturbing prophecy: that he will kill his father and marry his mother. It's the most infamous tale of incest this side of the sun. Truly, National Enquirer ready. Which makes it a juicy choice to update with rock riffs and glitter.
"Oedipus, we know something you don't know," the Chorus sings as Rox! opens, reminding the audience that uncovering this truth will be Eddie and Jo's demise, "but we're gonna tell you anyway." It's a clever, and rather catchy, refrain.
Eddie is a bit of a dick—a vulgar drunk with a remarkably fragile ego on the verge of a psychotic break and who enjoys antagonizing his straight-as-an-arrow brother-in-law, Creon (Eric Jones). Evans struts through the show like the lovechild of Steven Tyler and Mick Jagger. Jones' Creon is a stick in the mud that can barely relax, even when visiting the debauched Delphi to uncover, from a well-endowed Oracle (Thomas Scholtes) and his pot-head cronies, why Thebes is plagued with sickness and turmoil.
The answer, as we all know, is Eddie himself. A fact confirmed by a visit to the prophecy's originator, Madame Tiresias (Miriam Bowden)—a blind seer with questionable credentials endorsed by Antigone (Carson Elizabeth Gregory), Eddie and Jo's daughter. He finally comes to believe it when a witness (Matthew Lee) to King Laius' murder during a right-of-way dispute at "the crossroads" fingers Eddie as the killer. Jo, too, makes all the right connections after finding a junkie woman (Karen Heyser-Paone) who confirms Jo's infant son wasn't murdered as planned post-prophecy.
Since the cat leaped out of the bag eons ago, I'll confirm that rock 'n' roll Oedipus and Jocasta meet the same disturbing ends as their less edgy, original counterparts. Eddie gouges out his eyes after Jo hangs herself.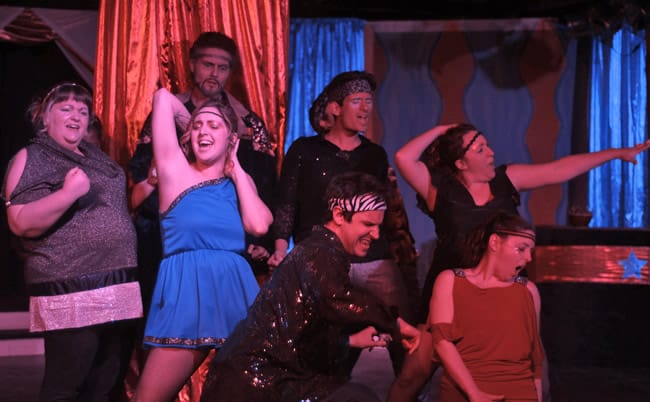 A lot of sparkle—black, gold, silver, blue, etc…—went into making Rox! look like an unrealized Queen/Sid Vicious disco collaboration. The set and costumes are, actually, pretty groovy. Throw in a few pairs of combat boots, and you have fun and flash and punk. Stylistically, Rox! feels like how I imagine Studio 54 felt in 1979.
The music has a lot of promise, but lengthy instrumental solos prolong some songs, sapping them of a lively dynamism itching just beneath the surface (this isn't a criticism of the musicians, who were awesome in giving the show the right vibe). And that's the overall problem with Rox! Its tempo isn't uneven; it's just very, I don't know, plodding. Along. It. Moves. With. A. Sluggish. Steady. Cadence. And this, despite catchy hooks; fine, fine lyrics I wish I had written; and a layer of vulgarity, which was mostly amusing but also slightly amiss.
It feels very-in-your-face and done, at certain points, more for shock than to advance the story, which progressively drops the vulgarity and wink-wink jokes as it moves toward the climatic finale only to pick it back up in the closing song when Eddie, bloodied and blinded, spanks the air, thrusting his pelvis vigorously. Rox! is clearly part homage to Queen, but I couldn't decide if it was mocking its source material or celebrating it.

OEDIPUS ROX!


April 8 – May 1, 2016

Maryland Ensemble Theatre
31 W Patrick Street
Frederick, MD  21701
Tickets: $36 – $51
Details
Tickets

———————
As the climax nears, Rox! shows great reverence for Sophocles' tale, taking seriously the escalating drama the prophecy begot. But, much of the show ridicules the incest angle upon which that very drama is built. It's a bit of a conundrum that perplexed this gal.
The Chorus is fun—they really have the best songs and good choreography—and each member has a moment to shine, manifesting, in the flesh, as Eddie's internal voices, offering him a steady stream of hard liquor while he works through his role in Thebes' demise. Herber's Jo brings a lot of weight to the serious bits, which was a breath of fresh air when paired beside moments where other characters' actions seemed necessary only to prove that this isn't the classic read in high schools. Both Evans and Jones shine at times too.
Rox! isn't terrible, but isn't as terribly fun (and not because it's based on a Greek tragedy) as I had hoped it would be upon seeing the set and costume for the first time. It is visually stimulating and Director Tad Janes' intent—total creativity—is substantial in select moments. Yet, it has gotta pick up the pace and the actors have gotta go for broke—not because they want to prove this isn't your 429 B.C. Oedipus Rex, but because this is who these characters are. Raunchy. Sexy. Rock 'n' Rollin' weirdoes embroiled in the most sensational incest scandal to ever shock the literary world.
————–
Oedipus Rox! . Book by Sarah Shulman . Lyrics by Thom Huenger and Sarah Shulma . Music by Thom Huenger . Directed by Tad Janes. Featuring Jack Evans, Julie Herber, Caitlyn Joy, Bailey Sterling, Miriam Bowden, Karen Heyser-Paone, Matthew Lee, Carson Elizabeth Gregory, Eric Jones, Thomas Scholtes, Daniel Valentin-Morales . Musical Direction by Robert Martin and Thom Huenger . Choreography by Melissa Gregory and Bailey Sterling . Cecelia Lee (Set Design), Tabetha White (Lighting Design), Stephanie Hyder (Costume Design), Callan Holderbaum (Sound Design), Liz Seltzer (Properties), and Isabel Duarte (Hair and Makeup Design). Band: Mike Kearney (Bass), John Maestri (Drums), Pete Meyers (Reeds), RayLee Peterson (Piano), Robert Martin (Synthesizer), and Thom Huenger (Guitar).  Kevin Cole (Stage Manager), Dorie Marusich (Assistant Stage Manager) . Produced by Maryland Ensemble Theatre . Reviewed by Kelly McCorkendale.