American Psycho, a musical about a fashion-conscious serial killer, is not the most misbegotten show ever on Broadway.  It only feels that way for a couple of moments – such as the production number that features zombie-like movements by half-naked cast members smeared in blood.
Overall, the musical has a stylish visual design and stylized violence; a catchy 80s techno-pop score presented like a series of live 80s MTV music videos; and a cast with impressive physiques, starting with Benjamin Walker, dressed only in underpants for much of the show's nearly three hours.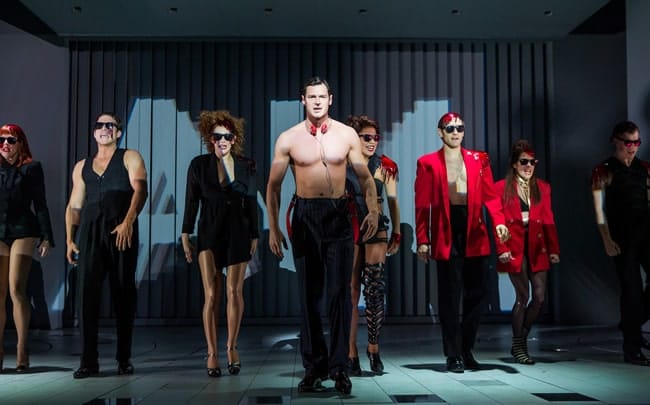 More American Psycho production photos at NewYorkTheater.me
Walker portrays Patrick Bateman, the character that author Bret Easton Ellis created in his once-controversial 1991 novel, about a Master of the Universe investment banker obsessed with brand-name products, who makes a financial killing during the day and just plain kills people (mostly women) at night. The book was initially so trashed as misogynist that the original publisher backed out, the L.A. chapter of the National Organization for Women urged a boycott, and Roger Rosenblatt reviewed it in the New York Times as "moronic and sadistic… So pointless, so themeless, so everythingless is this novel, except in stupefying details about expensive clothing, food and bath products, that were it not the most loathsome offering of the season, it certainly would be the funniest." – by which he meant he found himself "chuckling with revulsion."
Now, we've been told, all that is in the past, thanks in large measure to the 2000 movie adaptation starring Christian Bale, which recognized that the story is supposed to be funny; it's a black satire. (And the stage adaptation makes this clear as well.)
New York Times book reviewer Dwight Garner last month assessed the novel as "ahead of its time. The culture has shifted to make room for Bateman," owing in part to such anti-heroes as Tony Soprano and Walter White from "Breaking Bad" and to first-person shooter video games.
It may be true that Bret Easton Ellis has been exonerated and that there is "room for" Patrick Bateman in the culture. But must that room be Broadway's Gerald Schoenfeld Theater?
In "Not An Exit," a meta-theatrical ballad that is the last song of this musical adaptation of Ellis's novel, Patrick Bateman sings:
Even if this story
seems overwrought and gory
it's not a fable
not an allegory
no cautionary tale
no memento mori
or a vague perhaps
So what is it? What is the point?  Why make this story into a Broadway musical in 2016?
What the novelist apparently meant as a critique of contemporary consumerism and all-around excess comes off on stage mostly as an exercise in 1980s nostalgia. There are even some half-dozen actual 80s pop hits — by Phil Collins, The Human League, and Huey Lewis and the News – which supplement the sixteen 1980's pastiche songs by Duncan Sheik.
There are references to Sony Walkmans and tanning beds, Jean-Michel Basquiat and Jean-Paul Gaultier.  We accompany Patrick, often with his chicly-attired cohort, as he visits a video store, an 80's style mega-nightclub, a chi-chi restaurant ("I'll have the venison with yogurt sauce and fiddlehead ferns with mango slices"), an 80s style health club full of hardbodies, a beach in the Hamptons. Most of these settings are abstractly suggested (rather than literally depicted), especially by Justin Townsend's clever lighting.
We watch Patrick snort cocaine, have a kinky threesome with two prostitutes – and of course, every now and then, use a butcher knife, nail gun, or chainsaw, to murder his victims, done tastefully with much artful spraying of blood, which gets smeared over his impeccable pectorals and his tighty whities, and the walls, and the plastic scrim that's used to keep the blood from spraying the first few rows.
There is also a cab-ride, a fancy dinner party, a Wall Street office, even a Broadway theater that's showing Les Miz – all of which you can visit today (Les Misérables only until September 4.) Does that make American Psycho relevant?
There is a brief visit to "the Meatpacking district" – as it was then, a no-man's land for prostitutes. It has since become the "in" area in Manhattan.  Is this ironic reference a way of saying that the more that changes the more that stays the same?
Maybe. Or maybe all the top-notch talent attached to American Psycho has – like Patrick Bateman — focused their full attention just on the surface.
The surface of the show is, admittedly, a triumph, visually striking from its first moments, when billowing smoke reveals a shadow figure entering a shower with a woman in silhouette; a sudden violent spray of red, and then Benjamin Walker emerging from beneath the stage in ultra-violet light against a tanning bed. Slickly directed by Rupert Goold (best known on this side of the Atlantic for the overrated King Charles III and the underrated Enron), the musical showcases the work of its design team,  which includes the cool blank sets by Ev Deslin (best known for designing rock star tours),  spot-on costumes by Katrina Lindsay, and especially Townsend's lighting and the video projections by Finn Ross, which manage to be both cutting-edge and redolent of the bygone era.
The director has assembled a large competent cast, with such established Broadway talent as Alice Ripley (Tony-winner for Next to Normal) who plays three separate roles, including that of Patrick's snooty mother, Helene Yorke (Bullets Over Broadway) as Evelyn, Patrick's snooty girlfriend, and Jennifer Damiano (Spring Awakening, Next to Normal, Spider-Man: Turn Off the Dark) as Jean, Patrick's sweet, unsuspecting secretary, who has a crush on Patrick.
The attention, though, is on Benjamin Walker, whose past Broadway credits include the starring role in Bloody, Bloody Andrew Jackson, where he wore jeans so tight that they informed the musical's marketing slogan – Sexypants – and as Brick in Cat on A Hot Tin Roof, which co-starred his bare chest. Here he is asked to be sexy, which he achieves, and to be wracked by rage and petty jealousies – he's so jealous of the quality of his rival's business cards that there is an entire song about it.
Songwriter Duncan Sheik's only previous Broadway show, Spring Awakening, leaves fond memories, which I find it hard to believe American Psycho will match. The book is by Roberto Aguirre-Sacasa, who wrote scripts for the TV series "Glee", and is the chief creative officer for Archie Comics. His only previous Broadway show was Spider-Man: Turn off the Dark, which he was brought aboard to rewrite.
American Psycho may suffer from the opposite problem of Spider-Man, which was an obvious idea for a musical executed disastrously. American Psycho is well executed – entertaining even – but what exactly is the idea?
American Psycho is on stage at the Gerald Schoenfeld Theatre (236 West 45th Street, New York NY 10036, between Broadway and Eighth Avenue)
Tickets and details
—————
American Psycho, book by Robert Aguirre-Sacasa, music and lyrics by Duncan Sheik. Directed by Rupert Goold. Featuring Scenic Design by Es Devlin; Costume Design by Katrina Lindsay; Lighting Design by Justin Townsend; Sound Design by Dan Moses Schreier; Hair, Wigs & Make-up: Campbell Young Associates; Video Design by Finn Ross. Featuring Benjamin Walker, Alice Ripley, Jennifer Damiano, Helene Yorke, Drew Moerlein et al. Reviewed by Jonathan Mandell.