Francesca Zambello is directing Wagner's Ring Cycle that opens April 30th at The Kennedy Center and brings to Washington National Opera for the first time the whole four-part epic opera cycle.  And just for good measure, WNO will present the whole thing three times through.
It is not only a massive undertaking for the combined resources of the WNO but Zambello has staked her international reputation as a director by taking this on. You might say she's picking up the gauntlet thrown down from Valhalla by the operatic gods.
Starting with the title, no longer Der Ring des Nibelungen – for Zambello will not play elitest footsie by using the German –  the work is being billed as The Ring of the Nibelung, announcing this director's fearlessness about any comparisons to that other ring story and popular cinematic epic. Above all, she is a champion of a "Ring" for all people.  Maybe, just maybe, Zambello was born to create a Ring for American audiences and specifically a Ring that speaks loudly in and to the nation's capital, for this work is nothing if not a story about power and what ultimate power does.
The excitement around this enterprise is positively electrifying. People are coming from around the country and half way around the world to see this rarity. Comprised of four operas weighing in at over seventeen hours of performing time, Wagner's great work is based on various Norse sagas, and he wound together the strands to tell a tale of the fall of an empire over three generations.
There is a family of gods, who like the Greeks' are generally a dysfunctional lot.  There are also Valkyries, Rhinemaidens, Giants and "Nibelungen," Lovers and other Mortals. There is an expanded orchestra, including instruments such as the Wagner tuba, specifically to get the size of sound and tonalities the composer wanted.
The WNO will have clocked in over 230 hours of rehearsal time to pull this off.  Ka-ching ka-ching.
I was able to see a bit of a sneak preview at a rehearsal of The Valkyrie, the second opera in the cycle.  I began to get a sense of Zambello's re-visioning the work for our age and the opera's Americanization. Instead of a massive set depicting a three-dimensional mountaintop, the effects of the famous Valkyrie "Ride" are accomplished mostly by means of a great video of swirling clouds and litres of liquid nitrogen "fog." The nine ladies, many being parachuted in, were dressed as aviatrices, those early 20th century female flyers of whom Amelia Earhart, though arguably not the best pilot of her generation, was certainly the most famous. In fact, the khaki jumpsuits with the long silk scarves served up the iconic image of Earhart nine times over.  Brilliant, I thought. The choreography, having the singers come together in wing formation, raise arms with clenched fists, and run up and down ramps transformed these ladies into mighty women warriors indeed.
Beholding Alan Held as chief god Wotan and Catherine Foster as Brünnhilde in their heartbreaking scene of a father-daughter rupture assured me that Zambello hadn't blown everything on a few exciting stage effects, but that she and her team have crafted some truly engaging acting scenes and especially – what must be the most difficult of all – tender and intimate moments in this giant-scaled, giant-voiced opera.
I got a chance to interview Artistic Director Francesca Zambello recently about her work.
Susan Galbraith: The show was always conceived as a co-production with San Francisco, what made the time right to bring it to DC?  Re-amassing this production, what has changed in your head if anything? 
Francesca Zambello: Securing the resources to do it is the short answer. It was conceived to begin here always and for this audience. Washington is the seat of power, and the Ring is all about power and greed. So I am thrilled to be presenting it here. The Ring is like a mirror to the world, our world.  It wasn't so much about "this the moment," but the work has certainly changed and evolved since it began out in San Francisco. But this is the moment, it feels, because the work feels so deep, and every day it gets more important to do it here. 
SG: Anthony Tommasini wrote in NYT  (2011) of the production in San Francisco, that the Ring is "the supreme test" for opera directors? How do you feel specifically tested this time around?
FZ:  (Laughs) You feel tested in opera no matter what you do. But tested nothing like this! It's the greatest story to tell. It's incredible meat to be working with, and the music is so inspirational it guides you. It's a cliché to talk about how long the Ring is.  But yes, there is so much story to tell!  At the same time you are also inspired.  The work keeps growing, and we are all finding new meanings in certain things.  Specifically now, what resonates is that so much of the Ring from Wagner's perspective is about the destruction of nature but also the birth and rebirth of nature.   Even more than five years ago, the connections of the work and Wagner's words of warning to our belated grasping of global warming. Greed destroys not just nature but the natural order, and it takes a woman to set things right again.
SG: How did you approach what you saw as your task or vision of Wagner's epic? How do you avoid being accused of just updating Wagner's work?
FZ: "Updating" is so hackneyed, a kind of "let's put it in modern clothing and call it a day."  For me, it was more about the characters, but I did want to clothe Wotan as a successful business, Loge as a slightly dodgy lawyer, and so on, to give an immediate reference for the audience to understand a character.  There are so many of them in The Ring that I think it helps. We took our cues from a kind of industrial age to now in America, to tell our own epic story, starting in the Gold Rush when our landscape was wide open and completely pure. That's where the ring gets made. And then the ring moves to the Great American Industrial age.  Then to the social and political unraveling in the sixties.  And finally in what could be the not too distant future.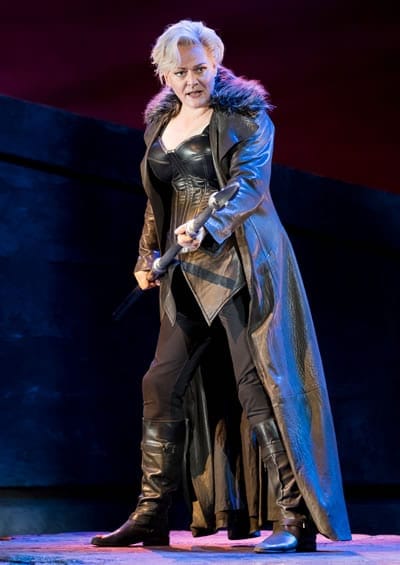 SG: In the rehearsal I attended, I was delighted with the Amelia Earhart Aviatrix image and the era you conjured up of early women flyers.   Were you going for iconic snapshots of American life throughout our history? And how do you defend this transposition against those who continue to argue for attending faithfully to Wagner's vast compendium of stage directions?
FZ: I'm always inspired by Wagner's work.  But inspiration can be broad. In the scene you mentioned, The Valkyrie are supposed to fly in on horses. So we asked ourselves, when was the first time women were flying – incredibly free-spirited women, doing brave and courageous acts.  To me, The Valkyrie fit into that time of the Great American Industrial Age that stretched into the twenties. The Valkyrie are also doing noble acts by taking the heroes up to Valhalla. Brünnhilde is a god but also a great feminine figure. She suffers greatly, but she is also a fighter.
Wagner gives us great women, strong and interesting women. Erda for me represents a great Native American earth spirit. And of course Brünnhilde is the hero of the Ring Cycle. Notice I don't say heroine.  She is the one who really returns the natural order.  Her father Wotan never realizes, as he's looking for the perfect hero, that his own daughter is the hero.  The Woman carries the day in The Ring. 
SG: Tackling Wagner, it's not just that the themes, the characters, and the scope are all so big – mythic, elemental stuff – but the sound itself is massive and requires a certain kind of sound production, support and stamina. How did you approach the acting in the production to help the singers in what they needed to make that sound and yet make the staging and relationships feel "real?" 

Washington National Opera
at The Kennedy Center – Opera House
2700 F Street NW
Washington, DC 20056
Das Rhinegold (The Rhinegold)
April 30, May 10, May 17
Die Walkürie (The Valkyrie)
May 2, 11, 19
Siegfried
May 4, 13, 20
Götterdämmerung (Twilight of the Gods)
May 6, 15, 22
Details and tickets
Or call 202-467-4600
FZ: You only have to look further back to the Greeks whose theatre was also larger than human scale, but to do it right we must still convey the stories with human passions.   You're right it's not television acting.  These are epic acts of love – so much at the core of the Ring.  As a director, part of it is that you are carried by the power of the music.  The score guides you as to what needs to be big. There's also a visual world of projections that support the world of the piece. Together, it is liberating.  And then we just keep going back to the text.
For instance, the relationship of father and daughter is so primal.  Once you have developed the trust for each other, you can help the performers to go to that primal place and can keep digging.  It takes a long time to get to it.  But the words have so much richness and texture, everyone is happy to be rehearsing.
SG: Finally, you have said that with this production you wanted to address the story's themes of greed, ambition, and the desecration of the Earth. We certainly have seen ambition, greed and sleaze play out nightly on our TV channels in this political season, it all seems wildly improbable but unstoppable. Well, Madame Z, are you prescient? And do you know or fear that the American empire is being taken down in its own "twilight of the gods?" 
FZ:  Obviously, yes of course.  You can't be apolitical and do this piece.  And we spend a lot of time talking about just that question as part of our process. We represent many viewpoints, I assure you, around our table.
SG: Now, that's theatre! Well, Francesca, it took Wagner twenty-six years to write the entire cycle, and I am so glad that we do not have to wait that long to see what will surely mark an extraordinary series of evenings of opera. I sense that your Ring will live on in people's memories and in the conversation about opera as theatre and part of the political debate for years to come.