Update:  We have a winner.  This contest is closed, but we'll have another very good one next Monday.
She won the Tony Award for her role as Leading Player and now Patina Miller brings her magic to Strathmore for one night only, May 14 at 9pm.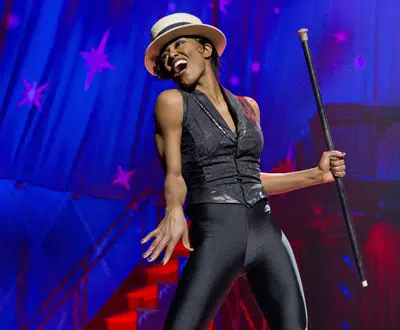 Patina Miller takes a break from shooting the CBS hit series Madam Secretary, along with Tea Leoni, Bebe Neuwirth, and Tim Daly to do this special concert as part of the Strathmore's Spring Gala.
Here's how to enter:
Answer our giveaway question in the comments section below. We've enjoyed your answers from last week's contest so much, we're reprising it:  (if you've already told us ALL your favorite dining spots in previous contests, it's okay to enter them again.)
When I'm going to  ___________ (name of theatre), my favorite restaurant is _____________.
* – Scroll down to check out where your fellow contestants go.
How we choose the winner:
The winner will be chosen in a scientifically random drawing held Wednesday, May 11 at 5:00 pm. We will contact the winner by email. If we don't receive a response by midnight on May 4, another entry will be chosen.
We'll announce the winner on this post and give a clue about next week's giveaway.
Who doesn't like free tickets?
Tell your friends and help us spread the word on social media.
*  Our contestant's favorite dining spots. What's yours?
Studio Theatre: The Pic, Matchbox and The Commissary, Etto, Char Bar, Pearl Dive Oyster Palace, Drafting Table, Maki Shop
Folger: Barrel, Hank's Oyster Bar, Ted's Bulletin, Cafe Mozart
The National:  Elephant and Castle, Hamilton
Arena Stage:  Jenny's Fusion, Station 4
The Kennedy Center:  Campano
H Street (Atlas Arts and Capital Fringe): Ocopa, Toki Underground
Synetic Theater: Jaleo
Forum Theatre: 8407 Kitchen Bar
Signature Theatre: Samuel Beckett's Irish Pub, Carlyle Grand Cafe, Busboys and Poets
Lansburgh and Woolly Mammoth Theatres:  Jaleo, District Chophouse, Oyamel
Olney Theatre: Great Sage
Enjoy theatre in New York?
Check with our New York partner, Jonathan Mandell of NewYorkTheater.me, for chances to win tickets to Broadway and Off-Broadway shows.