We all know that The Wizard of Oz is the story of a girl and her dog. And home. Right? So, does the 2011 musical, featuring new compositions and lyrics by Andrew Lloyd Weber and Tim Rice, succeed in spreading joy—overwhelming, warm, and kinetic—deep in your heart? Unequivocally, yes. It's a polished show heavy on meaning but light on its feet. And bounding with a cavalcade of color.
The orphan Dorothy Gale (Sarah Lasko) resides on a chicken farm with her Auntie Em (Emmanuelle Zeesman) and Uncle Henry (Randy Charleville) deep in Kansas, where the sky over the plains is always a mess of menacing nimbus clouds. Dorothy's best friends are the farm hands—Hunk (Morgan Reynolds), Hickory (Jay McGill), and Zeke (Aaron Fried)—and her terrier, Toto (Nigel). He has bitten a vile neighbor, Miss Gulch (Shani Hadjian), who threatens to have him euthanized. Distraught, Dorothy flees, bumping into a travelling, mystical peddler named Professor Marvel (Mark A. Harmon), who convinces her to return to the farm.
"Home," he tells her, "is one of the many wonders of the world." Then a clash of thunder, and a-now-infamous twister descends. On the stage, it is a mixed media spectacle that ferries Dorothy across the universe to the wonderful Land of Oz, where she crash-lands on the Wicked Witch of the East. The Wicked Witch of the West (Shani Hadjian) is none too pleased, especially when Dorothy ends up in a pair of magical shoes.
The rest, as we all know, is pure gold. Literally. Dorothy follows the yellow brick road at the prompting of Glinda, the Good Witch of the North (Rachel Womble), and the delightful Munchkins, to Emerald City so that a mysterious Wizard (Mark A. Harmon) can shuttle her home. Along the way, she befriends a Scarecrow (Morgan Reynolds), a Tin Man (Jay McGill), and a Cowardly Lion (Aaron Fried), who revitalize her spirit and assist in liquidating the Wicked Witch.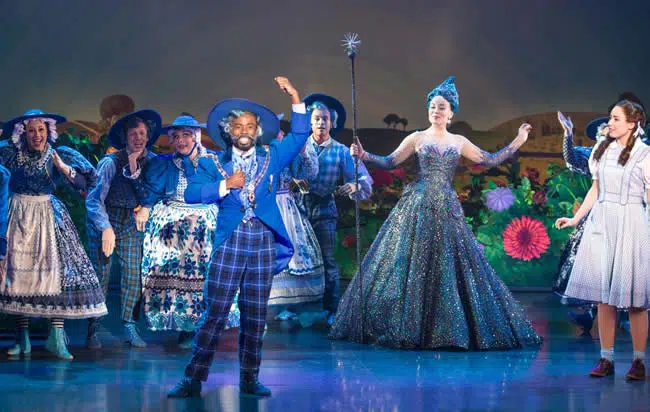 Oz is delightful. Lively. Colorful. Charming. Considering that Frank L. Baum's classic fairytale was cemented in the collective public consciousness when Judy Garland donned the ruby slippers in the 1936 fantasy film, it is remarkably fresh. And sprinkled with witty touches of snark and modern pop culture— while sticking close its true intent. Honestly, I didn't expect to be so awed and invested in a show I'd long forgotten.
Of course, Toto's entrance demands a collective awe and bliss rippled through the audience every time he yawned or just generally looked adorable. Which was always. The Wicked Witch is feathered in green glory with a commanding pointy topknot that loosens to the up-do of the bride of Frankenstein.  Glinda, the Good Witch of the North, enters like she owns the sky, with a ball gown train spanning the whole stage as she floats to earth. The sets are clever contraptions that roll you from scene to scene like you are floating on a lake at dawn. The Munchkins—all in blue—greet Dorothy with a hyper fun dance. At Emerald City, Dorothy spins and her dress turns green and glittered, perfect for seeing the all-powerful Oz who challenges the quartet to an impossible task with his booming tenor and crazy eyebrows.
That quartet—Dorothy and her rag-tag crew of stooges—ultimately, makes or breaks our enjoyment of Oz. Lasko, Reynolds, McGill, and Fried are a delicious olio stewed to perfection.
As the farmhands, Reynolds, McGill, and Fried establish their individuality in less than three minutes while they tinker with a generating-thing-a-mob. Zeke/the Cowardly Lion (Fried) worries himself into knots and displays a penchant for the fine things and well-timed cheekiness. The Tin Man/Hickory (McGill) breathes ironic life into the robot street dance and projects a kind of smug, uber-confidence. He's a tin-can ton of tap dancing fun. A loose and limber Hunk/Scarecrow (Reynolds) has always had Dorothy's heart and, by extension, ours. Here he is sweet and kind and candid and earnest. And joined by an amusing crow chorus on "If I Only Had a Brain."
Dorothy is a headstrong girl who refuses to cry and knows when to roll her eyes.  "Should have been born a chicken," she mumbles to herself after bescheeching her aunt and uncle to listen. "Then, they would have paid attention." Lasko's voice is remarkable. The iconic "Somewhere Over the Rainbow" flutters with feeling as she sings.
Of course, the absentminded, often befuddled Professor (Harmon) imbues the show with fable-worthy wisdom. Harmon is the avuncular elder we all wanted as kids filling our brains with wonderment and reasonable truisms that tether us to reality when we try to fly. Then, the fall from failed dreams is not so far or damaging that we never want to spread our wings again.
——–
The Wizard of Oz

closes May 15, 2016
Details and tickets
——–
"You're confusing commonsense with courage," he tells the Cowardly Lion before bestowing him with a medal. Then, he reminds us all that often we just have to have confidence in ourselves to succeed.
The Ensemble—portraying the Munchkins, citizens of Emerald City, and the Wicked Witch's Winkies—are fantastic, especially as the Winkies doing their evil dance in the Witch's castle. They are part color guard and drum line during the best choreography.
Strangely, I almost didn't notice the "new" music interspersed between the old, croon-worthy classics and couldn't pick out the new ones without first consulting the playbill. This is a triumph of the show. The new quietly spins into the old, adding richness without lessening what is already perfect.
But, "Home is a place in your heart," the cast sings in "Already Home," the final, new song. "Every journey leads you back to where you start." Remember that and life ought to be a rainbow.
See The Wizard of Oz and you may find yourself back at one of the best places you've ever been. And, you'll be happy to be there again.
——————

The Wizard of Oz . Music by Harold Arlen and Lyrics by E.Y. Harburg. Additional Lyrics by Tim Rice and Additional Music by Andrew Lloyd Weber. Adapted by Andrew Lloyd Weber and Jeremy Sams. Directed by Jeremy Sams. Starring Sarah Lasko and Mark A. Harmon with Shani Hadjian, Aaron Fried, Jay McGill, Morgan Reynolds, and Rachel Womble. Ensemble: Randy Charleville, Emmanuelle Zeesman, Danielle Behrens, Amy Button, Diego Diaz, Will Geoghegan, Lindsey Hailes, Beau Hutchins, Nick Morgan, Justin G. Nelson, Nick Picknally, Corey Rives, Dominick Sannelli, Jenna Brooke Scannelli, Maggie Spicer, Alex Swift, Adam Vanek, Shannon Walsh, Kaley Were, Kyle White, and Dorsey Ziller.  Production: Arlene Phillips, Choreographer; Robert Jones, Scenic and Costume Design; Randall A. Buck, Executive Producer; Jim Lanahan, General Manager; John Wilson, Production Manager; Randy Moreland, Technical Director; Hugh Vanstone, Lighting Designer; Jon Driscoll, Video/Projection Designer; Mick Potter, Sound Designer; David Cullen, Orchestrations; Graham Hurman, Musical Supervision and Vocal and Dance Arrangements; David Andrews Rogers, Associate Music Supervisor and Music Director; Talitha Fehr, Music Coordinator; William Berloni, Animals; Joy Dewing Casting/Joy Dewing, CSA, Casting Director; Michael McGoff, Associate Director; Richard Roe, Associate Choreographer; Amy Katz and Courtney Davis, Tour Marketing and Press; The Booking Group/Meredith Blair, Tour Booking Agency; and Flying by FOY. Presented by Troika Entertainment, LLC at The National Theatre. Reviewed by Kelly McCorkendale,