Sometimes it's hard not to wonder about the relevance of musical theater. Sometimes it's hard not to love the form but wonder if the content might be stuck in a limbo of irrelevance.  And then you're reminded of Tony Kushner's and Jeanine Tesori's Caroline, or Change and you realize that musicals can be revelatory, immediate, and so much more. The twelve-year-old Caroline only gets more relevant, more daring with time and challenges companies and audiences alike to embrace it with passion and care alike.
Thankfully, Creative Cauldron has dared to put on this musical that overflows with heart and history. Set in Louisiana in 1963, the story centers on the titular Caroline, a maid toiling in the basement of a well intentioned but ill mannered white family while the Civil Rights Movement rumbles in the country outside. And while change is being found left and right, Caroline finds herself stuck in place, dependent on her bitter work in order to provide for her family. Change is something she can't quite afford.
The book, which is sung through, is right up there with Kushner's best work, evidence that yes, he might be the great American playwright. And it finds a perfect partner in Jeanine Tesori's music, which draws on spirituals, blues, Motown, and Jewish folk music to set one of the most tumultuous scenes in American history.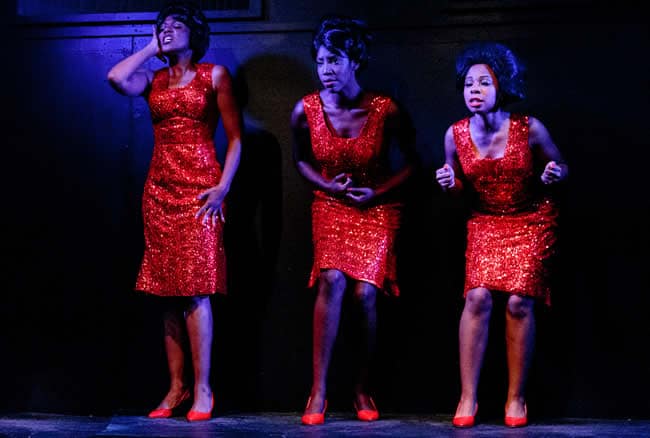 On paper, it's a home run, but in practice it's harder to pull off. With Caroline's great power comes the need performances of voice and heart throughout its two and a half hour run time.
This musical fails without a stellar cast, plain and simple. And the talent on stage in Falls Church succeeds and then some, enrapturing its audience and bringing life to the history that Kushner has written. Eighth grader Ethan Van Slyke offers an inspired performance as the young Noah, whose white innocence drives so much of the show's themes. And similarly Tiara Whaley plays Emmie, Caroline's daughter, with youthful pride and vigor, letting the audience glimpse into the changing world of the sixties. Both roles could so easily be handled without care, left to the mawkish and stargazing. But Van Slyke and Whaley prove young mastery and give the show its pulse.
Recounting every great performance here would be nothing more than listing the entire cast, but special note should be made of Iyona Blake's performance as Caroline. Blake blew the audience away and deserved every clap of her standing ovation. Not only did she sing with precision and power, but her acting was perfectly wrought. All came to a head in "Lot's Wife," Caroline's moment of catharsis that left the house speechless. In a few short minutes of singing, an entire history was left on stage, not only Caroline's – filled with complexity and conflict – but the entire history of change that the musical taps into. It was a moment of pure awe, a performance that triumphed over time itself.
Triumphant too was Matt Conner's direction which made the small ArtSpace black box in Virginia feel like the only place this musical should ever be performed. The representational set was a perfect fit for the show, which should transport the audience to the south of the sixties, but also always remind them of the echoes that it has today.
——–
Caroline, or Change

closes
May 29, 2016
Details and tickets
——–
The creative choices that are brought to the stage at once build the world of the play and coincidentally dismantle it, reminding us that what we're watching isn't meant to stay in the past. It's meant to sound in the present, make us aware we are indeed watching history on stage, and that we're a part of it.
That's power. It's theater firing on all cylinders, engaging and reminding, and highlighting an African American narrative that reverberates through our very geography. Shows like Caroline, or Change are exactly what so many theaters need, and Creative Cauldron has proven that they know exactly what to do with it. The performance might take place in a small black box, but the audience can't forget that change is rumbling outside.
———————–
Caroline, or Change. Book and lyrics by Tony Kushner. Music by Jeanine Tesori. Directed by Matt Conner. Featuring Robert John Biedermann, Iyona Blake, Tiffany Byrdm Jeremiah Hasty, Malcolm Lee, Harv Lester, Ashley K. Nicholas, DeAndriea Norman, Joe Palka, Jane Petkofsky, Awa Sal Secka, Carli Smith, Ethan Van Slyke, Arianna Vargas, Kara-Tameika Watkins, Alex Weinstein, Tiara Whaley. Music Director: Walter "Bobby" McCoy. Scenic and Costume Design: Margie Jervis. Lighting Design: Lynn Joslin. Stage Manager: Chris Riherd. Produced by Creative Cauldron. Reviewed by Sean Craig.