NextStop Theatre Company's City of Angels is grand – a swan song to film noir and its backstage action, a gem of a show that won multiple Tony Awards in 1989 including Best Musical. And NextStop has applied a plenty of polish to an already sparkling score and lyrics.
The show is good. I mean gooood – starting with the flickering movielike opening credits projected above the actors' heads with voice over narration. "Three million people in the City of Angels in the last census, nearly half of them up to something they don't want the other half to know."
Just a taste of the impeccable style to come.
For those unfamiliar with the plot, City of Angels is a story within a story about a screenwriter, Stine (Bobby Libby,) and his alter ego detective, Stone (Ryan Burke.) The writer in his Real world and his characters in their Reel world mirror each other, with intrigues, infidelity, and indecision rampant throughout. A quintet of close harmony radio singers, the Angel City Four, nicely sung by Zac Brightbill, Carolyn Burke, Ward Ferguson and Shaina L Murphy led by Jimmy Powers  (Scott Harrison,) bookends several scenes, setting up the action with smooth and syncopated musical narration.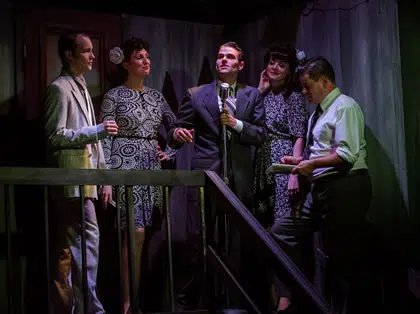 Frankly, it's a story that's been seen before, but the music and wit of City of Angels has always held it to be a cut above, and the muscle of the book and lyrics makes for a wonderful lighthearted evening out. Though a multiple Tony winner, it surprisingly isn't produced all that often, and for the life of me I don't know why. It's a wonderful show, and the 40s swing and jazz inspired score. And David Zippel's unusual rhyming – "I'm everything you always wanted to be/let's deal with the issue/you wish you were me" for example – is catchy and tricky as all get-out.
And when it works, as it does at NextStop, it's a joy. 
Bobby Libby as Stine the screenwriter is nicely frustrated and flippyflops indecisively throughout.  Ryan Burke, as his fictional character Stone, the private detective, at first comes across as just a cardboard gumshoe,  although in Burke's hands, he becomes less and less two dimensional character and more the human conscience of his writer. Stone is thin as paper at first, and by play's end you're really rooting for the guy.
Libby and Burke more than do justice to their boffo Act 1 closer "You're Nothing Without Me." I guarantee you'll hum it for at least a day after the show.
Good as they are, though, the real standout in the cast is Katie McManus as Donna/Oolie. Firstly, that broad can belt, and secondly, she acts her way through a song: watching her is like taking a class in Here's How You Do Musicals.  With "You Can Always Count On Me," Donna and Oolie's bittersweet comic take on their relationships with men, McManus gets about 8 bars to make the character and costume switch. The number should be this woman's audition song for the rest of time.
The cast, for the most part, rises like cream to the occasion, with multiple actors taking on multiple roles in the Real/Reel world with aplomb. There's plenty of talented voices here, plenty of snappy and stylized film noir-ish acting, aided by Hoffmann's sharp direction and Alisa Claire's simple yet fitting choreography (remember that narrow set) Keep an eye peeled for a hilarious entrance by mobster Big Six (Grant Saunders) No spoilers from me here, but you'll know him when you see him.
In the multiple roles of Buddy/Irwin/Sonny, an amalgam of similar producers in the Real/Reel world, John Loughney fared less well the night I saw the show. Make no mistake, the parts – a mensch producer, a wheedling, narcissistic bully, a casting couch womanizer and nobody's pal are written to be played large. Buddy is meant to be an oversized role, and is normally one of the juiciest parts in the show. But I found Mr Loughney's interpretation to be so overwrought and screechy that after a while I ended up cringing every time he entered. And that's a pity; for Mr Loughney is quite talented- good voice, good movement, decent comic timing. All that was needed was for him to,  pardon the pun, reel it in.
But that's a small flaw in an otherwise elegant production. The set is particularly impressive; by my seat-of-the-pants estimate that stage can't be much more than fourteen feet deep, and yet it's so beautifully rendered, with multiple doors and levels, that it's never just a conga line of actors standing in a thin row.
——–
City of Angels

closes June 5, 2016
Details and tickets
——–
The set details are spot on with great 1940s touches everywhere you look. There's a radiator, hidden away in a corner- it isn't needed for any action whatsoever except to show us that set designers Evan Hoffmann and Jack Golden really delight in making nice crisp detailed sets. Shoutout to Scenic Charge Amy Kellett for her paint choices, too- nicely aged and atmospheric touches everywhere.
Costumes by Kristina Martin are not only great nods to the forties, but chosen to accent the individual actors' figures. Everyone is dressed to the nines here, and I'd wager some of the actors would secretly like to take their costumes home after the end of the run. With a live orchestra, the sound is nice and full in the small theater, though it must be said that some of those exceedingly clever lyrics were occasionally lost to the high ceiling. Lighting by designer AnnMarie Castrigno is equally fine, though with the stage's narrow spill, actors coming downstage stepped out of the light fairly regularly.
City of Angels is a treat for the eyes and ears, and well worth the schlep to Herndon, VA. Who knew 1940s Los Angeles was so close to home? NextStop Theatre Company gives this City of Angels a show that producers on either coast would envy.
————–
City of Angels . Book: Larry Gelbart . Music: Cy Coleman . Lyrics: David Zippel . Director: Evan Hoffmann . Music Director: Elisa Rosman . Choreography: Alisa Claire . Cast: Bobby Libby as Stine; Ryan Burke as Stone; Katie Keyser as Gabby/Bobbi; Katie McManus as Donna/Oolie; Teresa Danskey as Alaura/Carla; John Loughney as Buddy/Sonny/Irwin; Mark Hidalgo as Pancho/Lt Munoz; Scott Harrison as Jimmy/Dr Yamato; Mackenzie Newbury as Avril/Mallory; Grant Saunders as Del/Big Six/Luther; Zac Brightbill as Angel City Four/Peter; Carolyn Burke as Angel City Four/Anna; Ward Ferguson as Angel City Four/Mandril/Pasco; Shaina L Murphy as Angel City Four/Margaret . Lighting Designer: AnneMarie Castrigno . Costume Design: Kristina Martin . Set Design: Evan Hoffmann and Jack Golden . Hair and Makeup Designer: Molly Hicks Larson . Sound Design: Nicholas Upchurch . Scenic Charge: Amy Kellett . Stage Manager: Laura Moody . Produced by NextStop Theatre Company . Reviewed by Jill Kyle-Keith.