It is an extraordinary thing to commit yourself to work in theater despite the long hours and low pay. Why do people do it? This is the third in our series highlighting this year's Helen Hayes nominees: their work, their life, their art, their passion.
It is late afternoon, and Craig Wallace is standing on the porch of the Brookland bungalow he shares with Kimberly Schraf, "my love of 22 years." There is a magnificent Husky, a rescue, on the porch with him. Fall is beginning to assert itself, and he is dressed warmly.
He is preparing himself for his evening's work at Ford's Theatre in The Guard, where he will play two roles: Simon, an unknown poet, who frets that no one will read his work after he's dead, and Homer, the most famous storyteller in the history of the world, who has the same worry. His performance will win him a Helen Hayes nomination for outstanding supporting performance.
Does Craig Wallace have the same worry — that after his work is done it will disappear into the ether? Hell, no. "Theatre is ephemeral," he explains now. "It's why we do plays multiple times; not to see exactly what was done before, but to experience the story anew. The work lives in that moment of performance and then gets resurrected the next night. And if we're lucky, audiences are changed by the experience of seeing it."
Wallace walks the walk: when he is done with a play he moves on to the next one. Six weeks after The Guard is done he is opening Stage Kiss at Round House; after that Father Comes Home From the Wars Parts I, II & III at the same venue and then Arena's All the Way, where he portrayed Rev. Ralph David Abernathy. Later this year, he will be Scrooge in Ford's A Christmas Carol.
All in all, Wallace has been in twenty-one shows over the last five years, most, but not all, in DC. He's played at Shakespeare, at Folger, at Olney, as well as Ford's and Round House. (Schraf is almost as busy, having appeared in eighteen shows over the same period. She's currently in Hedda Gabler at Studio.)
How can Craig Wallace be so amazingly prolific? (Put another way, why does he always get cast?) After he finished his academic education, his education in the world of theater began. To get it, he was willing to literally become a spear carrier.
"I began working at the Shakespeare Theatre Company almost immediately after graduate school. It was my training ground. I carried spears and watched, listened and learned from some incredible actors, directors and designers."
His credits bear him out. His first play was The Winter's Tale in 1987 at STC. He was a shepherd and a servant. He was in the ensemble in Coriolanus. He was a soldier in Much Ado About Nothing. 
"Eventually, they let me speak! To come up in this profession and this community at the feet of visionary artists like Ed Gero, Fran Dorn, Phillip Goodwin, Ted van Griethuysen — when I could barely speak the verse — and then, 25 years later to find myself a peer and no longer an acolyte. Well, there's your reward. It still moves me."
If you looked at Craig Wallace decades ago, when he was a kid in Rochester, New York, would you have said, "Yeah. Classical actor."? (Of those 21 appearances, eight have been at either STC or Folger). Maybe not. "(I was) a happy only child who loved music, TV and comic books. I listened to Parliament Funkadelic and Prince, which significantly shaped my world view." He had an extended family. "I was raised by a collective: in addition to my young parents, my grandparents and my aunt were substantial influences in my upbringing."
DCTS covers the 2016 Helen Hayes Awards
Like some of the other people we've examined in this series, his involvement in theater came about almost accidentally. "My senior year in high school I took a class called Drama: a Practicum. I figured it would be an easy class to take during senior year. The teacher was Ms. Bourcy and she was inspirational. She convinced me — under some duress — to audition for the school play (Guys and Dolls), and it changed my life. Without question."
Howard University ensued, and then an MFA from at Penn State. He studied at the Royal National Theatre in London, then returned to Washington — to learn theater. To Wallace, who now teaches Acting Shakespeare at Howard University, that's done by doing theater.
"It's a fun class to teach because I encounter students who have little to no experience with classical text and watching them figure it out is very rewarding," he says. "They're undeniably hungry and eager, but I know from my own journey that these skills are crafted over many years of study and discipline. So much of the learning happens on the boards in front of an audience."
It's a special treat for Wallace, who has also taught at George Mason University, when one of his former students is cast in a show with him. "Often, when young actors leave their programs and enter the professional world, and we end up onstage together, I find myself in the role of mentor. And that is very satisfying."
All right, Professor Wallace, how about a quick course for we audience members in how to approach the classics? We are not — how do I put this delicately? — born speaking Shakespeare. Should we abolish the Bard, as R.W. Schneider suggested in this article?  It's not as hard as all that, Wallace insists.
"The language can be intimidating, I know. But beyond any concept or visuals that try to make Shakespeare's text accessible, that can only happen when patrons really and truly listen. Allow yourself to hear the text. If we've done our job, the story will be crystal clear."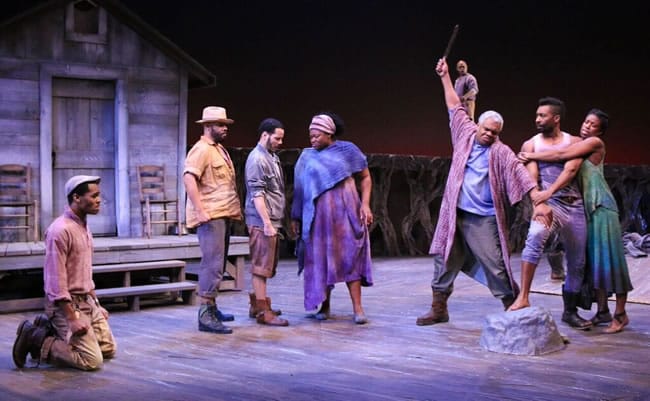 So he marched forward, from spear carrier to speaking roles to featured roles to starring roles, to Ms. Schraf and Brookland bungalow and professorships and Husky at his side, and then to The Guard, where Rosalind Lacy, in this review, will say this about his performance:
"But what makes The Guard a must are the not-to-be-missed magnificent performances from actors Craig Wallace and Mitchell Hébert * * * Wallace as Homer delivers Dickey's most eloquent imagery…symbolizing material wealth versus the blind poet's spirituality. Wallace directs his oration at us, as if he has stepped out of Rembrandt's 'Self-Portrait,' and glares into the audience. In a thundering voice, he cries out: 'I want to see the Heavens and what a god really looks like.'"
If it struck you as interesting that Wallace, an African-American actor, would be cast as Homer, who was a Greek, you may have uncovered one of the reasons that Washington theater generally and the Helen Hayes Awards in particular are not wrapped up in the same ugly controversy as this year's Oscars were over the uniformly pale skin of the nominees.
"Classical work has actually afforded me several opportunities to be cast non-traditionally," Wallace says. "I've played Lear and Prospero, in addition to Othello."
This doesn't mean, of course, that the immensely complicated problems of race in America — or race in theater, for that matter — are solved. Wallace directed Keith Hamilton Cobb's American Moor, a one-artist disquisition on being a black actor in a white theater world. In it, Cobb is told how to play Othello by a Caucasian director whose handle on Shakespeare is as unsteady as his handle on being black.
Cobb, as Jayne Blanchard puts it in this review, "goes, well, all Othello on the director."
The congenial Wallace isn't going all Othello on anybody, but he recognizes that there is a significant problem. He favors dialogue as a response. "[There are] erroneous racial assumptions, sexual assumptions, moral assumptions…..yeah, all of that. American Moor stirred up a lot of wounds and resentments about being an actor of color in the American theatre; it also stirred up a lot of bracing conversation. Of course, everyone's experience is different. If as artists, we are sensitive to each other and ready to listen and communicate, those issues often take care of themselves. I'm blessed to say I've been on the positive side more than the negative."
Wallace is a mature actor with patterns to his life. "During good seasons, my days are filled with rehearsal and performances. During the slow seasons, it's about hustling to get the next job… I continue to hone my craft as a self-taught cook and grill master and collector of music."
They're pretty much all good seasons now. 2010 was the last year in which he was cast in less than four plays (he appeared in three that year). And now he has his first Helen Hayes nomination. It's great, but he won't live or die with winning.
"It's always an honor to  have your work acknowledged, and I'm grateful for the recognition. But win or lose, I'll still have rehearsal the next day! And I suspect the next role will be offered on the basis of my past work or my audition, rather than on any awards or nominations on my resume."