If that long-promised revival of Smokey Joe's Cafe does come to Broadway this year, the producers could do worse than to put Patina Miller front and center — assuming they can afford her now that she's got a Tony Award, a TV series and a couple of Hunger Games blockbuster credits under her belt.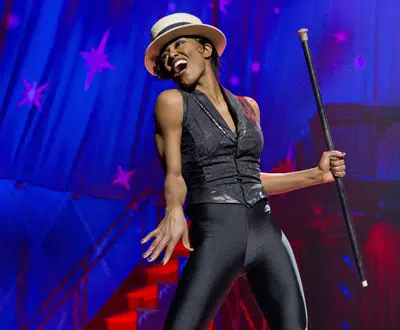 They oughta think about forking over, though: Headlining a fancy-dress fundraiser bill at the Music Center at Strathmore this past Saturday, Miller turned in a sly and sexy reading of "Don Juan," turning that sass-mouth R&B trifle— a sort of after-the-holidays "Santa Baby" sung in the character of a shameless luxury-lover giving her recently busted sugar daddy the side-eyed brush-off — into a sharply etched little story with an actual arc. It's the kind of take on a song that helps make something lively of an otherwise unrelated string of fun and/or familiar tunes, which is what these gala evenings typically are — and pretty much all the wheezy jukebox of Smokey Joe's ever was, too.
Miller showed real range in the 75-minute concert (a version of the set captured in a 2014 installment of Live From Lincoln Center), not merely serving up material from writers as unalike as Cole Porter and Alanis Morissette, but dishing each song out with a keen sense of the style it demanded — commanding the house with leggy rock-star athleticism on "You Oughta Know," luring the audience in with an intimate, vulnerable, crystalline vocals on "Someone to Watch Over Me."
Her voice is a clean, sure instrument, and her arranger James Sampliner took full advantage of that fact, calling on the singer to start and finish a handful of numbers a cappella, without the flattering cushion even a cabaret-size band provides. The approach worked handsomely — not least with "His Eye Is On the Sparrow," the traditional hymn with which Miller anchors a light-touch story of her South Carolina church-singing childhood — but she and director Charles Randolph-Wright took care not to overuse it. Good thing, too: The four-piece ensemble punched well above its weight, providing plenty of noise for the more raucous numbers while still scaling down beautifully for the slenderer tunes.
Bowing to the inevitable, Miller wrapped up the evening at Strathmore by bringing out a gang of Maryland youths — eventual beneficiaries, through the arts center's educational and outreach programming, of the funds being raised — for a breezy collective pass at "Magic to Do" from Pippin, the show whose 2013 Broadway revival won her that Tony. (Which: Eh. Pippin isn't much of a show, and though that number makes sense as a showcase for the kids, it's dull as toast. "Corner of the Sky," trite as it is, would've had more oomph as a sendoff.)
Happily the actual sendoff wasn't the finale, but (of course) the encore, which in this case was Miller, solo again, in Billie Holiday's "God Bless the Child." Fitting: this lady is one that's got her own, for damn sure.