Louis Lovett is a weaver of stories. From Ireland he is and he is simply grand. I have it on good authority from two smallish people and one not so smallish I met at the Kennedy Center last Friday evening for this young people's performance. After squinting and thinking quite critically for a moment, Karolin thought the best bits were when Lovett got the whole auditorium shouting "yes" and "no" while that fool of a Lovett kept trying to figure out how to look through a pair of binoculars.  Lovett is a genius for improvising a moment, stretching it out, and involving the audience totally in silliness.
Karolin's quite right, and although we were a smallish lot of us sitting there, we nearly raised the rafters of the Family Theatre. We could have gone on forever we were enjoying it so.
Her brother Christopher, quite a bit older, who did not initially want to weigh in but did anyway and enthusiastically endorsed Lovett, saying, "There was no point in which you couldn't get into the situation." I concur.  I am thinking of Lovett's inventive use of an enormous crate that opened into a series of smaller packing crates which also opened showing smaller boxes and containers.  Lovett pulled these around, reconfigured, and manipulated them as a set to base a whole tale of a family of packers.
Anna did not stint in her praise. "What did you like?" I asked. "Everything!" she replied. And after the show when Lovett asked Anna if she would be interested in being in a show with him, she beamed, "Count me in." And they shook hands on it.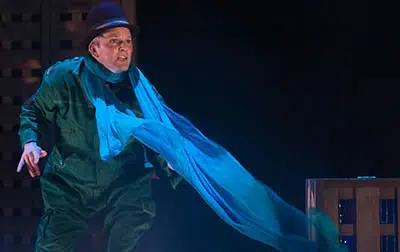 I knew these audience members would be exceptionally perceptive. You see I had seen Anna outside before the play where people had gathered "on the green" outside the Kennedy Center for some bangers (sausages) or fish and chips, and adults got to sip some Irish Guinness. There was a lovely group of Uilleann pipers including Amy Campbell, a blind piper in the great tradition of blind pipers in Ireland.  Anna rolled her wheelchair across the green and right up in front to take in the music.
We all felt lovely and so included as we sat in that big green underused space overlooking our Potomac. The Kennedy Center was transformed into a kind of welcoming magic the Irish are known for.
As for the magic on stage, I think I've unearthed a theme in this Ireland 100 festival.  Lovett and another Irish performer, Colin Dunne, who performed a solo dance show on another night, use the simplest of means to meet the audience halfway friendly-like and bring us into their art-making. Dunne is best known as the choreographer and main dancer of the international sensation Riverdance. Both he and Lovett show the underpinnings of their art forms. It doesn't make sense, does it, to give away the secrets of their magic? But somehow it works – all the more magically.
Dunne did it by taking on and off his shoes, his taps, and even (pulling out of his socks and pants) the electronic wires that help amplify and loop the sounds to which he dances, on stage. He breaks down the steps of a hornpipe. But what is a hornpipe, he asks. We even watch him watching as if from backstage clips of old black and white film of early Irish dancers that represents his life as a dancer. It both honors the tradition and shows how confining it can become when a tradition becomes a codified form and a form can become ossified. A performer can get trapped — like inside a box — and feel the need to break out.
Boxes again. Lovett simply tells us up front in his show how he's going to "unpack" his story. Oh, the boxes are a metaphor, get it? He lists all the elements to be revealed in the story of Peggy and Peggy's folks (the packers), a mouse, a sinking ship, blood, a German cake, a goat, and a squelcher. (The last item is a very useful tool that can make things smaller so that they can fit into smaller containers and would be very useful to me right now as I am moving houses.)
Like Dunne the dancer, the main character, Peggy, gets kind of boxed into a routine with her family and their packing company.  And she sings badly (hence the title.) Until things change, and then at some point she has to sing properly to save thousands of people caught in a storm on a ship.  Lovett plays Peggy rather well and sings rather badly until he has not to and then he shows us he sings very well indeed. That's part of the magic. The fun comes with Lovett enjoying the world of sound-making without the aid of high tech, including mouse sounds and sounds of oozing, squishy, dripping blood, and a whole assortment of other non-verbal sounds.  Like Shakespeare, he also makes up words including nouns as verbs, as in "he sidewalked." His mimetic physicality is also marvelous whether he is traveling through a storm, scurrying like a mouse, enduring a shipwreck, or playing three people at once.
But quite honestly, as delightful as the story is, when Lovett jumps ship so to speak and just plays with the audience he is at his best. His ability to use such an elastic sense of time suggests he's having the time of his life as are we. I've never seen it done better.
Any suggestions?  Well, another not so smallish audience member did suggest that the cameo goat could have been "milked more." Oh, dear.
——–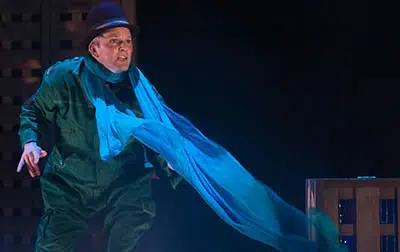 The Girl Who Forgot to Sing Badly

This show closed on May 22 after 3 days of performances
Details 
——–
There's stuff to be learned here, don't get me wrong, it's not just all song and dance. Lovett teaches us the phrase in German for marzipan and banana (Marzipan
und
Banana,) and Dunne shows us that the Irish do have arms and hips that, in looking at Riverdance, you would never guess. (Dunne's last springing, twisting, rollicking romp around the stage reminded me of a colt on the first spring day let out of the barn to frolic in the pasture and was a delicious reminder of our right and responsibility to move as we feel it.)
Ireland 100 Festival has come to D.C. to remind us that there is a new wind blowing across the emerald isle, and her artists want us to open our minds and hearts to lots of artists not wanting to be boxed into a Riverdance forever.  Lovett and Dunn challenge us all to break out of our boxes, be they as audience members of Irish performance or in our own lives.  Like Anna, "I'm in."
——————– 
The Girl Who Forgot to Sing Badly. Written by Finegan Kruckemeyer. Directed by Lynne Parker. Performed by Louis Lovett. Produced by Theatre Lovett now being presented as part of Ireland 100 at the Kennedy Center. Reviewed by Susan Galbraith