This year's big fortieth anniversary event at Spoleto Festival USA was the long-anticipated new production of George Gershwin's opera Porgy and Bess, as a celebration of the city that gave birth to the original story.
This production was envisioned, from the first, to honor Gershwin's operatic masterpiece and at the same time to redress certain misrepresentations of the African-American culture and other "freight" this work has borne in the history of American race and racism. Key to the concept for such an important production was to include Jonathan Green, one of Charleston's most celebrated artists and a "carrier" of Charleston's African-American history. Green has served as historian, guide, and Visual Designer to formulate a look for the production and to serve as a lens into the life of the people on whom the work is based.
The opera came about from a close collaboration between Gershwin and Charleston's own Dubose Heyward, who was inspired to write a novel, "Porgy", about local African-American islanders referred to as "Gullahs." Heyward, a White man who suffered from poor health perhaps had more than the usual White contact with Black caretakers. He was a close observer of the local culture and developed great sympathies for and took delight in his neighbors' culture. He chronicled what he saw in watercolors and in recorded dialogues that ended up being part of his novel.
The last time Porgy and Bess was produced in Charleston was at the Gaillard Theatre in 1970 and, by all who saw it, the show was a pivotal cultural and political event in Charleston. It brought together Whites and African Americans, many for the first time, breaking the audience segregation of that auditorium and working to advance civil rights with this landmark production.
The new production had been slated to be part of the Festival's 2015 schedule to mark the renovation of the Gaillard Center but was postponed. Tragically, the event that overshadowed all others in Charleston last year were the nine murders in the Emanuel AME Church across the street from the Gaillard.
All of these things and so much more about Charleston are interrelated in this season's production. I walk around Charleston and try to prepare for this Porgy and Bess by soaking up the deep, complex and difficult history of the city as best I can.
I took in an exhibit at the Gibbs Museum, also recently renovated and re-opened the opening weekend of the Festival, with an exhibit on Porgy and Bess, including the legacy and art of Dubose Heyward, and with a case holding the watercolor frontpiece from the publication of Gershwin's original libretto. There were also saw many posters and design sketches from various productions.
I walked by several of the "Porgy Houses," a group of homes that had been selected because of their importance to the African-American history of Charleston, that represented homes of key figures in medicine, education, religious life, and culture.  These homes, with modest placards explaining their history, had been enhanced with colorfully painted geometric designs inspired by West African art and design that had also inspired the production's design.
I also attended a talk in a packed city college hall, where CBS correspondent Martha Teichner spoke with Stage Director David Herskovits, opera singer Eric Greene who plays Crown in the production, and Jonathan Green, the Visual Designer.
Everyone I talked to seemed to have a strong opinion about the show, whether they had seen the production or not. Many people in Charleston feel they know and even own this opera. Performances were sold out within days after tickets were put on sale. Spoleto Festival had arranged for a HD simulcast to play the show in Marion Square the night we were in attendance (Sadly, there was a bad thunderstorm which must have dampened the experience considerably.)
"You can't revise history" seemed to be the cry of one side. "We need to restore the real history of people" was the counter charge.   "Why did they change the ending?" one woman said full of indignation and pain. "You mean the opera?  I don't think this production did change Gershwin's opera."  "They changed it from the book. Why did they do that? It's our history."
This electrifying atmosphere makes for very important theatre. Inevitably, no doubt in making corrections, there are bound to be some over-corrections. Great works ask for, even demand, new lens.
Walking into the massive auditorium of the newly renovated Gaillard Theatre with its marble floors, white columns, and peach colored walls, I was reminded how much of the beautiful architecture of this city was built originally on the wealth from the slave trade and through the skilled labor of Charleston's immigrant workforce, in particular its African-American contractors and artisans.
The opera begins
Gershwin's overture starts with its strings joined by squealing brass and percussive clinks of the xylophone – a brazen American sound. How many times have I heard the music or seen a production, but to hear this played in Charleston, it was spine tingling!
When the curtain goes up, the entire proscenium arch is filled with a massive ironwork gate found in the city.  This got a cheer as if the hometown team had just raced onto the field.
In a surprise twist, the orchestra seemingly "passes" the music to a man onstage whom we see behind a scrim playing a honkytonk piano in a bar. Tuffus Zimbabwe as Jazzbo plays terrifically, lending in that first moment something very specific of character and place to the story.  People gather around him, snap their fingers to the music, and some couples start dancing. The place fills up. Caught on stage is an ordinary night with people gathered, living ordinary lives. Exactly. The very authenticity of this opening announces, without a shadow of a doubt, that the stamp of this production is carried by the look and sound of the immense chorus.
When the scrim disappears and the full lights go up, there on stage are colors so drenched in hue, bold in geometric composition, that we get immediately that our "designer eye" Green is telling us that this production is African inspired, specifically western Africa, with the boldly printed cotton fabrics. Many of the women wear elaborate and gorgeous headwear and move like proud birds in grand plumage.
The familiar and favorite song from the work, "Summertime," comes almost immediately into the show, and is sung as originally intended as a legit soprano aria by Courtney Johnson as Clara. Dressed to the nines, with jewels in her hair, she looks like a queen. Johnson has a gorgeous voice and delivers a flawless vocal performance. I was sad that the context of a working woman singing to calm her baby was completely unexplored.  She might as well have been in recital at Carnegie Hall, for the baby was completely ignored.
From the moment Lester Lynch makes his anticipated entrance as Porgy, he commands respect. His voice is strong and compelling. Lynch shapes phrases with great skill, pulling back on power then releasing it in most expressive ways. I believe his every moment and every word. Lynch's Porgy knows what Bess is and sees her weaknesses and struggles. But he sees something else and Lynch portrays the man as having great dignity. He is no hapless victim. We see him survive being hauled off to a White man's jail and see his return: he clearly has used his wits not to get entrapped.
This is a tough role, and one that artists have been hesitant to take on. There are so many contentious issues one has to deal with in mounting this show. One has been the depiction of Porgy.  The character is based on the real-life Samuel Smalls, who was handicapped and traveled around being pulled in a cart by a goat. As goats are highly under-represented on stage, the fight has been whether having Porgy, a Black man, drag himself along demeans him. (In recent decades, having him stand and hobble with a crutch has raised the ire of advocates of the handicapped, who question whether society is unable to deal with a hero who is a cripple.)
Director Herskovits resolves this issue by trying to make everyone (partially) happy. Lynch at first scoots himself around on a low platform on wheels, something like a super-wide skateboard. Later, his friends seem to have presented him with a wooden wheelchair contraption decked out like a throne. Still later, Porgy hobbles on using his staff as a crutch, and it figures as a key weapon in the plot. Lynch makes a proud final gesture, standing and flinging away his staff altogether, which suggests that the man will overcome every obstacle. This Porgy might walk all the way to New York to get his Bess back.
The other great male performance in this production is Eric Greene's as Crown. The confident and sophisticated opera singer who, like several men in this cast, sings in several languages on the world's great opera stages and would dominate the stage in many super Baritone-Bass roles, hesitated to take on this role because of the stigma many still feel attached to being pigeon-holed in "Black roles."
I would come and hear this man sing anything.  As Crown, he "goes for it," using his impressive physique to show how his character bullies men and seduces women. He makes us understand Crown is a survivor in a tough world. When we see him on the beach, his clothes ragged from living as a fugitive, I believed this guy could really survive alone on an island. His wild loneliness informs his seduction of Bess, including both his hunger drawing the woman in close but also his brutality. Greene made the audience so believe in his performance that when he came out for the curtain call many were booing him.
Greene could not have given this kind of performance without Alyson Cambridge as Bess. I had learned from interviewing Cambridge how close these two were as performers and the trust that they had built up having played Clara and Jake respectively in other P&B productions, including at Washington National Opera in 2005.  To know Cambridge as a highly cultivated young woman and singer of great vocal and emotional control, and then to watch her "let go" in this role proved hers to be a breakthrough performance.  Their work together in this opera demonstrates what opera singers can do when they trust each other and the material and go for the emotional truth inside the music.
Cambridge's Bess enters showing she's using everything she has to enjoy the height of her powers. No one can wear a red sleeveless gown and sculpture-as-hat the way this hot woman can. Later in the opera, Cambridge's form changes as she twitches and shakes with all the raw agitation of a woman drowning in addiction. She also has scenes where she shows compassion and softness as she learns to trust and care for Porgy and then tends to the baby left in her care. She also shows us, without any apology, how a woman can want a man who knows how to read her body, without being called a dirty word. Cambridge carries something else, a great inner mystery, with an almost shamanic ability to lose herself — disappearing into the chorus, shrinking in size — then coming out and sending out a "diva" performance energy. I loved the power and warmth she has gathered in the middle of her range.
Read all of Susan Galbraith's reviews of Spoleto Festival USA
In fact, Greene, Cambridge, and Lynch give such multi-layered, multi-dimensional performances, that their presence –with Director David Herskovits encouraging their instincts — more than anything is what has needed to be "restored" in presenting the story.
There's plenty of other fine singing in the show. Sidney Outlaw as Jake grows stronger throughout the evening. Victor Ryan Robertson as Sportin' Life is that genuine phenomenon, an accomplished opera singer who can fully crossover into a Broadway song and dance man which he demonstrates in the role as written.  Lisa Daltirus as Maria and Indra Thomas are terrific singers and bring authenticity to their roles, creating two of the most believable characters in the onstage "community."
Which brings me back to what I am still puzzling over and that is the design. I was fully prepared to buy the visual premise for the show. Undeniably, I love the look of the piece and appreciate enormously the collaboration of "Design Artist" Green and costume designer Annie Simon.  I'll put money down that one day these designs will be featured at the Lincoln Center archives or have their own show at the Metropolitan Museum.
But, alas, I didn't believe its world. Not totally. Not in this world. Did a preponderance of the African Americans residents of Charleston really espouse wearing western African garb in the 1930's? I'm all for the desire to "get rid of the rags," but does the correction necessitate turning the whole story into a glitzy vehicle for African fashion? Would Bess be lounging around in Porgy's one room in a satin evening gown for days then don an African-inspired jacket? Did Porgy get treated to a brightly-colored African shirt upon leaving jail after a week sleeping in his old clothes?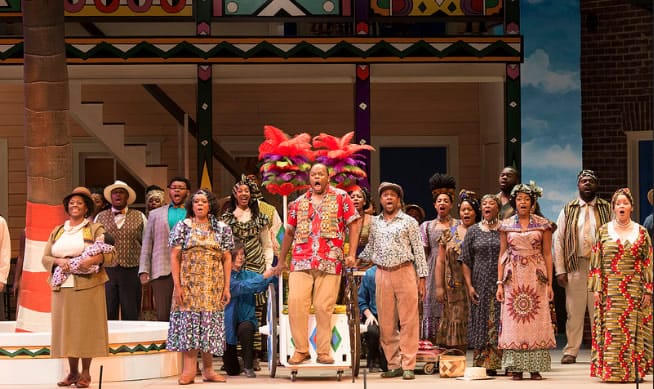 On the other hand, I loved the funeral gathering with the Chorus dressed in traditional West African Red and Black colors of mourning. To me, this scene made sense contextually, out of respect for their neighbor and as a special occasion to put on traditional clothes. I loved the sets, especially the houses and later the palm trees on the beach painted with African design elements.
——–
Porgy and Bess
Spoleto Festival USA

closes June 12, 2016
Details and tickets
——–
To my mind, there are some other "technical glitches" in this production, evident to many from the early on in the show. One was the lighting design that did not light faces sufficiently to be able to tell, when the stage gets crowded, who is singing.  (Get rid of certain wide brimmed hats, and don't have soloists sing from the third-story balcony in the dark.) Also tricky is the combination of the dialect as written in the libretto and operatic singing, especially high voices. This may be exacerbated by acoustic problems with the hall. I heard several audience members complaining that much of the language was unintelligible. Opera companies help solve this dilemma by using surtitles, even for texts sung in English, though this might raise other sensitivities.
I believe with a work as powerful and important as Porgy and Bess, it may always prove controversial and bear the burden of having to say too many things. I would hope though that great singers like the ones featured in this cast would be able to participate freely and still be selected to sing the great European operatic classics. This production is a gorgeous tribute to Charleston, and one to bring many more people into appreciating Spoleto, Gershwin, opera, and the talents of these fine artists.
————
Porgy and Bess . Created by George Gershwin, Dubose and Dorothy Heyward, and Ira Gershwin . Based on the book, Porgy, by Dubose Heyward . Music by George Gershwin . Directed by David Herskovits . Conducted by Stefan Asbury . Produced by Spoleto Festival USA . Reviewed by Susan Galbraith.