Crisp, lively, funny and full of life — although not always perfectly successful — the six ten-minute plays in the Source Festival's Secrets and Sound cohort is a mood elevator…not only in the immediate sense, but in the promise they hold for DC's future playwrights, actors and directors. C'mon and take a look with me.
In Patrick Flynn's The Ferberizing of Coral, two young and, apparently, first-time parents (David Johnson and Rebecca Ballinger) have read a book on how to "self-soothe" a baby by letting her cry for ten minutes without interfering. (Yeah, and I read a book on how to teach your cat to use the toilet. That didn't work either.) As they listen on the baby monitor, they are tormented by their own massive self-doubts (they hear the baby, at seventeen, explain that because they let her cry she "does things with boys — in cars.") Johnson and Ballinger are utterly convincing as the anxiety-drunk parents, and Flynn's dialogue is spot-on. Anne Donnelly provides expert direction. (Coral is the name of the baby. I don't know what Ferberizing is.)
Things turn a little more somber in Elayne Heilveil's In Between the Drops, in which a Hollywood actor (Madeline Burrows) tries to describe a home invasion to a disinterested policeman (Mediombo Fofana). No corroboration, no damages — it's time for his cheeseburger! Burrows is fabulous in this, carefully parsing out self-discovery as she reveals details of the event. Kevin Place directs, effectively.
Kylie and Janet and Robyn and Cher by John Bavoso, is the story of Everett (Andrew Flurer), whose date with Curtis (Gregory Atkin) is ruined when Curtis discovers his Spotify playlist and learns his dirty little secret — he's a heterosexual! Bavoso writes some wincingly funny lines and Atkin takes full advantage of them; indeed, Curtis is a character Oscar Wilde could have written, if Wilde had known what Spotify is. There is a third character, Brandon (Patrick Joy), whose presence is a bit of a mystery; when we learn who he is, it dampens the mood considerably. I think Everett (or "Evvie", as Brandon calls him) is fooling himself, but no matter.
After we briefly repair for an adult beverage, we return to Jack Piland's Adam's Temptation, in which Fofana and Burrows play Harvey and Maria, government employees of one sort or another who are in a bunker three hundred miles underground, and have been for five years. In the background, a computer voice recites binary code; it has been doing that incessantly for five years. Notwithstanding, Harvey and Maria are of unusually good cheer…and yet they wonder: is there anyone up there, and have they forgotten about us? When the numbers stop and the voice instead gives instructions to press some buttons, will they do it? This is somewhere between Endgame and the Twilight Zone, and Place's cast pulls it off.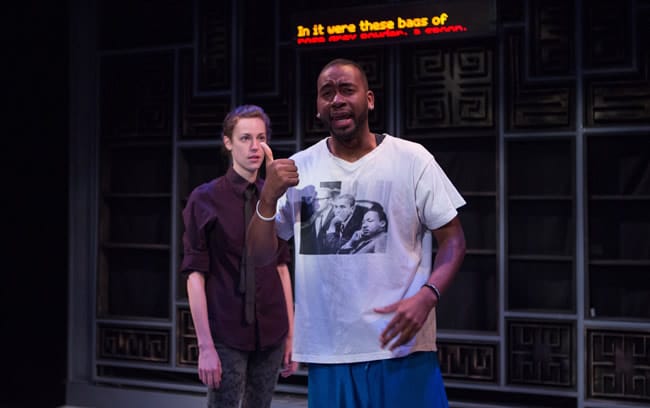 To write a story successfully, you must control the pace with which information is revealed in order to create a narrative question and allow the audience to answer it with you. All the plays in this group respond to this imperative, but one of the most interesting approaches is that of Joshua Reinhard's Sign Language, in which Liam, a mute woman (Katrina Clark) describes her life through her close friend and interpreter Benny (Aarron Loggins), a deaf man who can nonetheless speak. Benny, though, is an imperfect interpreter because he has his own point of view on these events; the struggle between them as to what to reveal to us is as compelling as the drama of Liam's life itself. Both actors deliver, and Matt Ripa directs this seemingly simple but profound piece.
And after that, time for something completely different. I Don't Know… explores an unexamined aspect of life in the new egalitarian Army: its effect on the notoriously ribald cadences which drill sergeants have used for centuries to keep soldiers in step.
——–
Secrets and Sound

closes July 3, 2016
Details and tickets
Kevin McGuinness is an old-school Master Sergeant whose recruits (Johnson, Ballinger, Emily Gilson and Nate Shelton) are obliged to tell him all the ways in which his tropes are now offensive. McGuinness' slow burn is priceless. Playwright James McLindon has obviously understood the meaning of The Who's anthem: "I hope I die before I get old."
The Secrets and Sound cohort of plays understand something important: sometimes, it's sufficient to giggle and snort. I invite you to go to this fine selection of ten-minute plays, giggle, snort, and have a good time.
——————–
Secrets and Sound includes The Ferberizing of Coral, by Patrick Flynn, directed by Anne Donnelly; In Between the Drops, by Elayne Heilweil, directed by Kevin Place; Kylie and Janet and Robyn and Cher, by John Bavoso, directed by Matt Ripa; Adam's Temptation, by Jack Piland, directed by Mr. Place; Sign Language, by Joshua Reinhardt, directed by Mr. Ripa; and I Don't know, by James McLindon, directed by Ms. Donnelly. Featuring Gregory Atkin, Rebecca Ballinger, Madeline Burrows, Andrew Flurer, Mediombo Fofuna, Emily Gilson; David Hohnson, Patrick Joy, Aaron Loggins and Nate Shelton.  Set design, Klyph Stanford . Costume design, Shelby Marie Gable . Lighting designer, Nathaniel Collard . Sound design, Gordon Nimmo-Smith . Production stage manager, Lisa Blythe, assisted by Caolan Eder .
Reviewer's note: Playwright John Bavoso frequently reviews Fringe shows for DCTS. That has not affected my review.