Shakespeare is an adventure with the Chesapeake Shakespeare Company and especially when staged as a moveable feast in the Patapsco Female Institute Historic Park. Using the ruins of a once thriving girls' finishing school in Howard County, the company pulls out all the stops, and takes pride in inviting you in to follow the actors around for the different scenes and to have fun with Shakespeare. What could be more glorious than spending a Sunday afternoon atop a hill in a sylvan setting!
But hold on a minute. Let me help you plan for your adventure. The company does indeed invite you in, but then leaves one small sign, (one easy to miss,) at one end of the parking lot to head you up the right trail.  In order to "follow the actors around," I do suggest sturdy shoes, because the action means criss-crossing some eight venues, climbing up and down stone steps onto balconies then plunging down inside ruins, then up again and over to a field under a tree for a sword fight.
Sunday evening, those who needed to move cautiously slowed down the pace of the play, and Romeo & Juliet certainly did not make any "two hours traffic of our stage" but closer to three with an intermission. While the company's is a somewhat novel though not entirely unique way of staging Shakespeare, I wish the directors, Scott Alan Small and Katie Keddell, had integrated the ambulations more creatively. Why not have the characters and ushers shout to everyone that there's a brawl happening in the street to get everyone to hustle and arrive pell-mell for the Act III Scene I and the street slaying of Mercutio then Tybalt?  Why not have the entire audience form the procession carrying the body of Juliet into the family tomb? As it was, the plodding began to remind me more of standing in airport lines than being part of a show.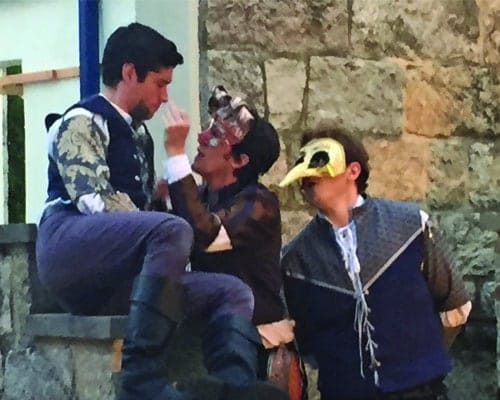 I also encourage that audience members to bring a picnic with suitable libations to add to the "fun" part. Shakespeare would have wanted or at least expected most of the audience to be juiced up if you were standing as the "pit" audience – and most of us were. There are no refreshments sold by the company, and intermission offers few creature comforts.
The production started out pretty ho-hum. It felt like it might be sloppy street bardolatry, something not far above Renaissance Fair level, the kind that makes me either very sad or very mad.  Why do some people think Shakespeare has to be dumbed down and played so broadly to the point of sitcom or slapstick for new audiences to "come 'round" to loving Shakespeare?
Then Benvolio (Matthew Ancarrow) calls in his cousin Romeo (Séamus Miller,) who's been slouching on the steps staring out into the green. He appears pouty and moonstruck, in the throes of first love.  There's something promising here. The guys are really playing off each other. By the time Scene IV brings in Mercutio (Vince Eisenson,) these three play it for real and have a great time with each other and the set. They scramble around the ruins, flop down on the ground, maul each other manfully, and even pull off asides and interactions with the audience as all part of the fun. But they don't miss a single "iam" and project with distinctive, well-supported voices.
Romeo can be a real sad-sap, but Miller finds the humor in his character and yet can hang out there emotionally as Romeo has to do.  He's got Rob Lowe looks and is willing, like Lowe, to play goofy.
Eisenson carries the plum role of Mercutio in the production. There's so much that can be done with this role. I've seen him played as a closeted and suppressed homosexual in love with Romeo. I've also seen him played as a bi-polar in a manic phase.  Eisenson chooses to be in love with words and himself: a rapier-witted class clown and show off.  He makes the language tumble forth and is appropriately dizzying to follow. He flips between accents and new metaphors as easily and deftly as a cat jumps over and around plants in a flowerbed.
Romeo and Juliet is an early play for Shakespeare where so much is written in regular iambic pentameter that deliver rhyming line endings that unless it is delivered by wonderful actors it can get sing-songy.
I wasn't sure about the Juliet in her first scene, especially vocally (size and expression,) but Elana Michelle won me over.  Michelle is such an intelligent actress and makes many good choices in phrasing and breathing the lines. She leads us to follow her thoughts rather than "acting" reactions. By the time we come to Act II, Scene II, she and Miller play off each other with something that feels very fresh, shifting emotionally, and with such energetic give-and-take I was truly moved. I've never seen a better or more believable Balcony Scene between the star-crossed lovers.
——–
Romeo and Juliet
closes June 19, 2016
Details and tickets
——–
Kathryne Daniels is another one I want to mention. Playing the Nurse, Daniels comes on like gangbusters, with a voice that cut through the languid summer late afternoon air and energized her entire first scene. She embraces a broad physical style of acting and seems at ease playing off the audience and expanding improvisational moments, a style that seems part of the CSC's convention.  Later in the play, her bawdy reaction to getting a big smooch from Mercutio had the whole audience guffawing, as did her busy fanning of her "flashes" that followed. However, she kept laying it on throughout the play, so much so it became shtick. When Daniels puts the moves on the Friar, after there's been so much death, and her character should be caught up in the cataclysm that has been dealt the Capulet household, that felt like "not a good choice" and one would have wished for stronger lead in the direction.
Many of the costumes, designed by Kristina Lambdin, were lovely. The audience, being close enough, could appreciate the lacings, rich "sleevelets "and other details. Special mention goes to Lady Capulet's rich burgundy and gold brocaded gown and pearled hairnet. The Prince of Verona was sadly mistreated by being sacked in a kind of sheath made out of cheap curtain material and a-topped with a bad wig. It hardly helped his character's needed gravitas.
The downside of outdoor shows is that even standing (or sitting if fortunate enough) more than three rows deep, you can find yourself watching talking heads because the actors' bodies are masked by the audience in front of you. Added to this, in the Patapsco Park, trees were at times so low-branched and heavy with leaves, they made for "obstructed views."
The upside is to get a feel for the haphazard, rough and tumble atmosphere Shakespeare and his company members had to deal with as they first tried out these works.
You couldn't be surrounded by more beautiful views or see a Shakespeare show "framed" by such lovely ruins. A special bonus is getting to talk to the actors afterwards.  Young people seemed to love this part especially.  But there's only a week more of Romeo and Juliet.  The show to follow is The Three Musketeers – for a month of sword fights and machismo bravado.
————–
 Romeo and Juliet by William Shakespeare . Directed by Scott Alan Small and Katie Keddell . Produced by Chesapeake Shakespeare Company . Reviewed by Susan Galbraith.