My grandfather was the meanest S.O.B. this side of the east coast. Seriously! My mother once told me that if you wanted to meet the devil, all you had to do was knock on my grandparent's door.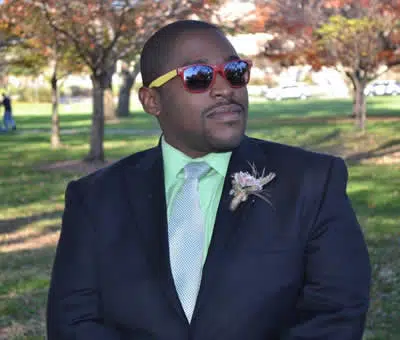 Still, he was my grandfather and for better or worse I love him. After all, he lived an extraordinary life running with drug dealers, running liquor to celebrities on the Chitlin Circuit (most notably James Brown), and even having an affair with Nina Simone. Growing up I learned very quickly: if "Chick" Bailey told you a story that sounded true, it was probably a lie. If Chick told you a story that sounded like it was pulled straight out of his butt, then it was most likely true. I was introduced to many of these stories over the years and most notably when he died back in 2010.
In the small town of Orangeburg, SC, family members came out of the woodwork to pay their respects to William "Chick" Bailey: The One Man Motorcycle Gang. Everyone had a moment of fondness and a moment of great sadness about this larger than life man. I heard so many stories that it was hard to figure out what was real and what was true. Did my grandmother really fall in love with him over tight leather pants? (A story that I would have rather not have heard!) Or what about my great grandmother being thought of as a witch just because she lived in St. Matthews, SC? Then there were his later years with my mother and her three siblings. A period so dark that just talking about it causes immense suffering within my family. I had been trying to learn more about my family for about year and I ate up every story that was shared with me whether it was from people who were there or stories passed down to my cousins.
One moment that sticks out in my head, and was the catalyst for my play, was when I was doing my "World Famous" Chick Bailey impression for my grandmother. She whooped and howled with every catchphrase I could recreate. I remember a few family members passing by the room with smirks on their faces while their eyes shot me dirty looks. After my five-minute comedy set, I gave my grandmother a hug and told her that he would be missed regardless of what mistakes he made. She agreed, but then she looked absently at the bed he died in and said, "Yeah, but nobody is going to know Bailey like I knew him."
That comment surprised me. With all of the horrible things that Chick did, especially towards my grandmother, she was the last person I expected to speak so longingly about him. Now, I know what you're thinking. She's his wife, for better or worse, yada yada yada! But this man literally kept my grandmother in Hell for the entirety of their marriage and never apologized until the day he died. A few hours to be exact.
So as I sat in the front of the church with my other family members, I thought to myself: Did I know him? Did anyone know him? I think he must have heard me because after the funeral, my mother and her siblings finally let loose all of the frustration that had been building since they saw the horrible things this man they called father did to their mother. He never laid a hand on them, but his actions had a profound effect on them and, as a result, on their children.
My family was in pain and it was because of this polarizing figure who caused laughter and heartache at the same time every moment of his life. My cousins and I left to get a meal together and it was at that moment that I decided to write, Cracked. Not because I wanted to write a play or because eventually I wanted to bring it to the Capital Fringe Festival. I wrote it because my family's story needed to be told and the questions that flooded my mind needed to be answered.
I decided to start from the beginning with Cracked, which takes place at the meeting of my grandparents. In order to understand him, I wanted to focus on a time before his fall into darkness. A time when he could be loved and could even be thought of as a hero. My mom always taught me not to put out family business, so I invite you to join the family this summer.
---
Marcus Salley is a VA based actor, director, playwright and educator. He has been in DC-Area productions such as: Taming of the Shrew (Baptista) and Of Mice and Men (Crooks) with the National Players, the DC 1 Minute Play Festival, The Play in a Day Festival, and Recovery (Bestar) as a part of the Capital Fringe Festival 2013. He has also been featured in several Virginia area productions such as Macbeth (Macbeth), Henry IV Pt. 1 (Falstaff), Master Harold and the Boys (Sam; Capital Fringe Festival 2014), Sweeney Todd (Sweeney Todd), The Woman in Black (Actor).
Cracked
July 9 — July 24, 2016

Logan Fringe Arts Space: Upstairs
1358 Florida Ave NE
Washington, DC 20002
Show details and tickets 
———————