A recipe for one ambitious musical: throw in Hitchcock's Rope and the sci-fi film Blade Runner, add in some funky rock tunes by world-groove-jazz trio Djesben, and top if off with video projections and an interactive "choose your own adventure" Twitter poll. Blend it all up and get ready for some Dial R for Robot, a sci-fi Hitchcock rock opera, playing at the Sprenger at Atlas Performing Arts Center.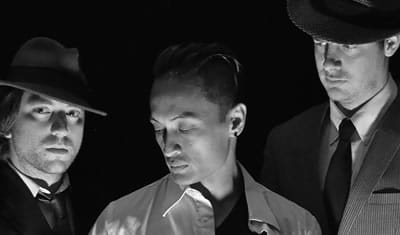 First and foremost, I must say, for a show about high-tech humanoid robots, technology was not on the side of the cast and crew on opening night. Plagued by mic and projector issues, it was nearly impossible to hear or understand the actors, and therefore almost the entire story was lost on me.  It would seem it was lost on the rest of the audience as well: when it became clear the issue was not a quick fix, a number of audience members began yelling "we can't hear you," and one brave fellow even walked up to the booth to try to help.
But the actors and band pressed on, and eventually, the sound worked itself out a bit, and I began to sort out what was happening . . . until the projector began malfunctioning.  
Upon reading the synopsis after the performance (I had abstained to avoid coming to the piece with any pre-judgments), the piece made a lot more sense.
The opera closely follows the plot of The Rope.  Decker (Lansing O'Leary) and Tyrell (David Weiner) are two cybernetic students of Professor Cadell (Scott Griswold) who are vying for a prize in robotics against Professor Sajous (Katharina Acosta).  Decker and Tyrell lure CJ (Buster Britches) a humanoid robot built by Harper (Caz Gardiner) and Mike (Samy el-Noury), students of Professor Sajous, to their apartment and destroy him. 

Dial R for Robot
Written by Christian Crowley
Details and tickets
—–
The action of the play begins with Decker and Tyrell decorating a Christmas tree with what I believe is meant to be mangled robot innards. They host a gaming party to celebrate, using the robot's brain to power an "antique" Atari. And this is where things took a slightly confusing turn into the world of the Atari game they are playing: a spy adventure in communist Russia based on Hitchcock's Torn Curtain.
Real time Twitter polls were used to vote on which actor would play what role in the video game, leading Scott Griswold to take a hilarious turn as a ballerina. We then returned to the party where the professors debate about morality, violence, and the robot mind.  Tyrell becomes increasingly agitated in his guilt, and when a cell-phone mix up leads Professor Cadell to discover their heinous deed, Tyrell and Decker must decide what to do.
Technical issues aside, I'm afraid this production still disappoints.  The music played by Djesben, transformed with costumes and facepaint into the Android Band, is lovely, but the melodies of the songs are all low, non-melodic, and repetitive. Director Chris Griffin has given the actors little blocking or choreography – they often stand in one place or in a straight line across the stage with very limited movement in each song.
Dial R is definitely ambitious. Too ambitious in my opinion.  It is a clever concept but tries to do too much. I appreciate the attempt at making it an interactive experience for the audience, but these moments slowed the action and thwarted the momentum of the piece.  What we were able to see of stage manager Charlotte Houghton's projections (with video by Rob Parrish) were well-done and effective. Yiwen Feng's costumes gave us a, again confusing, period/futuristic mash-up in muted colors, but there were a lot of fun light up costume and prop surprises.
The ones to truly commend are the actors who pushed through, on Saturday night, in spite of major technical issues and numerous outbursts from the audience.  David Wiener was a standout as the deeply troubled and nuanced Tyrell, and the vocal highlight of the night was Buster Britches in his one song as CJ.
If you like robot stories and Hitchcock films, I'd say take a chance on this one.  Let's just hope they've sorted out their tech.
 ————-
Dial R for Robot. Song Book, Composer, & Playwright: Christian Crowley. Director: Chris Griffin. Featuring: David Weiner, Lansing O'Leary, Buster Britches, Scott Griswold, Katharina Acosta, Caz Gardiner, Samy el-Noury. Android Band: Katy Gaughan, Topher Dunne, Jerry Tolk, Christian Crowley. Costumes: Yiwen Feng. Sound: Mike Savenelli. Video: Rob Parrish. Stage Manager: Charlotte Houghton. Produced by Djesben. Reviewed by Sarah Scafidi.