The Rude Mechnical's Reflecting Antigone is true Fringe: Unique and moving, if weighed down by imperfect execution. If you can forgive it for its many rough edges, you will find a solid and important message at its core.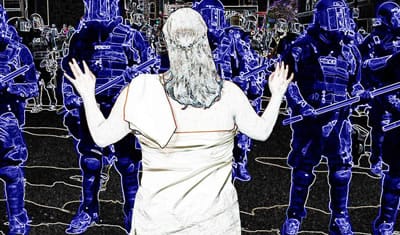 Why bring back Sophocles? Not from the dead, I mean. Despite being dead for nearly two and a half millennia, the Ancient Greeks sure do a lot of Capital Fringe shows. Why bring him back for yet another curtain call? Reflecting Antigone's answer is integral to the show and goes even deeper than expected.
The play begins with projected images from the Black Lives Matter movement set to a protest song. In the following scene, Ismene (Leanne G. O'Neill, also the director) begs Antigone (Lisa Hill-Corley) not to risk her life by going against King Creon's decree. He has made it unlawful to bury Antigone's brother, who is left rotting in the street after leading the losing side in a civil war. Both actors wear modern dress, and Hill-Corley is black.
Michael Brown's body lying in the street for four hours after he was killed by Darren Wilson comes to mind. So do Timothy Loehmann and Frank Garmback declining to administer first aid to 12-year-old Tamir Rice after he was fatally shot by Loehmann.
So, one assumes that Reflecting Antigone is simply Antigone set in modern day Baltimore, but the following scene features a thoroughly Ancient Greek Haemon (Josh Engel) begging a different, also Ancient Greek Antigone (Jaki Demarest) not to break Creon's law.
Both Antigones play out the legendary plot concurrently for the rest of the show. The parts of Sophocles's text that don't translate well to a modern setting are returned to Demarest's Ancient Greek Antigone. In contrast, Hill-Corley's Modern Antigone, as well as modern-garbed Ismene and Creon (Joe Dzikiewicz), are occasionally given fresh language, written by an uncredited playwright.
Ultimately, Modern Antigone is sentenced to die by the foolish tyrant, King Creon, as she was always meant to be. But she is joined in the cave which is to be her tomb by Ancient Antigone. Here, Ancient Antigone is finally given some of the uncredited playwright's fine words and allowed to speak to her successor. This conversation makes all the flaws worth it.

Reflecting Antigone
Produced by The Rude Mechanicals
Details and tickets
—–
Ancient Antigone stresses the importance of many Antigones rising up again and again. For millennia, the Creons of the world have risen to power. In our country, unarmed black men are killed over and over and over and that is why the Rude Mechanicals need to bring Sophocles back, bring him back today, right now. Because on this stage, Antigone herself speaks new words for the first time in millennia and she speaks directly to us.
But, uh, I guess I promised you all flaws and rough edges. Well, let's get to it. Here are a few:
Sophocles's Chorus and seemingly several other small parts are played by Diana Dzikiewicz. At her best, the Chorus is a unique mix of Tom Stoppard's Lead Player in Rosencrantz & Guildenstern are Dead and all of us who are perpetually exhausted by gun violence in America, yet do nothing. In her first appearance, her tired deadpan is accented with just the right amount of anger at how little will be gained by the inevitable chaos that follows such tragedy. However, that goes missing and leaves just a flat delivery for much of the show. With more direction from O'Neill, D. Dzikiewicz could become a valuable stand-in for the audience who could do something to stop this, but don't.
Reflecting Antigone suffers from a lack of a fight choreographer, or at least one worth listing in the program. That is most clear during the play's one and only fake slap, in which a cop (Pat Stump) misses Hill-Corley's Antigone by a mile. Furthermore, moments that could catapult the audience's hearts into their throats fizzle without the physical violence that the script and its subject matter seem to call for.
Eric Honour's sound design has room for improvement. The only other moment of violence depicted on stage, a plot-vital gun shot, is underwhelmingly quiet. Especially in light of the too loud rabble of protestors earlier in the same scene, supposedly heard from a distance through thick stone walls, but seemingly right outside the door. At least, for the few beats after the rabble comes from nowhere, but before it rapidly retreats to the silence from whence it had just came. If such a loud crowd actually ran past that quickly, there'd be a Doppler effect.
The greatest disappoint in the production is how little O'Neill does with J. Dzikiewicz's Creon. The fabled tyrant's temper is reduced to an, "Aw, shucks, Antigone. Dontcha know my hands are tied," kind of softness. This Creon was given modern dress, and so could have attempted something truly brave: Try to fairly and empathetically embody the reprehensible politicians who oppose and degrade Black Lives Matter. Alternatively, Creon could have been his old, Ancient self and reflected the statist rage that inspired Titus Andronicus to murder his son Mutius mere moments after Mutius brought shame upon the Andronici by opposing Saturninus. Instead, "aw, shucks."
Even the program is not without some hiccups. The play's name is changed to Antigone Reflected, and producer/Haemon/Soldier/donor Josh Engel is alternatively listed as Josh Engel or Joshua Engel in equal measure. For this review, I had to just pick my favorite.
And despite it all, this show is a wonder. If only for the moment that Antigone steps thousands of years through time, looks at the United States of America, and tries to help. In that moment, Sophocles's Antigone becomes real again. And, if you can pull that off, you deserve to bring Sophocles back to Capital Fringe.
————–
Reflecting Antigone. Written by Sophocles . Directed by Leanne O'Neill. Featuring Joe Dzikiewicz, Josh Engel, Lisa Hill-Corley, Eric Honour, Trevor Jones, Liana Olear, Leanne O'Neill . Produced by the Rude Mechanicals (Laurel, MD). Reviewed by Marshall Bradshaw.