When we meet Mary Toft at the beginning of How to Give Birth to a Rabbit, she sings "I'd give my blood" to rise above her life of poverty and indigence, and that's exactly what she does. Rabbit is the true story of Toft, who in 1726 England began inserting small parts of rabbits inside her body and giving "birth" to them, earning herself fame and notoriety that stretched from her small town all the way to the British royal family.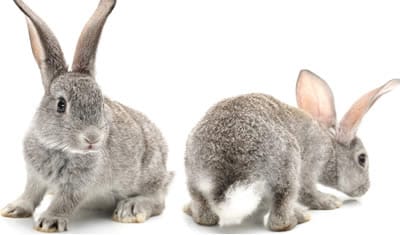 Billed as a "song cycle," How to Give Birth to a Rabbit consists of 10 art-rock songs, each representing the perspective of different people associated with the scandal, and bookended by two numbers sung by Mary herself. Mary's husband, the orderly who got caught smuggling rabbit parts to Mary and even King George I weigh in.  Each character sees their own opportunities in her notoriety, whether it be fame, money or adulation. There is no dialogue; any context is provided by slides that are reminiscent of silent movie captions. It's a smart and compelling format, giving us access to the private thoughts of the men swirling around Mary. It emphasizes both their less-than-altruistic motivations, as well as how little regard they had for her as a human being.
The spare format of the show is emphasized by the design elements. The costumes are minimal and there are just a few key props, thoughtfully used (Christopher E. Robin's business with a very fluffy quill is particularly fun). The stage is completely bare except for the band. This all serves to put emphasis on the music, and rightfully so. Every song in the show was written by different local musicians, songwriters and composers. It could have sounded disjointed, but the orchestrators and band These Quiet Colours  brought their own unique sound to all of the music, giving it a unified feel.

How to Give Birth to a Rabbit
Produced by Mary Toft Players
Details and tickets
—–
There's no doubt that These Quiet Colours will pick up new fans during the run of this show. To put it simply, they rock. They're impressive the entire show, but especially during the mid-show marathon of an instrumental number, "Media Frenzy". Playing under mesmerizing video art by Tim Tate and Pete Duvall, "Media Frenzy" (composed by The Mauls) is a pulsing ode to the circus surrounding Mary. The music builds and builds like public interest until, impossibly, they kick it into a jaw-dropping freight train of a second gear. It signifies the height of Mary's fame and thrusts us into the second half of the show. I wasn't the only one spontaneously whooping at the end of the number.
Ultimately, Mary's deception is discovered and she is arrested and eventually released to go back to the same life that imprisoned her before. At the end of the show, the men reprise the title song of the show, cautioning against telling lies with patronizing glee. Meanwhile, Mary circles around them trying to get a word in edgewise, to tell her own story. Eventually she is able to break through to give her confession, but that moment of staging stuck with me. It so clearly encapsulated her lack of agency in a man's world. If anything, I wanted Rabbit to dig into that theme even more.
There were a number of technical issues on opening night. The microphones were spotty and it was difficult to hear the lyrics over the band. But the able cast handled it well, and given the limitations of Fringe, it's easy to forgive such issues. All in all, I left the Atlas feeling like I witnessed the birth of something that has the potential to be great.
——
How to Give Birth to a Rabbit. Chief Creative Minds: Jon Gann and Tonya Howe. Directed by: Craig Houk. Music by: Sara Curtin, Maureen Andary, Tom Goss, Brian Wilbur Grundstrum, Dan Kaufman, The Mauls, Gary Gore, Itai Yassur, Stephen Lilly. Featuring: Rachel Jones, Colin Brown, Christopher E. Robin, Grant Collins. Costumes and Props by: Marie Schneggenberger. Lighting Design by: Marianne Meadows. Sound Engineer: Steve Wanna.Video Art by: Tim Tate, Pete Duvall. Reviewed by: Amy Couchoud.