Twenty-four songs, four musicians, and one vocalist comprise Ron Melrose and Stillpoint Theatre's production one woman musical, The Missing Peace. Quirky, entertaining, and brimming with talent, this musical tale will take you on a charming, Celtic-inspired journey.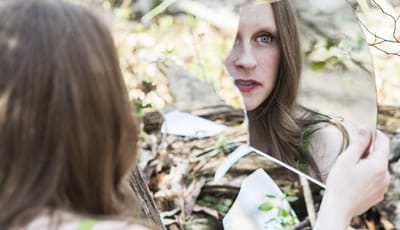 Christine Demuth weaves this story about Brianna's coming-of-age, transitioning back and forth between ten characters. Worried for the dying land and her disheartened father and brother, she leaves her home for the first time to find her lost mother. Maybe, she muses, if her mother returns, the land and her family will be healed.
The first bit of magic appears in the form of a goat-woman, who presents Brianna with three gifts and some playful hints regarding her journey. Idealistic and buzzing with anticipation, the young Brianna takes the strange gifts and embarks on her twisting and rocky path. On her journey, she learns to find confidence in her own voice and how to live as a woman "in a man's world" – and she meets a dragon, to boot!

The Missing Peace
Produced by StillPointe Theatre & Christine Demuth
Details and tickets
—–
Demuth displays incredible vocal technique, as she established a unique singing voice for each of her characters. Each one is so carefully constructed, that even during moments where a full costume or prop change is technically challenging, all you need is her voice to recognize the character. She is accompanied by four musicians, who, though lacking words, act as a supportive Greek chorus for Brianna's tale. They are just as invested in the story's outcome as Demuth, holding up her solo performance with grace and care.
The musical style is playful and witty. The format allows Demuth and the musicians to vocalize deep and painful experiences from a safe perspective, and they have graciously welcomed the audience into that space. Check out The Missing Peace,  and be prepared for an entertaining yet thought-provoking evening.
—————
The Missing Peace  . Playwright & Composer: Ron Melrose . Director: Kelly Williams Carlson . Music Direction & Orchestration: Mandee Ferrier Roberts . Vocals: Christine Demuth . Piano & Keyboard: Mandee Ferrier Roberts . Flute & Piccolo: Karina Carter . Percussion: Darcy Nair . Violin: Kris Miller . Costume Designer: Bethany Marx . Lighting Designer: Alexis Sheeks . Dramaturg: Collette Simkins . Sound Technician: Everett Simkins . Props Construction: Brent Silvestri . Stage Manager: Brent Silvestri . Produced by Stillpointe Theatre . Reviewed by Lucette Moran.