Vote Early. Vote Often!
The most important election of 2016 is coming up soon. I write of course, of the 2016 Capital Fringe Festival Audience Awards. This year's awards are hosted by our good colleagues at TheatreMania. Check out the link here: https://www.surveymonkey.com/r/fringeawards
I'll be saving my picks for the best of the fest in each category to the last day (cough-kickbeforeyoudrown-cough), though I'm hearing the words "Coping", "Kick" , "Cupid" and "Happiness" bandied around the Fort quite a bit recently. And never doubt the power of college-friends organizing an online vote push for worthy competitors like Macbeth in The Basement or SuperNOVA. There were big crowds of young well-wishers and family outside both times I've been around Gallaudet at the end of that one in particular.
What I will do is us let you know my must-sees before this year's festival comes to a close:
Color Theory: I was supposed to see my buddy Joe Price's one-man Magic The Gathering-themed geekstravaganza at Caos on F on Wednesday, but got word the performance was postponed. Way to be a tease, Price, making me want it all the more.
Power: Stokely Carmichael: I've been trying to see this all-time great Fringe piece about the civil rights leader for over a year now. My wait is almost over. I have one more chance this Saturday.
Our Mutual Happiness: All hail David Kessler, King of Fringe. This big-hearted guy is the ultimate Fringe fan turned artist. By all accounts his second show is another winner after last year's Wombat Drool. I'll be checking out the final performance on Saturday.
,she took me back so tenderly: I don't which emotion is stronger here, my anticipation for another innovative mind-bender from the wizards at banishéd, or my ennui knowing this is the last one. See it before Carmen Wong and the rest of the team… I don't know….ascend to a higher plane of consciousness or something?  It's running about twenty more times between today and Sunday. Miss you already, banishéd.
Carmen wrote her own goodbye for DCTS here.
Time For the King
Speaking of awards, it's time for me to announce the completely unofficial and totally subjective award for Best Swag 2016. This year's prize overwhelmingly goes to Dodgeball Theatre for their ubiquitous Burger King style crowns advertising Macbeth In The Basement. These things are the best piece of marketing at this year's festival by far, and the fringe crowds clearly enjoyed their change to be paper royalty.
What swag have you enjoyed at this year's festival?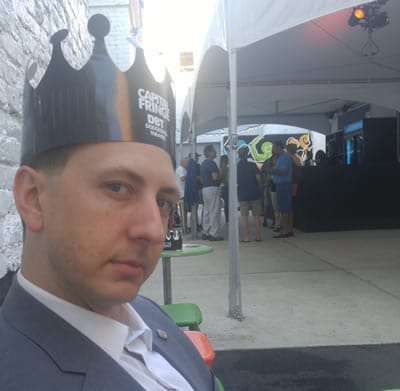 Now, get out there and enjoy this final weekend, and don't forget to vote your favorite Fringe shows –
Voting closes Sunday, July 24 at 5pm.