The elusive O-1 visa for individuals with extraordinary skills is a rare bird in the immigrant community, often going to big-name, A-list entertainers. Think Celine Dionne (Canadian) or John Oliver (a classy Brit). Not some second-rate Moldovan clown who caters birthday parties at McDonald's. But that's what idealistic Nadia (Julia Hurley) is, and her O-1 visa is a sham—much to her surprise. So is the visa that Borat (Jordan Friend), her partner-in-clown (pun intended), is carrying. And now, the U.S. Government knows.
Fearing deportation, they take American names (she's Ginger; he's Steve from Tennessee) and split up before descending on New York City, bent on making new lives with their alter-egos.
Nadia finds a room in the apartment of a Dominican exotic dancer named Lupita (Cheyanne Williams). Borat sleeps on the floor in some Albanian's apartment. Both make money under the table—her clowning in Central Park (she can, after all, be funny in multiple languages), him driving a cab—and skirt the authorities. But two INS Officers (Charlie Cook and Caroline McQuaig) sit in the background at all times behind pieces of chain-link fence. Waiting. Waiting. Waiting for Nadia or Borat to misstep.
Nadia—sweet and naïve—does first, landing a gig "dancing" at a swanky party that turns south, requiring Bob (Mark Ashin), a down-on-his-luck American friend, to bail her out. Borat, who woos Lupita, eventually missteps too. And from there, they find themselves on diverging paths: staying and going.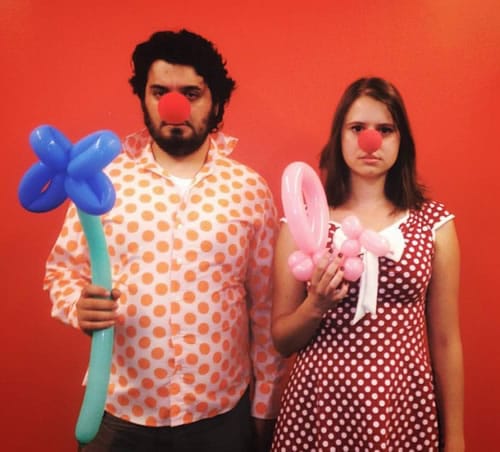 Aliens with Extraordinary Skills is a fast-paced, funny, examination of the present-day life of an illegal immigrant. It may be lighthearted, but it's got an unsettling core and is interspersed with nightmarish interrogations. The lights dim, a hammer crashes and the INS Officers spring to life, pounding Nadia with intrusive questions at the heart of America's hostile paranoia. She answers, spilling a sad, anxious narrative.
——–
Aliens with Extraordinary Skills

closes August 27, 2016
Details and tickets
——–
Why did she want to leave Moldova? Because people were so depressed that she could no longer make them laugh. Does she want an American husband? No. Is she pregnant? Nope. Doesn't she think that L-O-V-E actually spells L-E-G-A-L? Isn't she a gold digger? Unequivocally NO. Then, why, why, why did she want to come to America?
"I want to be happy," Nadia answers. "Happiness…it is written in your constitution." Amen to that.
But, from its initial scene, when Nadia sits on the floor acting out a fable about a dog and squirrel, using balloon animals, Aliens' tone is humorous; otherwise, we'd all drown in the heart wrenching, complicated, and hotly-debated world of illegal immigrants.
Williams is fabulous as the saucy Lupita, who has a heart of gold buried beneath a tough-as-nails exterior. She's a character that could easily be cliché, but has a level-head and sensibility that takes her beyond silly-girl charm. It's what forces her to firmly reject Borat and keep Nadia afloat during her roughest hour.
Friend's Borat is a funny, loveable lug, while Ashin and Hurley are the beating heart. Nadia and Bob have a sweet romance that lifts Aliens to the clouds and ends it on a high note.
But it is Saviana Stanescu's playful, sharp script and Director Susannah Clark's astute eye for marrying tension and humor that make Aliens a show I'd watch again. It captures so much about an alien's experience. The language barrier.  The corrupt countries from which they often spring. The black market world wherein predators exploit the downtrodden for personal gain. Their bureaucratic need for a Green Card and their human need for love. The uncertainty that either will ever happen. But it is also always selling optimism and prompting understanding through laughter, much like Nadia the clown.
And, I would say doing that right—and with finesse—does take extraordinary skills.
————-
Aliens with Extraordinary Skills by Saviana Stanescu . Directed by Susannah Clark. Featuring Julia Hurley, Charlie Cook, Caroline McQuaig, Jordan Friend, Cheyanne Williams, and Mark Ashin . Stage Manager: Anne Donnelly . Costume Designer: Claire Brown . Sound Design: Jordan Friend . Lighting Design: E-hui Woo . Production Associate: Sean Pollock . Produced by 4615 Theatre Company . Reviewed by Kelly McCorkendale.