In spite of severe thunderstorm and flash flood warnings, heat advisories to stay inside, and Metro track delays, we met at the front door of the GALA Hispanic Tivoli Theatre. Stage director José Luis Arellano Garcia arrived riding a bicycle. Dubraska Vale, GALA's public relations associate, appeared on 14th Street NW, walking from the GALA offices on 15th Street NW. I came by Metro. Troopers all; we were undaunted. The interview must go on for the world premiere of Cervantes: The Last Quixote, by Jordi Casanovas, opens in little more than two weeks.  
Immediately, I congratulated Arellano Garcia for GALA's winning 6 Helen Hayes awards for his production of Yerma, by Federico Garcia Lorca in 2015.  We shared a moment of celebration! For the first time in the history of the Helen Hayes awards, a production in Spanish, subtitled in English, was recognized with this many awards. Yerma transcended the language barrier and was lauded for outstanding play, direction, performance, along with a spectacular sweep of technical awards.
Now, GALA Hispanic Theatre enters its 41st season with Cervantes: The Last Quixote by Jordi Casanovas, a Catalan playwright from Spain.  GALA commissioned the play for the 400th anniversary of the death of Miguel de Cervantes Saavedra, the creator of Don Quixote. The two-act piece will be performed in Spanish with English surtitles. So what can we expect in this play that honors the genius and vision of the great writer, Cervantes, who died in 1616, the same year as William Shakespeare? Arellano Garcia, from Madrid, who has been commuting from Spain for almost nine years now to direct at the GALA, knows the playwright Casanovas as a Spaniard with a kindred-spirit. "His writing," he says, "is clear, strong. There is something like a knife inside his words."
As we settle down in the backstage dressing room at the Tivoli Theatre, I sense the passion and enthusiasm growing. We are in for something refreshing and new, even revolutionary.
Rosalind: What I most admire in your work so far is your risk-taking. We've seen you work on an extremely tight budget. Yet your use of stagecraft thrusts us into a surreal experience that's memorable.  You bring theatricality to the theatre. There's a fine line between physicality that is distracting, and physicality that is organic and imaginative, that magnifies the play's theme.
I will never forget your scene in Garcia Lorca's Yerma. Yerma is seated at the table, doubled over in isolated despair, her husband Juan stands with his two ominous sisters, in black, at the other end of the table, like symbols of death. And they begin to clack silver spoons in white china bowls. Click, click, click, click. The entire audience grew silent. That one auditory and visual stage image was chilling and conveyed Yerma's nightmarish life as a childless, barren woman in a child-centered, fertility focused, repressive society. It captured her living hell, that set up the motivation for the violence at the end. The clacking sound continued as we headed to the lobby for intermission. It was haunting, perfect, brilliant.
Where do you get inspiration for direction like that?
Arellano Garcia:  This may sound crazy. But every night during rehearsals, I spoke with Lorca, dreaming about him. In the 1930's, Spaniards felt trapped, asphyxiated. One night in mid-August, (in 2015), we stopped the rehearsal for Yerma in memory of the day Lorca was assassinated by the Fascists in Spain. I brought out a candle and we held a moment of silence, for the day Lorca died. I lit the candle. It sounds crazy but we felt Lorca there. On this night, that's when this noisy silence happened. I directed the actors to repetitively strike the insides of the bowls. It was phenomenal. It just worked.
Rosalind: So, that stage business was discovered in rehearsal. It was as if Lorca was telling you how to direct your actors; the action said it all about Yerma's despair and repression. Are you directing this play by Cervantes: The Last Quixote the same way?
Arellano Garcia: In our rehearsals for El Ultimo Quixote/The Last Quixote, I talk to Cervantes every night. For me, physicality is when the actors have their entire beings open to listen. Mabel Del Pozo, who played Yerma was open. It's the same with Oscar de la Fuente, the actor who is playing Cervantes. These are actors who connect with something more important than acting. But Cervantes is more difficult than Lorca. Cervantes speaks a language style of 400 years ago. More direct, sometimes crude and rough. Ideas are most important. Lorca writes more about feelings and is more sensual and poetic. With Cervantes it's ideas, concepts. And in this play, perspectives shift back and forth between Cervantes as a young man and in old age.
Rosalind: You have mentioned in past interviews that you want to bring to life the period of the Baroque, also known as The Golden Age of Spanish Theatre, as a mirror for our times. And here we are again in this classical period, this time with Cervantes who lived from 1547 to 1616.  Why are you doing this play about Cervantes, instead of a play by Cervantes? Cervantes and Lope de Vega, considered the great prodigy of the Golden Age, were arch rivals, extremely competitive for reputation and immortality as great writers, as depicted by playwright Jordi Casanovas. The contrast is remarkable.
At the start of the play, Cervantes has been found dead in the streets. The cause of his death is attributed to Lope de Vega, who allegedly churned out a play a day, in desperate need of money to support his harem of mistresses and gaggle of illegitimate children. So Lope wrote 1,500 (he claimed 1,800) commercially successful plays in his lifetime, (about 400 survived) and created a new kind of commercial theatre that made money. Yet, the way Casanovas presents it, at the scene of his death, Cervantes' close friend and sidekick, Martin, accuses Lope de Vega of not only murdering Cervantes but also plagiarizing his play, The Treaty of Algiers. And worse yet, of trying to steal Don Quixote under the pseudonym of Alonso Fernandez de Avellaneda.
Is Don Quixote, the character Cervantes created, who is more famous than the author, the reason why the GALA is doing a play about Cervantes?
Arellano Garcia:  Yes, exactly. In Madrid, Spain, I knew the playwright Jordi Casanovas, who is famous in Europe and was commissioned to write this play for the GALA. I wanted to bring a contemporary play to the GALA to honor Cervantes as a Spaniard. As Spaniards, we have been facing a big crisis about who we are, culturally and artistically, as Europeans. Who are we as part of the continent of Europe that is made up of a lot of different nationalities? Spain has different regions that are rebellious and want to break off with "separatists' movements." (Arellano Garcia is referring to Basque nationalism, Galician, Asturias, Castile, Aragon, etc.).  Suddenly England, with their Brexit, doesn't want to be part of Europe. And in Spain, people from Catalonia, who are nationalistic, talk about going it alone as separatists. We don't know if these people want to be part of Europe or on their own. In France, Arabs are born there. Are they French or Arabs? Or are they Europeans? People are not sure what they want to be.
Rosalind: So as a Spaniard, you're fighting for your identity by celebrating Spain's great artists, writers, your cultural heroes that unify you?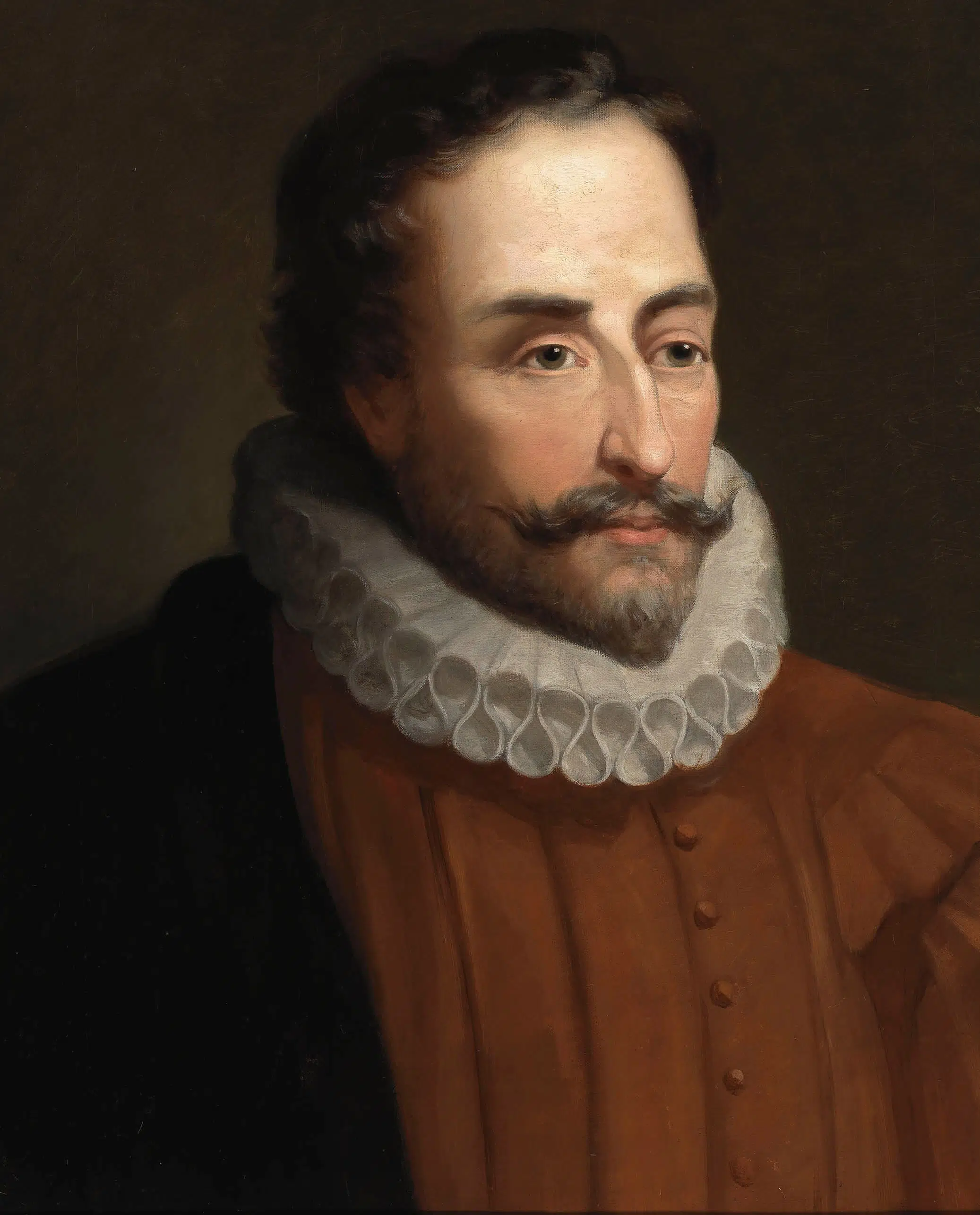 Arellano Garcia: Exactly. Hugo Medrano [GALA's Artistic Director] had a commitment to do a classical play and loves Cervantes. But we don't have as many plays by Cervantes. He didn't write that many. But most important, Jordi's play is about Cervantes, the genius who discovered and started a new way of thinking.
Rosalind:  Is that new way of thinking evident in Cervantes' historical tragedy, Numancia?  That play is mentioned, talked about several times in this script. You directed that play with the Teatro de Parla Youth Company of Madrid for the youth programs here at the GALA in 2011. This tragedy is about a community committing mass suicide to resist Roman conquest and slavery. Talk about cultural identity that goes over the top! Mass suicide is not encouraged. But the Spaniards didn't want to become Romans, so they resisted through suicide, like Masada in Israel. The youth of Parla Young Company performed that powerful play about the ravages of war beautifully here for the GALA's school children's cultural exchange. I only wish it had run longer, so more people could have seen it.
Arellano Garcia: Thank you. Yes. Numancia is also about identity, about who we are. About hope. Jordi says it very well in this script about Cervantes. The Spanish king/emperor during the Golden Age was not doing so well. Jordi is very critical of the Spanish kings, and the Spanish religion. But the most important thing is that Cervantes introduced modern, contemporary thinking.
Rosalind: Ah! Freedom to question absolute control from a central power, like a government or a religion.
Arellano Garcia: More than that. It was free thinking. Freedom for the mind.  It was humanistic. Revolutionary. Cervantes did amazing things with his characters. He made them human beings instead of nobles or members of the aristocracy. Because in the 16th and 17th centuries, Cervantes, who had lived a hard life, realized the inhumanity of the Spanish kingdom, what he learned about in a Seville prison, and as a captured slave in Algiers. He knew humanity and human suffering.
Rosalind: Ironically, today Cervantes' name outshines Lope de Vega, as the greatest Spanish writer. Here's how Wikipedia describes him: Michael Cervantes, who lived from 1547 to 1616, "….was a Spanish writer who is widely regarded as the greatest writer in the Spanish language and one of the world's pre-eminent novelists." Also, another historical source calls Cervantes' novel about Don Quixote the first modern novel, as a Western literary classic, "……regarded amongst the best works of fiction ever written." Lope de Vega would turn over in his grave.
Arellano Garcia (laughing): Yes, he probably would.
Rosalind: Is this mysterious paradox, this contradiction, why you are doing a play about Cervantes?
Arellano Garcia: Yes. Humanity is his vision. Lope de Vega connected very well with the popular, common people. Cervantes was more of a thinker (more contemplative), ahead of his age. He spent his whole life trying to convey a new way to think. And looked all his life for the exact word in Spanish to express the humor and what he sees in humanity. As a director, I want you to realize Cervantes needed all his life to understand the universal truths about humanity to complete Don Quixote. And now today he is considered the best writer in the Spanish language.
Rosalind: Yet, during his lifetime, Cervantes couldn't make money the way Lope did, by writing. Getting back to that comparison between Lope de Vega and Cervantes. The huge irony is that the great rock star of the 17th century, Lope de Vega, is not as well-known today as Cervantes is. And the even greater irony today is that Don Quixote, the character, is more well-known than Cervantes, his creator.
Arellano Garcia: Yes, exactly, and that's why Jordi has set out to open that door to Cervantes, to clarify who this genius is, this modern man, who introduced a new way to think. We know Cervantes had a daughter, Isabel, by Ana, an already married woman; but he married Catalina. But we don't know if he really loved Catalina or not. His life was a disaster. That was the dark side. He wound up as a tax collector for ten years, a much hated profession. The king put Cervantes in jail for stealing tax money, but he was innocent, not guilty. Cervantes really was a loser.
Rosalind: Yes, there's this hugely ironic contrast. Lope de Vega is so famous as a writer that he arouses Cervantes' jealousy. But there's that one point where Cervantes is the good guy who saves Lope's life. In the Inn, Jerónimo Velazquez comes in to kill Lope de Vega for insulting his wife and daughter in a sonnet, but doesn't know what Lope looks like physically. And Cervantes protects Lope, saying, no, Lope is not here. Why does Cervantes save Lope's life?
Arellano Garcia: Yes, this is so beautiful. They are rivals but they respect each other's genius and help each other. When Cervantes hears the sonnet that Lope de Vega wrote about Velazquez' wife and daughter, Cervantes is very generous and realizes what an amazing poet Lope is, that he is very bright. One genius recognizes the genius of another.
Rosalind: So why should people come to see this play about a destitute loser, who, in this lifetime, was an unrecognized genius? What's important for us to learn from Cervantes: The Last Quixote?
Arellano Garcia: What's important is to celebrate this genius Cervantes this year for his personality and his humanity. Here was a really good human being, who lived a hard life.
Rosalind: And this good person, who was a great author, whose work is now recognized as one of the greatest masterpieces of literature ever published, died the same year Shakespeare did?
Arellano Garcia: Yes, that's amazing they died the same year. That's crazy. The best authors in the world. Cervantes chose the best year to die. (We share a laugh.)
——–
Cervantes: The Last Quixote
September 8 – October 2, 2016

GALA Hispanic Theatre
Details and tickets
——–
Rosalind:  I wish you would clarify my confusion about Cervantes, as a mysterious playwright who conjured up this magnificent but absurd character Don Quixote, the immortal model for Dale Wasserman's adaptation, Man of La Mancha, which we saw at Harman Hall in the spring, 2015.  (I saw it four times, and saw something new each time.) I don't know much about Cervantes. Except that Cervantes lived a hard-knock, sometimes brutal life, as a soldier, as a prisoner in Seville, as a slave in Algiers. He fought in the Battle of Lepanto in 1571, and later lost his left hand to amputation. But it wasn't until 1605 that Cervantes wrote and published the first part of his novella, The Ingenious Gentleman Don Quixote of La Mancha/El Ingenioso Hidalgo Don Quixote de la Mancha. The rebellious knight goes mad after reading romantic, chivalric romances and does not see the world as it is. Don Quixote sets out, like a crusader, during the time of the Spanish Inquisition, to revive chivalry and rid the world of evil, rescue damsels in distress and bring justice to the world. Then, mysteriously it took him ten years to publish the second part. This one two-volume novel is now recognized as the literary masterpiece from the Spanish Golden Age and one of the greatest masterpieces of literature ever published.
Dubraska Vale joining the interview in the dressing room: There is much more you need to know about Jordi Casanova's play that answers the question about who Cervantes, this genius who created Don Quixote, really is. Cervantes wrote The Ingenious Knight of La Mancha in two parts, one published in 1605, a second in 1615 the year before he died. While Cervantes was writing the second part, an imposter, an unknown writer, who used the pseudonym Alonso Fernández de Avellaneda, in 1614, wrote a fake sequel, to cash in on the rising popularity of Part I. The fake part is called Don Quixote de Avellaneda/Don Quixote by Avellaneda. And Cervantes' wife, Catalina,accuses Lope de Vega of using a pseudonym and counterfeiting the second part because of their rivalry. Allegedly, Lope de Vega plagiarized Cervantes play Treaty of Algiers.  So why not Don Quixote, Parts I and II as well? The forgery was nowhere as brilliant as Part I by Cervantes. But the fake version spurred Cervantes on to complete the second part of his Don Quixote in 1615 before he died in 1616. And Jordi dramatizes Cervantes' manhunt to find Avellaneda, the imposter, to stop the plagiarism.
Rosalind: So who was the plagiarist?
Arellano Garcia: Nobody knows. But this is the true story of what we know. You actually have this fake version by Alonso de Avellaneda in libraries today, that is never staged. But it really is a mystery. Jordi, in the play, puts forth his theory of who Avellaneda is, but it's not true. We really do not know. You have to see the play to decide for yourself.
Rosalind: Why did it take Cervantes ten years to complete Part II?
Arellano Garcia: That is part of the mystery. Cervantes was always searching for the perfect, exact word to express himself.  Jordi has this theory that when Lope de Vega read something by Cervantes, he was thinking: you are the better artist than I am. We don't have proof. But I think it's beautiful that Jordi puts Lope and Cervantes together. When these two geniuses come together, there's a big bang. They explode. And in this explosion, Lope realizes Cervantes is way ahead of him.
Rosalind: Cervantes is deeper than Lope de Vega. He tries to communicate more universal concepts. And Cervantes' writings are more universal than Lope de Vega's plays.
Arellano Garcia: Yes, absolutely.
Rosalind: Did you collaborate with Jordi Casanovas in writing Cervantes: The Ultimate Quixote?
Arellano Garcia: No. Jordi wrote the play. But we talked about it together. We wanted to make up a story about Cervantes. Like Peter Shaffer's Amadeus, about Mozart, a fictional story. Like what Peter Shaffer did with the story about Mozart and Salieri. And that's why Jordi imagined the meeting between Lope de Vega and Cervantes. But it's a play; it's not real. It's not true but it could be true.
Rosalind: So this play wasn't taken from letters or journals. And those wonderful scenes between Lope and Cervantes are imaginary.
Arellano Garcia: They're not true but they could be true.
Rosalind: That's important. But did the two actually meet in life?
Arellano Garcia: We don't know, but, yes, I'm sure they did. They both lived in Madrid in the same areas.
Dubraska Vale: And I would like to add a quote from Jordi Casanovas from a feature I read in a Spanish magazine. Jordi said this play is in line with the film, Shakespeare in Love. (A 1998 film co-written screenplay by Marc Norman and playwright Tom Stoppard) Jordi's purpose was to go into the personality of another playwright and explore it. There is this mystique about the life of Cervantes. And Jordi's play focuses on who this genius is behind the character, Don Quixote.
Rosalind: It sounds like Cervantes' Entremeses/Interludes at the Iberian Festival at Kennedy Center in March, 2015.  The Festival didn't select Lope de Vega, they chose Cervantes' Interludes, skillfully performed by the Teatro De La Abadía, to represent Iberian culture. These were biting satires, some slapstick and hilarious, considered more appropriate for reading than acting. But they played very well on stage. Allegedly, Cervantes wanted to be a playwright, but never saw his plays on stage in his lifetime. He was eclipsed by Lope de Vega.
Arellano Garcia: Yes. Cervantes had to write all his life, to find and express himself, his vision.  And now today he is considered the best writer in the Spanish language.
Rosalind: What message do you want us to get from this play, Cervantes: The Last Quixote?
Arellano Garcia: I want people to be moved by the life of Cervantes. Recently, there was a stranger, not connected with a cast member, who wandered in off the street and watched a rehearsal. Afterwards he said: "I'm going home to read this book, Don Quixote, that Cervantes wrote." If just one person, or an American young person, is aroused by curiosity to say, "I need to read this book: The Ingenious Gentleman Don Quixote of La Mancha". That's the best thing, the most important thing a director can do in the theatre.