A musical about a suburban mom and her teen daughter having a bad day doesn't scream high-octane or joyful or laughable, but Freaky Friday is lively, agile, and full of fun, fun, fun.
Reviewing is not my full-time job (much to my chagrin), so between proposals and office politics,  I missed most of the hype surrounding the Signature Theatre's collaboration with Disney Theatrical Productions collaboration that resulted in this production, based on the 1972 book by Mary Rodgers.
I declare that a good thing. I went without expectation. But I did have a little bias in my back pocket. See, I don't like either Freaky Friday film. I'm a tad too old to have geeked-out about the 2003 one with Lindsay Lohan and a bit too young to have enjoyed Jodie Foster's turn in the 1976 original. So, Freaky Friday? Again? Isn't this story a bit tired?
Not as a musical. I'm a sucker for song and dance and love funny (and snarky) backed by real feeling. This has all of that and more.
Ellie (Emma Hunton) is a ripped-jeans wearing kind of teen who hides behind dirty hair, sarcasm, and Twinkie binges. Her mother, Katherine (Heidi Blickenstaff) is a well-coiffed single mom, chef, and small business owner getting ready to marry Mike (Alan H. Green) much to the elation of her young son, Fletcher (Jake Heston Miller). Ellie couldn't care less; she just wants to do the annual, totally epic, nighttime high school scavenger hunt, led by dreamboat list-master Adam (Jason Gotay), with her besties, Hannah (Shayna Blass) and Gretchen (Katie Ladner), to out-run and out-wit the school mean-girl, Savannah (Storm Lever). But, as luck would have it (and as we all surely know by now), the universe has a different plan for this bickering duo.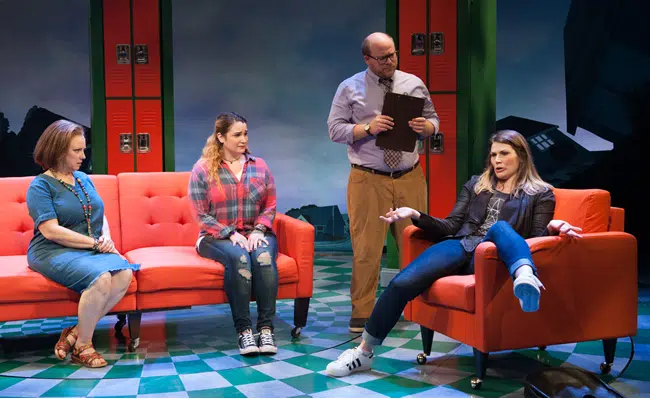 "There's no such thing as magic," Katherine tells Ellie after they argue, struggling over a ginormous hourglass. Cue the glowing green globes of that mystical time-turner; that's when Katherine and Ellie realize they've switched bodies. Now they have to walk a mile in each other's shoes, quite literally. Naturally, folly ensues, yet it's how the creative team has not only adapted this to stage, but the freshness with which they've imbued it, that stands-out.
The great "Hunt" is one such adaptation. It would have been easy to go the Lohan film route and have a band audition be Ellie's moment of triumph—this is a musical, of course—but instead to show teens traipsing the city scavenging for unique (and sometimes illegal) items better mirrors the overall journey of Katherine and Ellie. Not to mention of life generally, as it is expertly captured in the song "Go." It's fun to watch and ties neatly to the ultimate solution. It also coalesces all the subplots (teen crushes, a runaway kid, overcoming bullying, body positive images, etc…), knitting them together like a braid with nary a loose hair. Friday could have easily been overloaded (it even grapples with the death of a parent and creating a blended family), yet it's plucky and feels effortlessly breezy most of the time.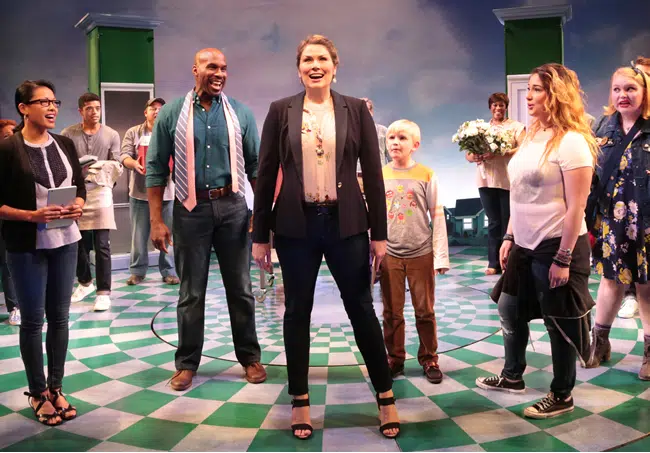 Thanks in large part to Blickenstaff, who rolls her feet, tips her head, and scrunches her nose at all the right moments, perfectly mimicking the floundering confidence of a teen who emotes every feeling extravagantly and exclaims "Oh, crap!" at, like, everything. She's super funny while being interviewed for an article in "Wedding Magazine," playing nicely off J. Elaine Marcos as Katherine's assistant Torrey, and so sweetly bashful around Adam that her childish portrayal of a girl in a grown woman's body is sincere and endearing when it easily could have been creepy.
Hunton, now the uptight, stick-in the mud, older lady has the unenviable task of buttoning-up and lecturing, like all good parents, while navigating high school. Which, if we are being honest, morphs into an entirely different beast with each generation. She's supremely awkward interacting with Adam, who speaks in social media short-hand, and suppressing teen hormones while dissecting a frog and singing "Oh, Biology." It's a clever setting for a song that easily could have been a solo staged with a pretty girl looking longingly into the distance. But that's not what young love is like; Friday does well to remind us that it's really the first excavation of our internal being.
——–
Freaky Friday

closes November 20, 2016
Details and tickets
——–
In fact, all the songs in Freaky Friday remind us of something important about life (while staying upbeat and groovy): that parents lie, some secrets are best kept when it comes to adults and juveniles, gym always sucks, sibling love is alive and real, and family comes first. This is reinforced by "Bring My Baby (Brother) Home" and "After All of This and Everything," both of which showcase Blickenstaff's vocal chops, especially on the bluesy "Home."
But, my personal favorite number is Adam and Fletcher's duet on "Women and Sandwiches," which, successfully likens ladies to gyros, pita pockets, and paninis in an up-date of the onion metaphor; you never know what's inside until you dive down. And, it's what inside that counts. It may not be the most sophisticated song of the bunch (and certainly not the most powerful), but its whimsy dusts-off Adam's overly-cool dude vibe to show he's got budding depth that makes him worthy of Ellie—who despite the dirty hair and oversized hoodie is actually whip-smart, determined, and (as her literature teacher asserts) articulate. After all, Ellie and Katherine are equally worthy heroines who deserve the best.
The Ensemble is sharp, too, bringing spunk to the choreography (which features a slew of stability balls at one point!) and moving through the background as teens, wedding guests, and minor characters—such as Cicily Daniels' nightmarish gym teacher, Ms. Meyers, or Bobby Smith's tottering Grandpa George, two of many that toss-out perfectly timed one-liners. They enhance Hunton and Blickenstaff's performances and are just as fun to watch.
Signature has really done a bang-up job of taking Freaky Friday to the stage, and the creators—Bridget Carpenter (Book), Tom Kitt (Music), and Brian Yorkey (Lyrics)—have contemporized the tale with real world authenticity and infused it with the belief that we can all be better individuals with a little acceptance (of self and others). It's a lesson that never gets old, which is why Freaky Friday endures. And, thank the stars, sans water skiing.
——————

Freaky Friday . Based on the novel Freaky Friday by Mary Rodgers and the Walt Disney Motion Picture. Book by Bridget Carpenter. Music by Tom Kitt. Lyrics by Brian Yorkey. Directed by Christopher Ashley. Choreography by Sergio Trujillo. Produced by special arrangement with Disney Theatrical Productions. Featuring Shayna Blass, Heide Blickenstaff, Tyler Bowman, Cicily Daniels, Jamie Eacker, Sherri L. Edelen, Jason Gotay, Alan H. Green, Emma Hunton, Katie Ladner, Storm Lever, J. Elaine Marcos, Thaddeus McCants, Calvin McCullough, Jake Heston Miller, Tanisha Moore, Julian Ramos, Olivia Ashley Reed, Bobby Smith, Robert Walters, and Jason Sweettooth Williams. Production: Michael Starobin and Tom Kitt (Orchestrations). Bryan Perri (Music Supervision). Beowulf Boritt (Scenic Design), Emily Rebholz (Costume Design), Howell Binkley (Lighting Design), Brian Ronan and Kai Harada (Sound Design), Leak Loukas (Wig and Makeup Design), Jeremy Chernick (Special Effects Consultant), Tom Kitt and Carmel Dean (Vocal Arrangements), Tom Kitt (Dance and Incidental Arrangements), Kerry Epstein (Production Stage Manager), Julianne Menassian (Assistant Stage Manager), Amy Corcoran (Associate Director), Jermaine R. Rembert (Associate Choreographer), Andrew Graham (Associate Music Director), Matthew Gardiner (Associate Artistic Director), Jim Gross (Production Manager), Joe Calarco (Resident Director/Director of New Works), David Zobell (Director of Education), Christine Stanley (Director of Development), Jennifer Buzzell (Director of Marketing and Sales), Barb Auld Martinez (Director of Finance and Administration), and Gabriel Mangiante (Director of Information Services). New York casting by Eric Woodall & Tara Rubin, Tara Rubin Casting, CSA. DC casting by Walter Ware III, CSA. Musicians: Bryan Perri (Conductor/Keyboard 1), Andrew Graham (Associate Conductor/Keyboard 2), Ben Boker (Reeds), Chris Walker (Trumpet), Jim Roberts (Guitar), Max Murray (Bass), Shannon Ford (Drums), Paula McCarthy (Violin), Suzanne Orban (Cello), Randy Cohen (Keyboard Programmer), Taylor Williams (Associate Keyboard Programmer), Emily Grishman (Music Copying). Produced by Signature Theatre in conjunction with Disney Theatrical Productions . Reviewed by Kelly McCorkendale.