Open Circle's The Who's Tommy shakes the establishment not with its hard-hitting guitar riffs but with its fearless use of American Sign Language (ASL), a move more rock 'n' roll than rock 'n' roll itself. The power and fervor sign language adds to the theatre-going experience will move you like the lighter-infused tribute concerts of yesteryear. Yes, this Tommy is worth seeing for both its nostalgia and newness.  
Based on The Who's 1969 concept album, The Who's Tommy is a now legendary, Tony-award winning 1960s rock opera, featuring a couple of well-known hits about a deaf, dumb, and blind kid who becomes a pinball wizard and, eventually, a superstar when he miraculously "recovers" all his senses.
As a child, Tommy (Kira Mitchiner and Chloe Mitchiner) witnesses his father, Captain Walker (Malcolm Lee), murder a romantic rival (Edward C. Nagel) upon his return from war. The Captain and Tommy's mother, Mrs. Walker (Autumn Seavey Hicks), beseech the boy to keep quiet, telling him "you didn't hear it, see it, you'll say nothing to no one."
Tommy folds as a person, going truly quiet, which opens him to years of medical tests, abuse, and ridicule at the hands of pretty much everyone, including his sleazy, drunken Uncle Ernie (Mikey Cafarelli) and cruel Cousin Kevin (Carl Williams/ASL Aarron Loggins). His parents become so desperate to reach him that at one point they take him to a gypsy called the Acid Queen (Maggie Leigh Walker).
But, he does learn to play a mean pinball, and when as an adult (played and signed by Russell Harvard and voiced/sung by Will Hayes) he breaks free of his disabilities and emotional trauma, he finds both success and failure before embracing his family, former self, and Sally Simpson (Molly Janiga).
Russell Harvard on playing Tommy
Open Circle's production presents Tommy through a truly unique lens, asking the audience to consider that when Tommy first turns speaks it is in American Sign Language. ASL is woven into every aspect of the show, with speaking characters having either an ASL counterpart or interpreter in the ensemble. And, it is so expertly integrated, especially considering that it could have been clunky with all the extra bodies, that it seems like an added dimension of choreography. I couldn't take my eyes off ASL Cousin Kevin (Aarron Loggings), for instance, and, of course, Russell Harvard as the adult Tommy.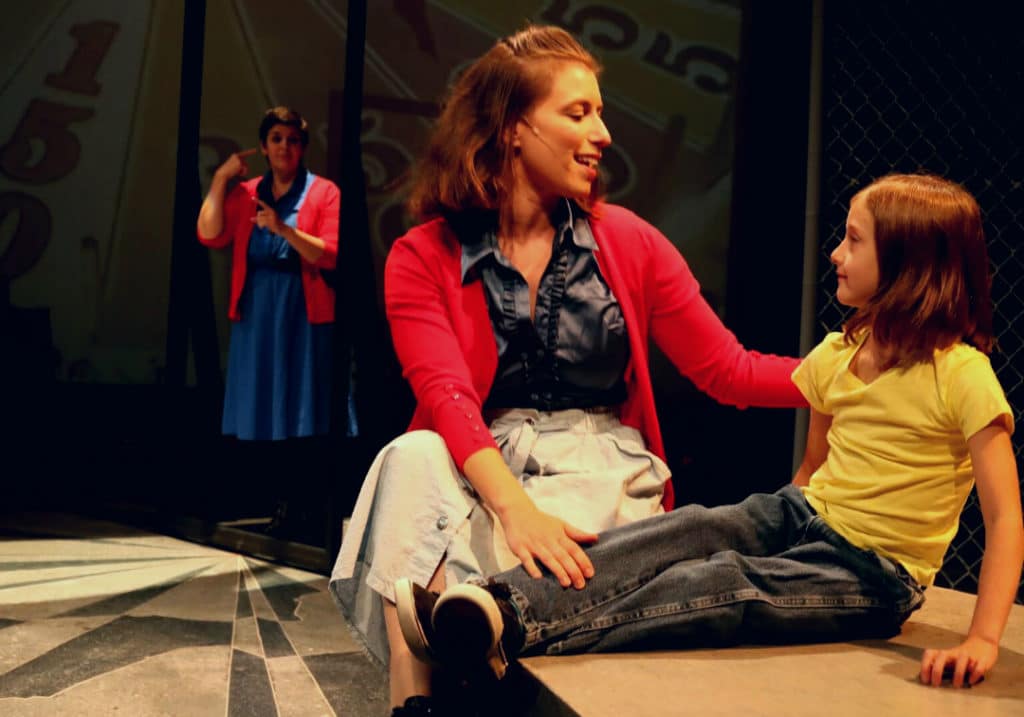 I wanted more Harvard from the moment he stepped up to sign "Sensation," and I got my wish with Act II, which clips along with the type of quick-step energy missing in Act I. Harvard is the backbone of the show. Not surprising since he is Tommy in a show called Tommy, but it's more that his execution of Tommy is mesmerizing, demanding and keeping your attention as he rhythmically metes out words in ASL imbued with passion. Harvard–a Broadway performer who appeared in the Oscar-winning There Will Be Blood and the TV show Fargo–is deaf, but feels the music with genuine intensity, and he and Hayes (who does all of the singing) have nice synchronicity.
About that energy issue: there seemed to be issues with the mics from the get-go on opening night. I suspect this sapped the show's vigor as it has to be unnerving for a performer to hit that first note and realize its not amplified. It took a while for Tommy to build momentum. But it eventually did, ending on a wonderfully triumphant note that had me smiling. 
——–

The Who's Tommy
closes
November 20, 2016
Details and tickets
——–
In general, all staging was on point. It could have become a mess with multiple versions of characters running around, but it flowed easily and effortlessly. The choreography isn't super dynamic, but it does get everyone on stage in a coordinated, synced manner with well-executed creativity. However, the rock of this rock opera was a bit soft (not helped by those audio kinks). Though it features great voices (Hicks, Williams, and Lee—all of whom I've heard in other productions), they were a bit too smooth for my rock 'n' roll-loving sensibilities. And, it was sometimes hard to get a fix on the voices of several others, like Hayes (voice of Tommy) and Walker (the Acid Queen), amid the audio problems.
Tommy's message is meaningful, but it definitely takes a 1960s psychedelic route – one character is the Acid Queen – to make it. Director Suzanne Richard has updated the show here and there, from the Vietnam war scenario to Terrorism with, in the opening sequence Jihadi John beheading a captive. It's a well-placed image that reminded me we haven't evolved as a species as far as we think in the past forty years.
What did restore my faith in humanity, though, was her direction of a truly inclusive show that makes its best and boldest statements through the successful use of ASL.
I'd go see this again in hopes that audio has been worked out and the performers can come out swinging, establishing a momentum befitting a rock opera and that they can then carry the full show. Because, there are five-star moments intermixed with the kinks, and the use of ASL is genuinely excellent.
Russell Harvard signing his translation of "Pinball Wizard"
—————–
The Who's Tommy . Music and Lyrics by Pete Townshend. Book by Pete Townshend and Des McAnuff. Additional Music and Lyrics by John Entwistle and Keith Moon. Originally Produced on Broadway by Pace Theatrical Group and Dodgre Productions with Kardana Productions, Inc.  Directed by Suzanne Richard. Featuring Russell Harvard, Will Hayes, Autumn Seavey Hicks, Malcolm Lee, Carl Williams, Aarron Loggins, Mikey Cafarelli, Maggie Leigh Walker, Molly Janiga, Chloe Mitchiner, Kira Mitchiner, Joey antonion, Elver Ariza-Silva, Rachel Barlaam, Jen Bevan, Tina Ghandchilar, JP Illarramendi, Christian Kelly, Monica Lijewski, Jackie Madejski, Amy Maniscalco, Jose Martinez, Edward C. Nagel, D'Arcee Charington Neal, Lynley Peoples, Michelle Mary Schaefer, Eric Teran. Production: Jake Null (Music Director); Jen Bevan and Mikey Cafarelli (Producers); Deborah Jacobson (Assistant Music Director); Jen Bevan (Musical Staging/Choreography); Jenny Rubin (Stage Manager); Neil (Michael) Sprouse (ASL Master); Rita Corey (ASL Consultant); Eric Murphy (ASL Intern); Caelan Tietze (Assistant Stage Manager); Matt Cumbie, Cassie Meador, and Dance Exchange (Additional Coreography); Jesse Shipley (Costume Design); Edward Moser (Sound Design); Marianne Meadows (Lighting Design); Arnulfo Moreno (Projection Design); Emily Kranking (Projection Assistant); Doretha Dixon (Publicity Director); David Berkenbilt, Joel Snyder, and Audio Description Associates, LLC (Audio Description); Wesley Kramer, Karen Dolle, and Catherine Trobich (Scenic Carpenters); and Sofia Moustahfid (Scenic Charge). Musicians: Jake Null (Piano/Conductor); Deborah Jacobson (Keyboard 2); Jason Wilson (Bass); Jaime Ibacache (Guitar 1); Brad Emmett (Guitar 2); and David Lu (Drums). Produced by Open Circle Theatre . Reviewed by Kelly McCorkendale.