You can almost feel the Fringe/touring roots of Little Thing, Big Thing from the mixture of story-telling with theatre, the acting challenges given the small cast, the clever blending of genres, and the ambitious themes.  Irish playwright Donal O'Kelly has written an unusually dexterous work full of comedy and surprises that receives a smashing Solas Nua.
Little Thing, Big Thing is a two-hander in which the actors portray roughly 20 different characters.  The story revolves around a low-level Irish rogue named Larry (Sasha Olinick) and a nun named Martha (Nanna Ingvarsson).
Martha is back from mission work in Nigeria.  Before she returned, however, she was asked to bring a roll of film back to Dublin.  That roll of film is what Alfred Hitchcock called a 'MacGuffin', a plot device that sets in motion the larger story.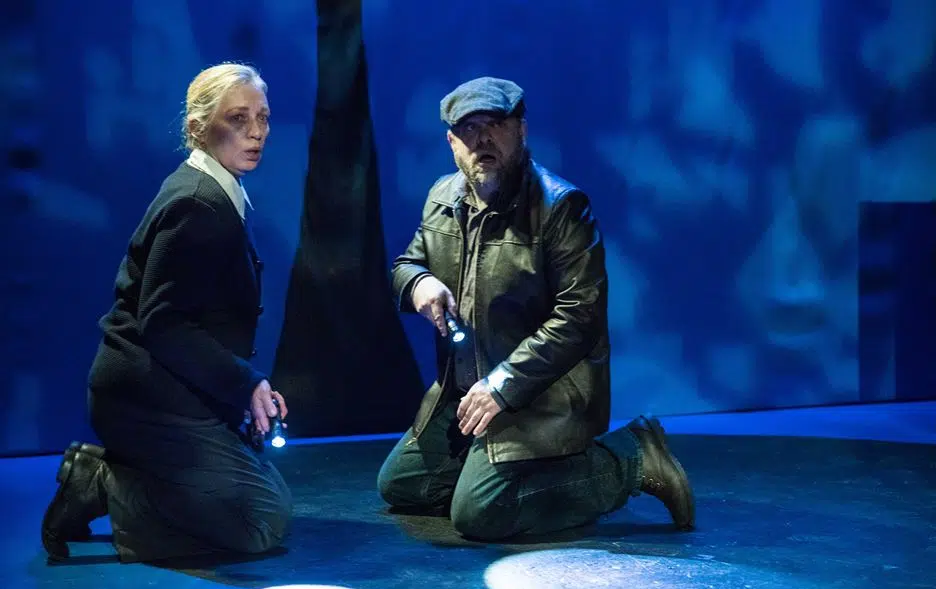 Ultimately Larry – who is hired to pull off a theft at the convent – and Martha must go on the run, pursued by some threatening figures chasing after the film and ultimately use that little roll of film to try to do a morally big thing.
Director Rex Daugherty on bringing the laughs in Little Thing, Big Thing
Nanna Ingvarsson and Sasha Olinick make a wonderfully entertaining odd couple – they are a joy to watch as they skillfully exploit the play's clever wit with a rare level of onstage chemistry.  Both also excel at taking on the multiple, distinctive characterizations required in the play.
Director Rex Daugherty keeps the action moving as the story expands from comedy into a larger caper story, a thrilling action-adventure, a cunning mystery, and a pointed look at modern corruption.  It is a twisty story, but it unfolds in an intelligent and well-crafted manner with surprises along the way.
The play's major drawback is that it requires an abundance of narrative to connect the plot and describe the actions since the only props in this black-box staging are two chairs and a footlocker.  The playwright partially overcomes that challenge with the gimmick of having the actors often shout out bits of stage direction.
Little Thing, Big Thing maintains its frantic, antic pace that both amps up the comedy and also helps make the story-telling less cumbersome.  One can easily imagine how even more successful this story would be as a movie that could illustrate its many different settings and action set pieces.
——–
Little Thing, Big Thing

closes November 27, 2016
Details and tickets
——–
The audience's work in following the complicated plot is ultimately rewarded by a thoughtful examination of the potential for dangerous corruption in many societal institutions (including the oil industry business, immigration law, law enforcement, journalism, and the church).  It ends powerfully with an outcome that artfully combines both cynicism and hope.
Little Thing, Big Thing is a rare combination of comedy and drama in a story that has importance.  While the work is a little more challenging and requires more of the audience's imagination than many plays, it is hard to envision a production more compelling than the staging given it by Solas Nua or a cast of two more gifted actors in the roles than Nanna Ingvarsson and Sasha Olinick.
—————-
Little Thing, Big Thing by Donal O'Kelly.  Directed by Rex Daugherty.  Featuring Nanna Ingvarsson and Sasha Olinick.  Movement/Composer: Rex Daugherty.  Scenic Design: Paige Hathaway.  Lighting Design: Marianne Meadows.  Costume Design: Lynly Saunders.  Sound Design: Gordon Nimmo-Smith.  Presented by Solas Nua Theatre at the Flashpoint/Mead Theatre Lab.  Reviewed by Steven McKnight.