This may be the best thing you'll see in theater all year, so hold on — to your hat, to your significant other, to your life.
We are borne to the land; it is on land that we became human, and evolved. We hunted the beasts which fed us with the ground firm beneath our feet. We learned land smells, and what they meant; we came to read shadow and light, as it exists on land, and to use land's many features as signposts and guidemarks. If danger came, it most often came at a distance; we could recognize it and, estimating its speed over the flat ground, prepare for it.
But on the water, all bets are off. The water is too tenuous to support us and too dense to breathe. We sway and dip in our boats, but the movement is unnatural and makes some of us sick. The vista is monotonous; there are no trees or mountains, and on a cloudy night with no stars we are literally at sea. Danger, when it comes, may well come from underneath, and we understand it only at the last moment, when it is too late. When we hunt for sea animals, it is not to shoot them or overpower them, as we do land animals. Instead, we try to seduce them, with bait and lure. When that doesn't work — as it decidedly does not in the case of whales — we must hunt them down face-to-face, and the odds are not nearly as much in our favor as we would like.
So "Moby Dick" is not a whaling adventure, as Herman Melville set out to write, but a manual on death, on its seductiveness and avoidance; and how a puncture in the moral universe brings it about. Lookingglass Theatre gets that, and so, notwithstanding the enormous technical challenges of bringing Melville's immense novel to life at Arena Stage, it succeeds by never losing sight of the story's reason for being.
Consider those challenges: A play is normally about the length of a long short story, but "Moby Dick" is 135 chapters and an Epilogue. Yet in David Catlin's brilliant adaptation, all the most crucial elements are there in two hours and fifteen minutes. Even Melville's lengthy description of the process of extracting whale oil is told, in a dazzling two-minutes of movement.
The story is told on both land and sea, but rather than attempt to construct the Pequod on the stage Catlin (who is also the director) and set designer Courtney O'Neill erect a set of curved metal spikes on either side of the stage, so that it looks as though all the action might have taken place in the belly of a whale, within the ribs. This is significant, since near the play's outset, Father Mapple (Walter Owen Briggs) tells the story of Jonah, who sought to escape his God-given mission by booking a ship. His disobedience jeopardizes his shipmates, who cast him off to save themselves. Thereafter, a great fish swallows Jonah, who redeems himself by regretting his disobedience. To Melville, intention is all, and "Moby Dick" is the story of how Ahab's corrupt intentions doom the ship.
The deep sea is an alien universe to most of us, but Catlin and aerial choreographer Sylvia Hernandez-Distasi take advantage of his cast's extraordinary athleticism to represent it to us. Two men — the callow Cabaco (Micah Figueroa) and Mungun (the unforgettable Javen Ulambayar), a South Pacific Islander — fall overboard, and in each instance Catlin  suspends them in air over the high stage. They use their muscles and two sturdy aerial ribbons to slowly tumble, head over heel, toward the bottom, where water-dwelling sirens (Kelley Abell, Cordelia Dewdney, and Kasey Foster) wait for them. (One escapes, one does not). The actors scramble up and down the bent metal spikes as though gravity is a mere inconvenience, and thereupon hang, swing, and leap to landings with the aplomb of gymnasts.
Melville invokes death, soggy and violent, in dozens of concrete ways for which the stage has neither time nor space. What's Lookingglass's answer to that? The three women actors reflect death's sober face, whether as survivors and inheritors of whaling's innumerable dead men, or as the underworld's comforting ushers, or as the trackless ocean itself (Abell, wearing a dress as big as the stage, under which men disappear as they die).
And the White Whale! How do they do that? There are no whales in the theater profession, Equity or not. I'm not going to tell you how, except to warn you that Lookingglass produces not a whale but the experience of being with the whale, and that, brothers and sisters, is a very frightening experience indeed.
DCTS interviews Moby Dick director David Catlin
Notwithstanding the tremendous abridgement, Catlin produces the story intact. Ishmael (Jamie Abelson), the protagonist and narrator, imagines himself to be a lonely, even tortured man ("it is a damp, drizzly November in my soul," he says), tough and aggressive (he feels like knocking the hats off other men, he assures us, plus, he has been in the Merchant Marine.) In fact, he is priggish and inexperienced, easily taken in by an innkeeper (Abell) who convinces him that Queequeg (Anthony Fleming III, fabulous in this), his bedmate for the night, is a cannibal with a constant hunger for human flesh. Abelson represents this man perfectly; his too-upright bearing, his prissy facial expression, his voice breaking like a reed at moments of tension. Later, when he is both softened and hardened by the rigors and dangers of life aboard the Pequod, Ishmael becomes more human, even attractive.
Ishmael and Queequeg set out on the Pequod to hunt for whales. A whale hunt, of course, is an invitation to a slaughter; either human or cetacean. We are more sensitive to the tragedy that the mass death of whales brings about than they were in the middle of the nineteenth century, but they were not heartless back then. Melville has a beautiful passage about sighting a just-born whale, still attached to the mother by its umbilical cord, in the middle of the herd they are in the process of killing. (Catlin hammers the point home by having a whale — uncredited, but I think it was Foster — die slowly before our eyes; afterward, the crew strings her up by her legs, and strips her flesh by tearing off the long cloth which wraps her, spinning her until she has nothing but her skivvies and a corset of bone.)
But the killing of animals, then and now (and you are complicit in this, unless you had tofu last Thursday) can be done for good reason, and First Mate Starbuck (Bridges; in the novel the character always had a cup of coffee in his hand, and thus his name adorns the ubiquitous megacoffeehouse chain) has the best of them: the whale oil will bring illumination to the homes of thousands of New Englanders.  While guided by Starbuck, the Pequod has great success.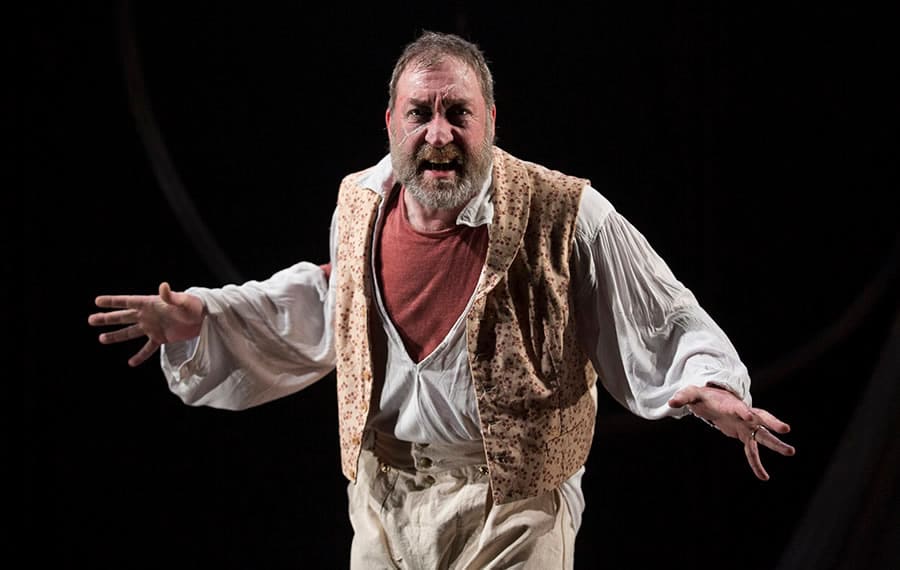 However, Starbuck is not the captain. Instead, the charismatic Ahab (Christopher Donahue) is, and he has a different mission in mind. An enormous albino sperm whale he calls Moby Dick has bitten off his leg, and Ahab will make the animal pay for it with his life. He does not care about the whale oil, or the commission the ship's owners have given him. He cares only for vengeance — which Starbuck recognizes as blasphemy; vengeance is God's provenance.
——–
Moby Dick

closes December 24, 2016
Details and tickets
——–
Ahab's moral disorder, supplemented by a plentiful supply of rum and the promise of a gold doubloon, runs through the crew like a contagion. The final scene, in which he sails into a typhoon, ignoring an opportunity to undertake an act of compassion as well as the terrified pleas of his crew, may remind you of Conrad's "Heart of Darkness" or the movie Apocalypse Now. It does not end any better for the Pequod.
When we think of Ahab we tend to think of him as a rage-filled lunatic (which is, of course, what he was), but Donahue plays him more sweetly. He is in command, but in a grandfatherly way; he is an old man, vulnerable and loving, and it is no mystery why the crew loves him back. Even Starbuck, who understands that Ahab's obsession will lead to death, cannot bring himself to deter Ahab in the only way possible, by killing him. Donahue's interpretation, and Catlin's, makes the story plausible in an immediate and visceral way, and helps to make all of the relationships absolutely authentic.
Lookingglass' Moby Dick invites us to employ our imagination to create the universe in which the story operates, and this is a thousand times more effective than computerized special effects or similarly expensive claptrap. There is no greater special effects-machine than the human mind, and supplemented as it is by first-rate old-school sound (Rick Sims) and lighting (William C. Kirkman) designs, it creates the same sense of wonder, fear, and awe that Melville did in his novel, a hundred and sixty-five years ago.
————-

Moby Dick, adapted by David Catlin from a novel by Herman Melville, directed by Mr. Catlin . Aerial choreography by Sylvia Hernandez-Distasi . Featuring Jamie Abelson, Kelley Abell, Cordelia Dewdney, Kasey Foster, Anthony Fleming III, Micah Figueroa, Walter Owen Briggs, Raymond Fox, Javan Ulambayar and Christopher Donahue. Set design by Courtney O'Neill . Costume design by Sully Ratke . Lighting design by William C. Kirkman . Sound design by Rick Sims . Rigging design by Isaac Schoepp . Dialect coach Kathy Longelin . Stage Manager Mary Hungerford, assisted by Marne Anderson . Reviewed by Tim Treanor.