When a garden is neglected "you clear away the dead parts / so the tender buds can form," sings the character Dickon at the beginning of Act 2 of The Secret Garden. That's exactly what Shakespeare Theatre and co-producer, The 5thAvenue Theatre, have attempted to do with the 1991 Tony-Award winning musical. Streamlined and refined for contemporary audiences, this production features fewer songs, updated orchestrations and re-ordered scenes. Though the musical is beautifully rendered and sung, it is at times as overgrown and confused as the titular garden at the beginning of the show.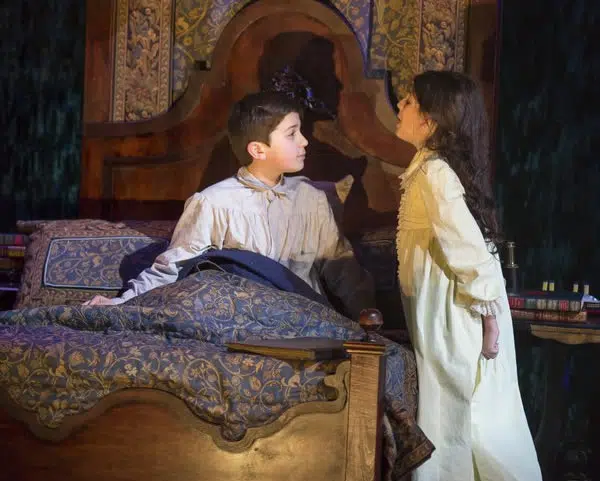 Based on the popular children's book by Frances Hodgson Burnett, The Secret Garden follows the story of the recently-orphaned 10-year-old Mary Lennox (Anya Rothman) as she is sent to her widower Uncle Archibald's (Michael Xavier) dark and foreboding home to live. There, she finds refuge in the neglected gardens and friendship in the house's servants and caretakers, especially the young gardener Dickon (Charlie Franklin) and the young chambermaid Martha (Daisy Eagan, who became the youngest actress to win a Tony Award for her portrayal of Mary Lennox in the original Broadway cast).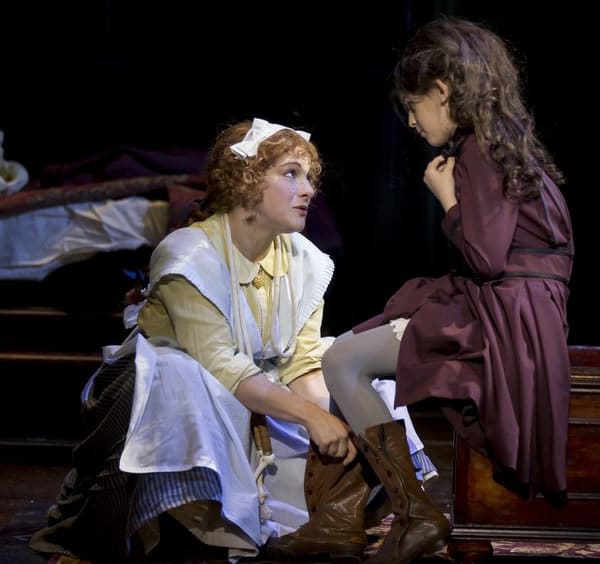 Eventually, Mary meets and befriends her sickly young cousin Colin (Henry Baratz). Together, Colin, Mary, Dickon and Martha, guided by a chorus of ghosts including Colin's mother and Mary's parents, nurse the eponymous garden back to life while bringing healing and rejuvenation to each other and all of the home's occupants.
It's a complex musical with a number of characters, many of whom get precious little stage time to become fully developed, and an almost chaotic number of plot points to follow. A montage of quick scenes explaining the circumstances of the death of Mary's parents and how she came to live with her uncle at the top of the show left me confused and trying to catch up with the action for several minutes.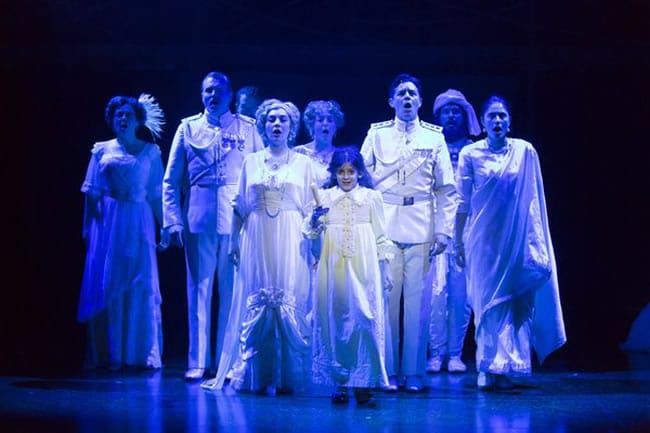 Nevertheless, some characters, like Mary's uncle Archibald and the ghost of his wife Lily (Lizzie Klemperer), are richly rendered. Meanwhile, Archibald's brother Neville's (beautifully sung by Josh Young) motivations are unclear and the resolution of his conflicted sibling rivalry is abrupt. The character of Dickon, who is the emotional heart of the original book, is portrayed as a kind of impish sprite who seems stylistically out of sync with the rest of the production.
——–
The Secret Garden

closes December 31, 2016
Details and tickets
——–
At the center of it all is young Mary, who is in almost every scene and gives all these varying elements a central axis to organize around. It's a tall order for a 10-year-old actor. As Mary, Ms. Rothman is plucky and entertaining, but lacks the nuance and sophistication required to ground and clarify such a dense show.
But like the garden Mary discovers, beneath the overgrowth of The Secret Garden lies a lush and lovely heart. The costumes, set and lighting are hauntingly beautiful, depicting a world of decaying grandeur that slowly comes back to life. But the real stand-out is the music, which is rich and beautifully sung. Mr. Xavier and Mr. Young's duet "Lily's Eyes" is a superb number ending on a soaring note that induces goosebumps. "How Could I Ever Know," the pivotal duet between Archibald and Lily, is performed with such affecting emotional depth that it left me reaching for my tissues. Ultimately, it was Ms. Klemperer's effortless soprano voice singing the show's recurring refrain that stayed with me as I left the theatre. When she invites us to "come to my garden," it's hard not to feel compelled to follow.
—————-
The Secret Garden book and lyrics by Marsha Norman, music by Lucy Simon. Directed by David Armstrong. Music direction by Rick Fox. Featuring Alex Alferov, Brittany Baratz, Henry Baratz, Jared Michael Brown, Mary Jo Dugaw, Daisy Eagan, Catherine Flye, Jason Forbach, Charlie Franklin, Sean G. Griffin, Lizzie Klemperer, Maya Maniar, Happy McPartlin, Anya Rothman, Greg Stone, Hayley Travers, Vishal Vaidya, Ethan Watermeier, Billie Wildrick, Michael Xavier, Josh Young. Scenic Design by Anna Louizos. Costume Design by Ann Hould-Ward. Lighting Design by Mike Baldassari. Sound Design by Justin Stasiw. Produced by Shakespeare Theatre Company in association with The 5thAvenue Theatre. Reviewed by Amy Couchoud.