A holiday comedy about a family matriarch's failing brain—what could be merrier?
In truth, Coleman Domingo's Dot is an absolute delight no matter what time of year. Funny, pungent and fierce, Dot is a noisy, necessary play about the need for home and the resilience of family—no matter what form it takes.
Director Vincent M. Lancisi nimbly handles the many conflicting factions in this family comedy-drama where everyone comes home for Christmas to Dotty Sheely's (Sharon Hope, stately and salty as the fading matriarch) West Philadelphia rowhouse, hauling their emotional baggage along with them.
By all appearances, everything is as it has always been at Dotty's home—the egg yolk yellow and cream kitchen (with a stained glass transom window over the sink) neat as a pin and glimpses of a formal dining room with polished silver and candelabras.
But something is not right. Dotty keeps asking her exasperated, overwhelmed eldest daughter Shelly (Dawn Ursula, magnificently a-froth as the put-upon daughter) what time it is and can recall with crisp clarity her community work in the 1960s and 70s but can't remember to finish her breakfast. As Shelly says, "She's here and gone at the same time."
It is devastating to watch Dotty's big, bright eyes go flat and dull, her sharp tongue—at one point she cracks that her daughter's new hair color and coif makes her look like "an angry pineapple"—stilled as she mutters and grasps for words, utterly lost.
No wonder Shelly is hitting the watermelon vodka at 10 a.m. Her mother's Alzheimer's is escalating and Shelly as a caregiver  is burned out and scared. As the bossy eldest, she is hoping to get her brother Donnie (Yaegel T. Welch, movingly portraying the favorite son dissatisfied with his life and choices) and baby sister Averie (Paige Hernandez, a scream as the sexy, strident sibling) to accept what is happening with their mother and help out.
Domingo really knows family dynamics, as the adult children slide into their childhood roles once together again. They bicker like toddlers, their overlapping voices creating a hilarious babble of old hurts and grievances. Shelly tries to tell everyone what to do; Donnie is the prodigal son and peacemaker; while Averie is truly the baby of the family, a flashy diva with a little girl voice.
As easy as it is to relive old patterns, the crux of Dot involves the Sheely children—who range in age from mid-30s to mid-40s—being willing to grow up and assume the role of parent and decision maker.
But they are still at loose ends: Donnie is living in New York with husband Adam (a sweet and generous Rob Jansen) and struggling financially in the dying field of newspaper and magazine journalism. He and Adam are at a crossroads in their marriage,too—Donnie wants to settle down and raise a family; Adam wants to party and wear skinny jeans.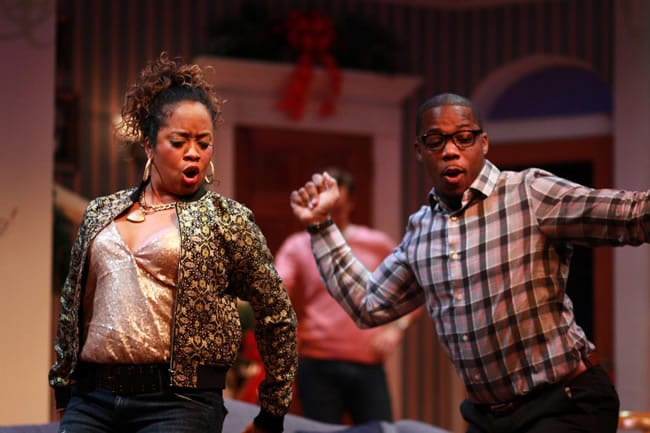 Averie is a girl-child who was briefly an internet sensation but blew all her money and now lives in Shelly's basement and works at Price Rite. On the other hand, Shelly is hyper-dutiful and burned out. Even family friend Jackie (Megan Anderson, playing Jackie as someone unexpectedly undone by hormones) is chagrined to look at herself at 40—pregnant by a married man and on the lam from life in New York City.
While the play centers on Dotty's prideful denial of her disease and fragile acceptance that she's fading fast, Dot is also about blended families and the necessity of making new traditions while holding onto what's important in the old ways.
——–

Want to go?
Dot

closes January 8, 2017
Details and tickets
——–
Sometimes the play slips into patness and sentimentality—a late-night reconciliatory chat between Adam and Donnie goes on too long and is in danger of sticky sweetness—but then Domingo's astringent humor snaps it right back.
Witness Averie's riotous and right-on diatribe about the slave cooking roots of chitterlings and "black food" in general. Or Shelly's motormouthed tirade on the stress of caring for Dotty. And Dotty, in her lucid moments, cracking wise about "the gays" and flirting with Fidel (Ryan Carlo Dalusung), the Kazakhstan refugee that Shelly hired as an aide from Craigslist.
In the midst of the Sheely's comic fussing and squabbling, the play takes a breath in a magical scene choreographed by Joseph Ritsch. Dotty mistakes Adam for her late husband and asks him to play their favorite song, Judy Garland's "Happiness is Just a Thing Called Joe."
Donnie and Shelly move to correct their mother, but Adam shushes them. She's in her pajamas and robe, but it could be a swirly frock so gracefully she swings and sways to the music as Adam glides her around the room. In that incandescent moment, she is home in her husband's arms—her children watching from the sidelines, tears sliding down their cheeks.
Because what is Dot about if not the essential need for home? Dotty is lost in it, Donnie craves it, Jackie runs from it and Shelly and Averie must make their own nest and own it. "A warm voice calling you home," Dotty says. "Nothing like it."
————–
Dot by Coleman Domingo .  Director: Vincent M. Lancisi . Featuring: Sharon Hope, Dawn Ursula, Megan Anderson, Yaegel T. Welch, Rob Jansen, Paige Hernandez, Ryan Carlo Dalusung .  Set Design: James Fouchard . Lighting Design: Harold F. Burgess II . Costume Design: David Burdick . Sound Design: Elisheba Ittoop . Choreographer: Joseph W. Ritsch . Props Master: Jillian Mathews . Dramaturgy: Johanna Gruenhut. Stage Manager: Amanda M. Hall . Produced by Everyman Theatre . Reviewed by Jayne Blanchard.