Goyescas is a term used to represent the revival and preservation of Spanish nationalism in music, a movement popular in the early 1900's and the title of the opera now being staged by In Series. Goyesquitas in an interactive family show that helps kids understand this movement, with emphasis on the game-playing, joyous traditions unique to the Spanish way of life that centered on the majas and majos.
These were members of the lower middle classes who wanted to move up so they imitated and made fun of the upper class way of dressing and living by giving lavish festivals and parties.
What's impressive about this family show is not just its entertainment and educational value but also the way it organically integrates the arts: the music of Enrique Granados (1867-1916) and Manuel de Falla (1876-1946), inspired by early paintings of Francisco de Goya.
The great Spanish composer and author of Goyescas, Enrique Granados, (Oscar Ceville) greets the audience from center stage. He has just returned to the hot climate of Southern Spain (Andalusia) after traveling the world. Bubbling with enthusiasm, he tells us about his friend Manuel de Falla, a great man, composer of "Seven Spanish Popular Songs." de Falla, along with his friend Garcia Lorca, devoted his life to preserving ancient, native musical style, the canto jondo or "deep song," through his musical pieces.
"Now I'm finally here in Spain and it is heaven to be home. Do you hear that sound?" Granados asks. It's the sound of castanets clicking. He teaches us how to say castanets, an ancient instrument found in different cultures all over the world. Children are invited on stage to play them. It's too challenging so Peter Burroughs, and one of the dancers intervene with a quick-tempo basic lesson in how to play the castanets. It's like sticks hit rhythmically together. It has a universality just like love, Granados tells us.  "Love is the universal language…but sometimes they don't love you back." So, revealing your feelings is risky.
Patricia Portillo and Peter Burroughs jump up and dance the Jota, a 3-quick-step-dance from a famous Spanish Folk Song by Manual de Falla. "They say we don't love each other because they never see us talking/But they only have to ask both your heart and mine." The female's part is hardest to perform because all five fingers are used. The male only uses the palm of his hand. We have learned something new.  This is how this show is constructed, as if it were improvised, but it's really written and directed by Goyesca adaptor Elizabeth Pringle.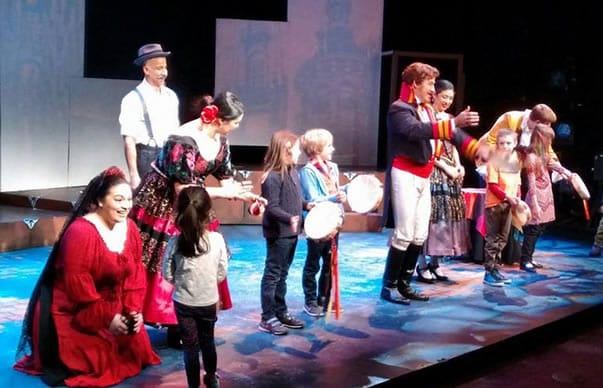 The set by Jonathan Dahm Robertson consists of a series of projections of seven of Francisco de Goya's masterpieces, aided by lighting changes, by Stefan Johnson. On an up stage backdrop, there is a projection of the famous Goya painting of the "The Straw Manikin," showing a stuffed manikin tossed in a blanket, held by four smiling women, dressed in country folk costume (costumes by Donna Breslin, who scrupulously studied Goya's paintings to use in costumes she designed.)
——–

Want to go?
Goyesquitas

Produced by In Series
Performed at GALA
3333 14th Street, NW
Washington, DC 20010
Remaining performances:
Sat 12/17 at 2:30pm
Sun 12/18 at 2:30pm
Tickets: $25/$15
Official website
——–
The country majas and majos are playing the famous Pelele game, tossing the male manikin, stuffed with straw, in the air. The effigy flops helplessly. The playful game represents the unpredictability of fate, or the uncontrollable changes in life. But this is a family friendly show and we don't get into all that heavy stuff. The dances celebrating the joy of life demonstrate how the dancers get rid of sadness by stamping on the floor. This is not flamenco dancing, as you may imagine them. These are folk dances from different regions of Spain with flamenco elements mixed in.
But here's something else that's universal in Spanish culture that is a lesson for life. When you feel sad, you dance to get rid of the bad feeling.
Granados invites the children and all of us in the audience to join in the game of pelele. "It's an ancient game that dates back centuries. Together you toss the dummy into the air—or sheep (whatever is available in the countryside)," Granados tells us. "You don't play like this anymore. You can't play this on a computer." Instead, Granados focuses on Manuel de Falla's music as representative of the early 1900's rediscovery of nationalistic Spanish classical music. And here are some highlights from this delightful show that is a must-see.
The high point of all high points is the "Galop de Pandereta," a traditional song and dance from Galicia, led by Peter Burroughs. This sequence, alone, is worth the trek to the GALA Hispanic Tivoli Theatre. Children are drawn from the audience and invited to try the tambourine. "Take your fingers and bounce them off the head of the tambourine," Peter says to a child who is warming to the idea. "Then hit the tambourine with your hand or thigh."  In this way, Burroughs works up to a lively demonstration showing the expressive range of the tambourine. Peter alternates between hitting the tambourine with his elbow, his knee, kicks with his toes. As the rhythmic pace increases, helped by the piano accompaniment from musical director/pianist Carlos C. Rodriguez, it seems as if Burroughs is tying himself in a knot. It's a bravura performance, exciting to watch. And the children are as wide-eyed, in awe, as we all are.
Then comes the "Polo" another Spanish Folk Song by de Falla, sung by Patricia Portillo, as if from the depths of her soul. Her outcries are like a lament, sung with passion and pain, to express the tragic irony of life. But at the end, Granados quickly interjects, "We also have happy, fun songs, like El Vito," And Patricia swishes her skirt, and dances, stamping her feet, so that we don't fall into sadness.
This review just skims the surface. This musical recital works up to one of de Falla's traditional songs, "Villancico Andaluz," a traditional Christmas song from Andalucia. Performed by the entire company. Overall, it's a totally satisfying holiday festival. But you have to hurry to join the In Series company at the GALA Hispanic Theatre. One more weekend, December 17th and 18th.
Note: The dialogue is in English but the songs are all sung in Spanish.
—————–
Goyesquitas, written and directed by Elizabeth Pringle. Musically directed by pianist Carlos César Rodríguez. Choreographer: Jaime Coronado. Lighting designer: Stefan Johnson. Set design: Jonathan Dahm Robertson. Costumes: Donna Breslin .
The cast of actors, singers and dancers: Oscar Ceville as Enrique Granados, Peter Burroughs, Patricia Portillo, Garrett Matthews. Dancers: Alisa Bernstein, Sara Herrera, Heidi Kershaw, Garrett Matthews.
Produced by In Series . Reviewed by Rosalind Lacy.