In our look back at 2016, we tallied the number of roles played by area actors. One of the surprises was that 68 actors were cast in between 4 and 6 shows. Dawn Ursula, however, surpassed that. Last year, she appeared in 7 productions: Dot at Everyman Theatre, Angels in America, Parts 1 and 2 at Round House Theatre, Redder Blood at Hub Theater, A Streetcar Named Desire and Death of a Salesman at Everyman Theatre, and Lost in the Stars at Washington National Opera.
Ms. Ursula cleared time from her rehearsal schedule to answer some questions. We began with the most obvious:
How did you manage your time?
Dawn Ursula: Sometimes well.  Sometimes  not so well.  Time management  is one of my challenges.  Without my calendar with EVERYTHING written down (and I do still need to write it down) I am lost.
Do you make a point of setting aside some "me" time or family time? 
The "me time" is a little  harder to do, but it is something I have vowed to myself to get better at.  And since we have a child, having family time is a must.
What are some things you do to unwind?
Riesling and angry birds is a great combo.
How much time does an actor spend preparing for a role?
Dawn Ursula: Most actors I know spend as much [time] as they can but there are a lot of factors that will effect that: how much time between being cast and first read, will you be performing in another production during that prep time and how demanding is that role, are you working a "day" job during that prep time, how demanding is the role you got cast in, etc?
What happens when two shows overlap?
I try to avoid overlap, but am so grateful when two theatres are willing to work with it. You know those times in your life when you know things are going to be tough but you know you gotta  just do it and do it well?  Like exam week.  Or when you move and can't take time off from work.  Or something extreme.  Overlap is like that.  It requires me to be in two different "work" headspaces and generate extra energy to be as efficient and effective in both places.
At home, my family  is very understanding. I try to keep it as normal as possible for them.  Prep before overlap is key and keeping in mind that  it's just for a little while and that the alternative would be missing out on one of these shows.
With 7 shows in 12 months, did you have any time off?
Yes!  It ranged from about a week to a little over a month.
How much rehearsal time did you have this year?
Lost in the Stars . Rehearsals began January 19. First performance: February 12
Streeetcar/Salesman .  Rehearsals began February 1. First performance: April 6
Redder Blood . Rehearsals began June 7. First performance: July 8
Angels in American Parts I and II  . Rehearsals began July 1. First performance:  September 5
Dot . Rehearsals began November 7. First performance: December 9
You did two rep shows this year: Angels I and II and Salesman/Streetcar. How different was that – time/energy wise. 
It makes me long for a longer rehearsal and performance schedule for the normal shows. Even more than I usually do.  It does demand a great amount of stamina and endurance both mentally and physically but it is an incredibly rewarding artistic experience.
Tell us about being in Lost in the Stars and playing against opera stars
What an amazing  experience  to be in an opera.  The talent, skill, passion and energy is inspiring.  And not a single diva!  Everyone was so easy and funny and approachable and truly inspired by the non-opera performers in the company. We had a love fest.
How does being a company member of Everyman impact the jobs you take?
Vinny [Artistic Director Vincent M. Lancisi] is incredibly supportive of the roles I accept outside of Everyman and how I am trying to grow my career. That being said, Vinny specifically curates his season to offer company members roles.  So, the impact is wonderful! I have played Black Mary and Ruth and Mama Nadi and Vera Stark and Lanie and others.  I'm incredibly fortunate.
Have you every turned down roles? which kind and why?
Yep.  Mostly, conflicts.
Which roles this year were the most challenging?
Honestly, they were all challenging in a really good way.  I got to stretch myself in lots of different and new ways.
In 2017, what will we be seeing you in?
Top Dog Underdog at Olney in the Spring. Another play before that but the cast hasn't been announced  yet so I can't  say.  Definitely  something at Everyman, still working out the specifics for that and we'll see what else might happen.
Dawn Ursula's very busy year
The Washington post captured Dawn Ursula's performance. See it here.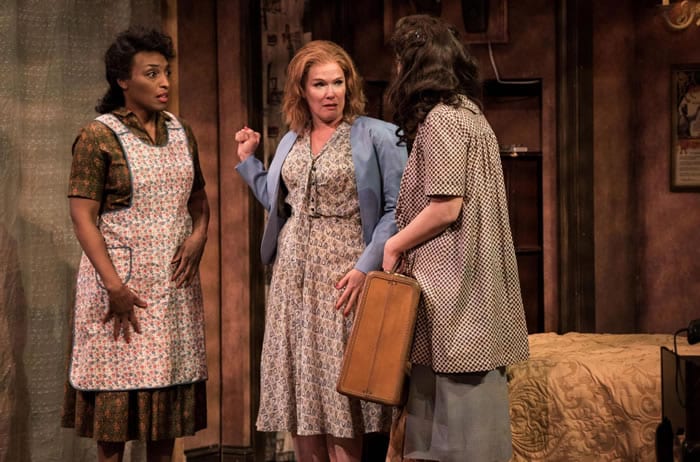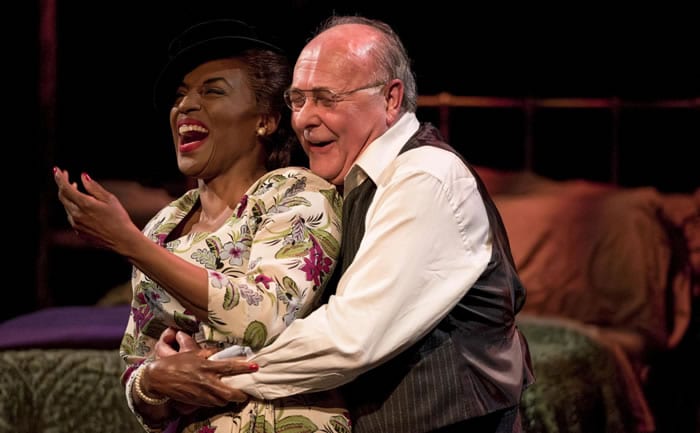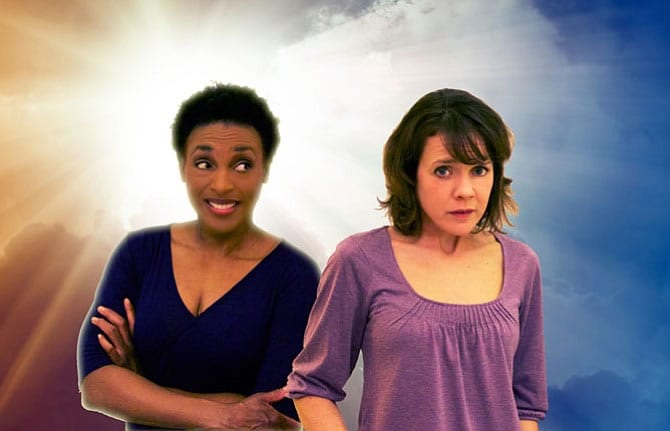 Dawn Ursula as The Angel with Jon Hudson Odom and Tom Story in Round House Theatre and Olney Theatre Center's production of Angels in America Part II: Perestroika. (Photo: Danisha Crosby)