There's a great jazz band in residence at the Kennedy Center, featuring lively, poppy, soulful original music by Terence Blanchard. It alone is enough to recommend a glance at Bud, Not Buddy, a concert-style performance of a new Theatre for Young Audiences project commissioned by the Kennedy Center and receiving a stylish debut this weekend at the Eisenhower Theatre.
Ten-year-old Bud (Justin Weaks) is on the run from an abusive foster home in the 1930's, on the hunt for his supposed long lost father, a legendary jazz man Herman E. Calloway. Bud tracks down the band, but is immediately rejected by the cantankerous Calloway. Bud ingratiates himself with Calloway's band, and is welcomed along on their tour as a sort of apprentice, learning the world of Jazz, and getting to know his assumed father.  It's all quite gentle, as befitting its origin as a children's novel by Christopher Paul Curtis.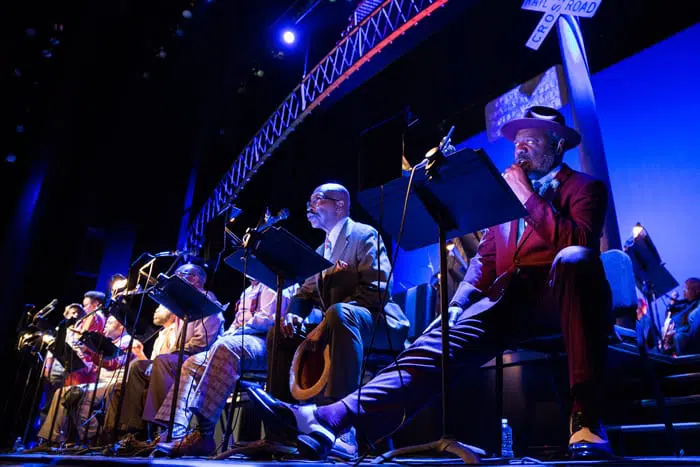 It should be noted that Bud, Not Buddy is not a full production, but instead performed in radio play. Actors are on book at all times, and staging is fairly minimal. It's a high-end reading through, with plenty of local and national talent on display. The night's key selling point is likely the presence of Frankie Faison (Wire, Banshee and Silence of the Lambs) whose gruff delivery is somewhat legendary among character actors. Also on stage is long-time Sesame Street actor Roscoe Orman.
But the night's real star is Justin Weaks as young Bud. Weaks is a full grown man but he plays 10 year old Bud with ample youthful energy, bringing to live Bud's adventurous optimism. If you miss his performance this weekend, you can also see Weaks playing a key role in Charm at Mosaic Theater of DC. Also bringing her "A" game is Charlayne Woodard, playing pretty much every female character in the play. She and Weaks have an especially lovely, familial chemistry. Their interactions are generally the show's best moments.
Despite the great music and strong ensemble. I was less enamored with Kirsten Greenidge's adaptation of Curtis's book.  For a short piece, clocking in at just over an hour, her script is stuffed full of exposition, overly reliant on Bud describing his actions and motivations.
There are some odd digressions for a children's piece, including a scene where runaway Bud is picked up by a stranger on the side of the road at two in the morning, a man who lures him into his care with promises of food and soda pop. That the stranger ends up being a good samaritan still sends an odd message to children.
——–

Want to go?
Bud, Not Buddy

closes January 15, 20017
Details and tickets
——–
In another confusing touch, Greenidge sometimes spreads Bud's inner monologue out among the other cast members, but it's done so randomly and without context cues that at times it's hard to follow the transition, especially given the cast's seated, concert-style configuration.
There are some nice design elements here, with Mischa Kachman's minimalist set nicely evoking the 1930's setting. Jen Gillette's stylish period costumes are great, showing the effort this band had to take to look their best on the hard touring road. The main draw here though is Blanchard's music, which really works to bring the world of Bud, Not Buddy to life.
————–
Bud, Not Buddy, with script by Kirsten Greenidge and music by Terrance Blanchard. From the book by Christopher Paul Curtis. Directed by Clarke Peters. Scenic Design: Misha Kachman; Lighting Design: Dan Covey; Costume Design: Jen Gillette; Sound Design: Patrick Calhoun; Dramaturg: Ken Cerniglia. Presented by the Kennedy Center in the Eisenhower Theatre.