Full of song, love, and laughter, As You Like It will sweep you off your feet. If you don't love it at first sight, wait.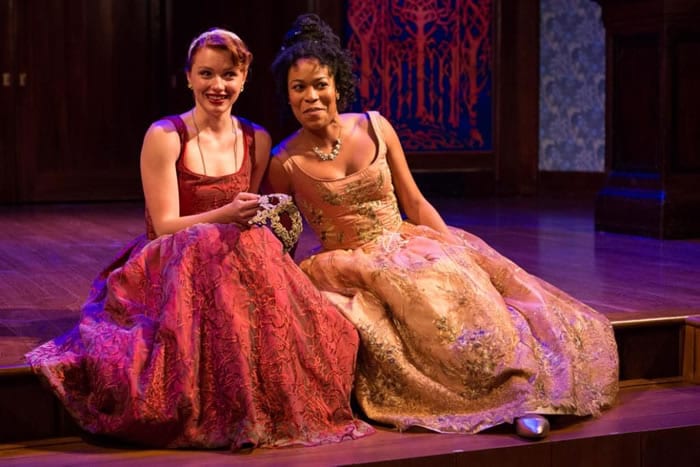 Of all the couples in this romantic story, the best chemistry in As You Like It comes from the sororal bond between noble cousins Rosalind and Celia. Rosalind is the daughter of Duke Senior, who has been usurped by his younger brother Frederick and fled to the Forest of Arden. Rosalind stays at the court until love at first sight with Orlando, the youngest son of one of Duke Frederick's enemies, gets her banished. Without hesitation, Duke Frederick's own daughter, Celia, follows Rosalind into exile in the forest.
Lindsay Alexandra Carter and Antoinette Robinson, as Rosalind and Celia respectively, are bursting with energy that they shoot back and forth like Venus and Serena Williams. Their passions and playfulness are as charming as they are funny. Though we start the play with Orlando detailing his own troubles, the real hero of the story is clear once Rosalind is set on her quest with Celia at her side.
Carter and Robinson's comedy chops are matched by Dani Stoller as Phoebe. Introduced late in the story, Phoebe pursues Rosalind after falling for her disguise as the young man Ganymede in more ways than one. Stoller breaks out from her role in the ensemble and quickly establishes this late-coming character as a force to be reckoned through bold physicality and expressions.
Her wanna-be-groom, the lovesick Silvius played by Brian Reisman, is a perfect contrast: Reserved yet dedicated, pained yet hopeful. By balancing Phoebe with Silvius, director Gaye Taylor Upchurch varies the comedy and keeps the show feeling fresh even as it approaches three hours long.
Another couple that Upchurch nails is Touchstone and Jaques, who both serve as Shakespearean fools in their own ways, but could not be more distinct. Aaron Krohn as the more typically foolish Touchstone is a delight, filling the space between the lines with humor, ego, and greed.
His opposite, Tom Story's Jaques, is in a way the play's opposite too, using his wit to bring a dark chocolate bitterness to the bubblegum romance, but Story adds just enough giddiness and pomposity that Jaques compliments rather than clashes. Jaques is obviously in love with himself and his own melancholy as much as Rosalind with Orlando.
Charlotte Palmer-Lane's costume design builds well on Upchurch's vision to make these two such shining foils. Touchstone looks like Barney Stinson stole one of Mathew Lesko's suits and yet pulls it off better than you or anyone you know. Jaques's drab and heavy clothing gives him the air of a professor who retreated to Walden Pond when he got called boring on RateMyProfessors.com.
Throughout, costumes are modern, brushing up against hipster chic, but effective, especially whenever the doublecast Duke Senior sheds his jacket and becomes Duke Frederick, along with an entire court doing the same. The blink-and-you-missed-it costume change is matched by the whole ensemble's distinct physicality and blocking to swap very different settings and characters in a breath.
Daven Ralston on performing the music in As You Like It
This production achieves on two levels where amateur Shakespeare productions often fail: It owns the songs and the monologues by the fools. The full cast performs original music composed by Heather Christian throughout the show, ranging from blues to folk to gospel. Whereas students might cut the songs away, masters like these seize the opportunity to bring life and skill to the show.
Similarly, Shakespeare's fools often get trimmed, as even his jokes can get stale after 400 years, but Krohn and Story keep the audience rapt and refuse to let a line fall flat.
Upchurch's secret sauce seems to be an audience on stage. When Jaques or Touchstone speak, Upchurch's cast are attentive and present, modeling a good audience. Even the full cast musical numbers often come from genres with a rich history of communal performance. It feels like every cast member is an audience member until they find a moment to join in on a song they have heard and played a hundred times before. And so this show shines where others cut or drag.
And so, it is clear when two scenes fail to live up to the rest. Celia is often an audience to Rosalind's scenes, and Robinson embodies the audience's amusement and judgement well, but even she goes flat during a lengthy scene between lovers Rosalind and Orlando. Carter's exuberant Rosalind does not find a suitable match in Lorenzo Roberts's Orlando, whose reserved nature and even-keel fail to amuse quite like Silvius or inspire the audience like a hero should. The secret sauce of an audience on stage backfires when even a professional actor can't help but look disinterested, though I don't fault her for it.
——–

Want to go?

As You Like It



closes March 5, 2017
Details and tickets
——–
Immediately after that scene, Celia draws attention to another misstep, this time in the music. Maybe bored from Rosalind and Orlando's attempted wooing, Celia falls asleep and dreams of a beatboxing cult. She wakes up and can't hold back a baffled, "Whaaaat…?" Same. That number is an odd choice and lacks any of the warmth that otherwise suffuses the forest of Arden.
John McDermott's set design is also noteworthy. As Duke Frederick's court becomes the forest of Arden, imposing blue banners are backlit by lighting designer Eric Southern, revealing vines that echo with the Folger's floral-bordering-on-paisley wallpaper. As the play progresses, more and more is added to the forest: A backdrop of trees, vines hung from the set, and a quilt of flowers lowered from the ceiling. It is as if the forest is growing before our eyes.
So too does one's rich appreciation for the cast, who each get time to shine in song or verse. By the time Duke Senior calls for the show to end with a joyous dance, few audience members will escape without falling at least a little in love.
—————-
As You Like It  by William Shakespeare . Directed by Gaye Taylor Upchurch . Performed by Lindsay Alexandra Carter, Kimberley Chatterjee, Michael Glenn, Will Hayes, Jeff Keogh, Aaron Krohn, Allen McCullough, Brian Resiman, Daven Ralston, Lorenzo Roberts, Antoinette Robinson, Dani Stoller, Tom Story, and Cody Wilson . Choreography by Alexandra Beller . Original score composed by Heather Christian . Scenic design by John McDermott . Costume design by Charlotte Palmer-Lane . Lighting design by Eric Southern . Sound design by Leon Rothenberg . Reviewed by Marshall Bradshaw.