Choreographer Alexei Ratmansky has created a dance-theatre piece that is part ballet, modern, and Russian folk dance with plenty of comical pantomime to share the much-beloved folktale of his country, The Little Humpbacked Horse.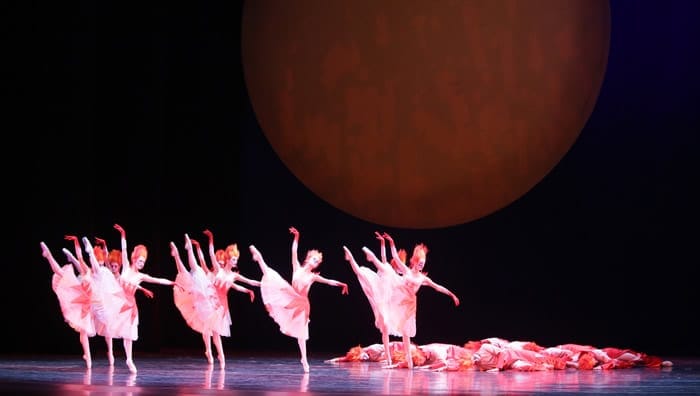 The choreography, like the contemporary score by Rodion Shchedrin, is brisk, breezy, and sometimes cheeky – words we don't often associate with a big ballet company from Russia such as Mariinsky.
Hybrid that it is, however, it's sometimes challenging to appreciate the full spectacle on all levels.
Let's start with the folktale on which the ballet is based. There are plenty of archetype elements from other folk tales, but still, one might miss a lot without knowing the story. An old peasant man and his two older sons pick on the youngest, Ivan the Fool. Pretty much thrown out, Ivan starts on a journey full of adventures. He meets a beautiful wild mare, which he tames.  She gives him a present of horses including a little humpbacked horse in order to free herself.
Ivan becomes distracted by dancing firebirds, and he receives a magical feather, but during this scene his older brothers steal the horses to sell them. Only the little Humpbacked horse remains faithful.
Ivan travels to the capital.  He meets the Tsar, a bit of a nincompoop himself, who wants to buy Ivan's horses from the brothers. He also sends Ivan to find the Tsar-Maiden, the woman of his dreams. Of course Ivan, when he does find her, falls in love with her himself. The Tsar and his sidekick, The Gentleman of the Bedchamber, are none too pleased, and they send him to the seabed and certain death. Instead, the Princess of the Sea brings him the ring demanded by the Tsar.
Upon returning, the Tsar-Maiden in order to put off being married to the old Tsar, demands another task: immersion in a tank of boiling water to be transformed into a handsome fellow. The Tsar is terrified and so Ivan gets pushed in as proxy. While Ivan reemerges handsome (and upper class) the Tsar, following suit, perishes. Of course the young couple are delighted; they wed and come to rule the land.
Russian dancers, like their ice-dancing counterparts, are known perhaps most especially for their sense of musicality.  Even in some of the most experimental choreography and the dizzying demands put on the dancers to move in and out of the broad character physicality, they keep the evening moving, riding the music played at an almost delirious pace.
I always notice Russian ballet "hands."  Their dancers tend to be more daring and fluid in breaking the line at the wrist of their port de bras than say American dancers. Arms take on individual idiosyncrasies and expression. Here Ratmansky pushes this stylistically, experimenting wildly from the classical line in rather daring directions. The Firebirds' hands, gloved in red, tend to razzle-dazzle, Fosse style. The Seabed creatures pull their arms with clenched fists straight down by their side and snake as if armless along the ocean floor. At other times dancers undulate their fingers so they seem like anemone tendrils drawing nutrients in from the currents.
Ratmansky changes things up constantly, mixing forms and styles.   He's not above borrowing things from here and there.  A black clad dancer with white gloves and a curious red baboon seat makes some fabulous moves that remind me of the ballet Petrushka.
The pas de trois by the statuesque equine trio is terrific but there are certain trademarks movements of the hips and feet that could have come straight from Agnes de Mille.
The three dancers, Alexander Romanchikov, Alexander Beloborodov, and Zlata Yalinich, handle both modern lifts, where the female body is used like a geometric rubric cube to turn and tumble, but then on a dime recombine and reveal a strong classic balletic form.
The Gypsy dancers seem to be dancing barefooted-and-legged, grounded in a Russian folk dancing tradition, then almost shockingly move onto point.  The men perform the well-known deep kneebends, kicking out their legs then leap up to twirl in joy.  The Tsar and his boyars fall easily into clowning lines and broad gestural relating.
Truthfully, I get just a little tired at times of aspects of the broadly played pantomime scenes.  Then there was the whole group of wet nurses.  I didn't understand their role in the story. Perhaps my taste can be put down to cultural ignorance.
——–

Want to go?
The Little Humpbacked Horse

closes February 5, 2017
Details and tickets
——–
What I've come for is the dance.  The Mariinsky leads do not disappoint.
Yuri Smekalov as the Gentleman of the Bed Chamber attacks his role with intensity and virtuosity. He plays silliness to malevolence, and his swift focus changes and strong pistons-as-legs make him unforgettable.
Knowing that the Tsar Maiden was originally written by composer Shchedrin for a great ballerina  (and his wife) of the last mid-century, Maya Plisetskaya, I was a little disappointed Anastasia Matvienko was not given enough time to dance in the first half of the ballet. But when finally brought into the story, Matvienko shows she can revel in the comedy as well as bring flawless lyricism to her dancing.
Every time Vladimir Shklyarov as Ivan and his faithful companion, the little horse, danced by Yaroslav Baibordin bound onto the stage, I sat up high in my seat spell bound. Their coordinated leaps and turns are staggeringly good.  (As a good balletomane, I held my breath and counted the spins.) I also loved the relationship these two dancers conveyed, one an adorable devoted sidekick who likes nothing more than having his ears scratched and the other a brave if somewhat feckless youth.
There's a moment near the very end where Shklyarov has an extended duet with Matvienko. It fulfills our need for a triumphant principals' pas de deux. In the middle of it, he has to perform a solo. It's a she-dances-he-dances form in ballet, each out to impress the other.  Instead, the dancer breaks the fourth wall and comes downstage gesturing to the audience, "Should I really? You really want me to?"  There's a roar of approval. Shklyarov shrugs and goes about it, as if he thinks he'll give it a try.  He tries to perform a leap with a triple turn in the air and comes crashing to the earth.  He gets up grinning and goes at it again, each time outdoing his own work.  She seems genuinely as thrilled with his dancing as we are of them both.
This dance alone shows Ratmansky and these Mariinsky dancers are equipped with spunk and irreverence for the grand art and great tradition of the company that has formed them.   They are not above spoofing ballet itself to bring to it new sensibilities and innovation. Clearly they love it.
The bold and colorful set and costumes by Maxim Isaev perfectly capture the lighthearted modernity of this piece that has tackled such an old, familiar Russian tale.
Read the storybook and take some children, of any age, with you.  There's much to capture the imagination and heart.
—————————–
The Little Humpbacked Horse. Choreography by Alexei Ratmansky. Music by Rodion Shchedrin. Conducted by Alexei Repnikov. Music Direction by Philippe Auguin with the Kennedy Center Opera House Orchestra. Sets and Costume Design by Maxim Isaev. Lighting Design by Damir Ismagilov. With Anastasia Matvienko, Vladimir Shklyarov, Yaroslav Baibordin, Roman Belyakov, Yevgeny Konovalov, Zlata Yalinich, Alexander Romanchikov, Alexander Beloborodov, Dmitry Pykhachov, Yuri Smekalov . Produced by The Mariinsky Ballet and presented at the Kennedy Center. Reviewed by Susan Galbraith.