Witty and perverse, scary and heart-warming, lofty, and yet wholly accessible. Sweeney Todd, The Demon Barber of Fleet Street, is one of my favorite musicals. Period.
Olney Theatre Center, I am happy to report, is serving up a Sweeney Todd that is delightful, dark and solidifies the Stephen Sondheim-Hugh Wheeler musical as a modern classic. With savvy stagecraft and top notch performers, Olney's Sweeney is devilish pastry.
The time-worn tale of a vengeful London barber and his lusty bake-shop accomplice, Mrs. Lovett, has survived from the whispered streets of 19th century England to penny-pulp fiction, low-brow theatricals, and ultimately musical theatre history. The grand and grisly adaptation by Stephen Sondheim and Hugh Wheeler premiered in 1979 and has been slaying them in the aisles – and barber chair – ever since. Sondheim's ambitious score and masterful lyrics have attracted both theatrical producers and opera impresarios, sparking the same "is it opera or musical theatre?" type debate that has followed Porgy and Bess and Candide through the years.
Wheeler's book is perfectly in sync with Sondheim's score and lyrics, helping to flesh out the characters, and setting the tone by capturing both the formal, stilted language of the 19th century and the down and dirty vernacular of the streets. To take a subject such as a murderous barber and humanize him, despite the inhumane and vile acts he carries out, is an achievement that cannot be discounted. Sondheim and Wheeler combined forces to create musical melodrama that pays homage to revenge dramas, Grand Guignol, musical hall, and Greek tragedy.
Sweeney Todd, again thanks to Sondheim and Wheeler, is also a damn funny show, playing with words, diving into the gallows humor, double entendre, and even vaudevillian schtick. The showstopping Act I closer "A Little Priest" takes the gold medal in this regard, as Todd and Lovett revel, nay, wallow in the splendor of word play at the expense of imagined victim/ingredients, high born and low.
OK, so I love Sweeney Todd. You get it. But how much did I love Olney's production?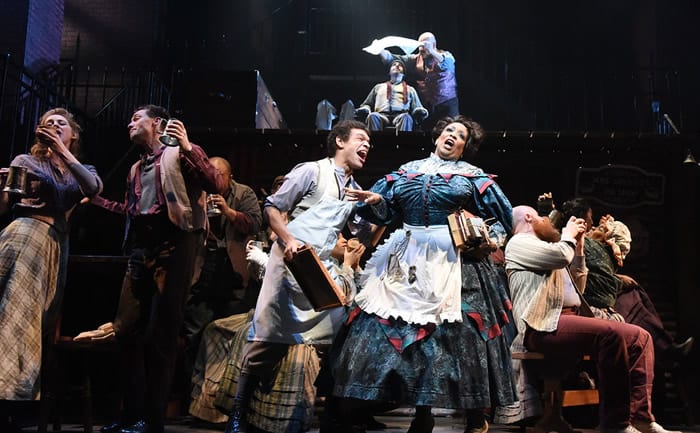 Jason Loewith and his design team have given this Sweeney an impressive and impressionistic 19th century, urban setting, rendering London through gates, a spires and stairs that stretch out beyond the stage. Mrs. Lovett's cozy bake-shop and Todd's walk-up parlor are filled with period detail, courtesy of scenic designer Milagros Ponce de León. The orchestra pit area has been transformed into the dank basement bakery where even more heinous deeds take place, bringing the frightful action even closer to the audience. Colin K. Bills provides a properly murky lighting palette, providing a shadowy cover over the dark proceedings.Loewith has also cast this production from top to bottom with talent to spare. The show begins with the strong ensemble urging the audience to "Attend the Tale of Sweeney Todd," the perfect opening to set up the sartorial skullduggery that is to follow, and the man of the hour himself, Sweeney Todd.
As Todd, David Benoit brings authority, intensity, and stage presence to spare. Benoit, a veteran of Broadway and touring productions of Phantom of the Opera and Jekyll and Hyde, has the gothic chops to fit comfortably within the heightened world at hand. Physically imposing, with a biting, clear baritone, culminating in the searingly rendered "Epiphany" in which Todd sheds any pretense of holding back his bloodlust for revenge. Benoit balances Sweeney's vengeful nature with the pathos of a broken hearted husband and father.
Benoit's chemistry with his partner in crime is palpable and a delight to behold. Making Mrs. Lovett her own, with nuances and sex appeal I have rarely seen in the role, E. Faye Butler shines in the role of accomplice, lover, and partner for Benoit's Todd. Audiences should be familiar with Butler, a veteran of many Arena Stage productions for starters, but I have never seen her more in command of the stage.
The relationship between Butler's Lovett and Benoit's Todd shows a strong bond, albeit an unusual one. Butler's comic timing is impeccable, whether she is landing a pithy line of dialogue, a witty lyric or a slow take directly to the audience. After a little muddiness with her diction early on (during "The Worst Pies in London"), Butler's ample vocal abilities warm up to Sondheim's score.
As the innocent and childlike Tobias, former assistant to a rival barber, who becomes an assistant and surrogate son to Mrs. Lovett, Michael J. Mainwairing strikes a vibrant and ultimately haunted figure. His scene and singing with Butler during the memorable "Not While I'm Around" is a lyrical delight, easing the rising tension of the musical's bloody climax. The romantic young sailor Anthony is handled well by Jobari Parker-Namdar, who brings lyricism to both his singing and his acting as the lovestruck hero. His rendition of "Johanna" is a keeper.
——–

Want to go?

Sweeney Todd, the Demon Barber of Fleet Street

closes March 5, 2017
Details and tickets
——–
Another innocent bystander is Barker/Todd's lonely daughter Johanna, played with grace and clarity by soprano Gracie Jones, singing the role as lovely as I have heard in years. For once I did not want to slip out into the lobby while Johanna warbled "Green Finch and Linnet Bird," the character's paean to freedom that eludes her as the captive ward of the evil Judge Turpin.
By contrast, Thomas Adrian Simpson takes elegance and evil to new lows as the perverted and corrupt Judge Turpin, author of Mr. Todd's calamities. Simpson, dashing and tall, oozes power and perversion from every pore. The pleasure and pain he inflicts upon himself in the the Judge's seductively salacious "Johanna" would give Richard III pause.
Joining Judge Turpin in glorious villainy is his right hand man, Beadle Banford, played with a sense of danger and control by gifted actress Rachel Zampelli. Yes, I said actress – she made for a memorable Evita for Olney last summer. Perhaps in homage to the pants-roles and female travesty acts of the 19th century, director Loewith has Zampelli play the Beadle as a man, no tongue in cheek or winks in sight. It works beautifully, or more correctly, handsomely. Banford is a high tenor role anyway, and Zampelli's voice is used to great effect.
Injecting the show with a huge dose of chutzpah and panache as the pseudo-Italian (and probably pseudo-Irish) Italian barber Pirelli, Frank Viveros chews the metal scenery with aplomb while soaring to new comedic heights with high notes and high jinx as Sweeney's would be rival. The challenge scene between Todd and Pirelli – especially with Benoit's sense of control and Viveros' theatrical flair – must be seen to be appreciated fully.
Finally, the unexpected heart of this Sweeney Todd is the Beggar Woman in an achingly beautiful and complex portrayal by Patricia Hurley, seen most recently in the title role of Mary Poppins at Olney. The Beggar Woman is pivotal to the story and can often get lost in the spectacle and other machinations of the plot. Here, as directed by Loewith, Hurley brings to life the tortured and damaged soul of a homeless woman who never strays far from her actual home, a life stolen by perversion and greed. Hurley's presence as the Beggar Woman is haunting, touching and tragic.
The impeccable casting and vivid staging is fully complemented by the grand costumes designed by Seth Gilbert which immediately place the show into the London, in the mid-1800s, showing class distinctions and style galore.
Sweeney Todd, if it is a modern masterpiece as I consider it, has lost none of its bite at Olney Theatre Center, which has sharpened the razors and heated up the oven, offering a sumptuous feast for the eyes and ears, and, God, is it good? As Todd and Lovett sing, "it's too good, at least."
One final note: Sweeney Todd may not be for small children, owing to the grisly subject matter, adult content and salty language. Olney Theatre Center has created this handy parent's guide for Sweeney Todd, summing up the content and suggesting the show is recommended for ages 13 and up. Read the full guide here.
——————
Sweeney Todd, The Demon Barber of Fleet Street . Music and Lyrics by Stephen Sondheim . Book by Hugh Wheeler from an adaptation by Christopher Bond . Director by Jason Loewith . Featuring: David Benoit, E. Faye Butler, Kenneth Derby, Patricia Hurley, Gracie Jones, Jade Jones, Benjamin Lurye, Quynh-My Luu, Michael J. Mainwaring, Alan  Naylor, Jabari Parker-Namdar, Thomas Adrian Simpson, Adam Strube, Janine Sunday, Joseph Torello, Melissa Victor, Frank Viveros, Laura Whittenberger, and Rachel Zampelli . Music director: Christopher Youstra . Choreographer: Tommy Rapley . Scenic design: Milagros Ponce de Leon . Costume design: Seth Gilbert . Lighting design: Colin K. Bills . Sound design: Matt Rowe . Projection design: Zachary G. Borovay . Fight choreographer: Casey Kaleba . Production stage manager: John Keith Hall . Produced by Olney Theatre Center . Reviewed by Jeff Walker.