It is a bold writer who writes a history of the future. It is a bold writer who bathes his play in high Shakespearean language, replete with iambic pentameter and rhyming couplets. For doing both, can we say that Mike Bartlett is a man of brass?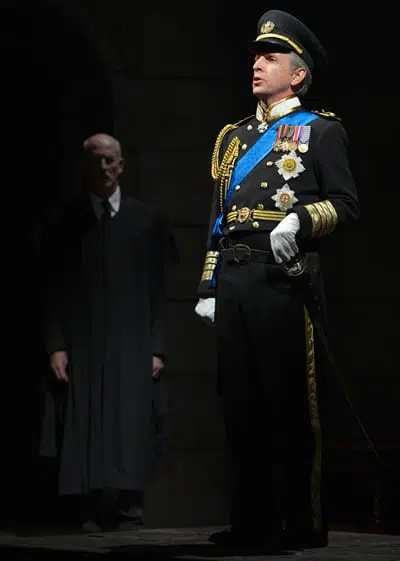 The ancient Queen is dead, and Charles (Robert Joy), now in his seventies, is finally in the job he has been trained all his life to discharge. He is the Monarch of Great Britain, inheritor of a thousand-year-old throne and King of a nation which was once Monarch to the world. But what is the King? He is about to find out, and so are we.
Since at least the time of King John, English political life has been characterized by a tension between the monarch and the people he governed. The best — Henry II, Edward I, Henry V, Elizabeth I — knew the limits of their authority, and led only to that point. The worst — Edward II, Richard II, Henry VI, Richard III — did not, and their reigns ended most unpleasantly.
By now, of course, the British monarchy has assumed the status of figurehead — except for this one thing. After Parliament has passed a bill, but before it becomes a law, the reigning Monarch must sign. And if he does not, the bill floats into some legal limbo, where it waits on His Majesty's pleasure indefinitely.
And so we have, in the very first scene, the story's central dilemma. Parliament, having had enough of Britain's gossipy Fourth Estate, has passed a bill sharply curtailing freedom of the press. (While Bartlett wisely does not describe the details of this legislation, he implies that courts could determine after the fact whether a published article justifies the jailing of the reporter or the editor). In the moments following Elizabeth's funeral, Charles meets with the dour Prime Minister, Travis Evans (Ian Merrill Peakes) and informs him that he will not sign the bill. "Take it back," Charles pleads. "Reconsider it."
And then…a Shakespeare history breaks out. Indeed, several of them:  Charles, both in his agonizing and in his steadfast belief in the duty and prerogative of Kingship, resembles Richard II (or perhaps the first Charles, who lost his head over his Kingly prerogative). Young Prince Harry (Harry Smith) resembles his six-hundred-year predecessor of the same name, except that instead of Falstaff and Bardolph and Pistol he has Jessica (Michelle Beck), who offers not mischief away from the Palace but true love, and stability. Camilla (Jeanne Paulsen), standing steadfastly behind her husband and directing ire both righteous and incisive at his foes, evokes Queen Margaret of Henry VI, Part 3 and Richard III. Another character could be the reincarnation of Lady Macbeth. There is a ghost.
The fictional characters are just as evocative. Watching the PM and the King volleying their fruitless exchanges back and forth, it is impossible not to think of historical Prime Ministers similarly gifted with limited imaginations (Gordon Brown comes to mind immediately).  And Evans' Tory counterpart, Mr. Stevens (Bradford Farwell), is as oleaginous as Cassius and as dark-hearted as Iago; he advises the King on how to defy Parliament, and then piously condemns him for doing so. Charles is advised on matters of public image by his longstanding retainer James Reiss (Dan Hiatt), who will remind you, I think, of John Gielgud in his role as Dudley Moore's long-suffering retainer in the original "Arthur".
The play is mostly in blank verse, but that ceases to be a distraction after the first five minutes or so, just as it is not a distraction in a well-done Shakespeare play. Instead, the nature of Shakespearean verse is that it distills emotion in surprising and pithy ways. When Charles says, "Without my voice and spirit, I am dust/It is not what I will, but what I must," we understand immediately that he believes that he was put on this planet to defend England from tyranny, regardless of its source. (The non-fictional Charles frequently writes letters to Members of Parliament, commenting on legislation he considers important.)
The magnificent production values help considerably. This is probably the best-produced work I have seen at STC since Edward II, back when Harman Hall was an infant, and is an immense credit to Director David Muse. The actors playing the royal family, including Prince William (Christopher McLinden) and Duchess Kate (Allison Jean White) bear a startling resemblance to their real-life counterparts. The stage is bathed in magnificent music, from the opening funereal strains of the chorus through the coronation at the climax of the play (Mark Bennett does the sound design).
Daniel Ostling's set sells itself immediately as an ancient keep refurbished for modern use; statues of three long-dead Kings overlook the action, giving it gravity. (The one in the middle looks like Edward III and the stage directions indicate that the one stage left is William IV; I don't know who the other one is). The royal family, sparing in its use of words, frequently communicates through dress; costume designer Jennifer Moeller understands that, and the actors are attired both beautifully and appropriately.
——–

Want to go?
King Charles III

closes
March 12, 2017
Details and tickets
——–
Though the play provokes laughter, especially in the early going, it is mostly from the fish-out-of-water experience of hearing modern and mundane things — toilets, cell-phones — in high Shakespearean verse. But Bartlett set out to write a tragedy, and did so, and by the time Charles precipitates a constitutional crisis at the end for the first Act, we are in its grip.
The cast is exceptionally strong, but the play puts special obligations on the actor who plays Charles, and Joy renders him beautifully. He gives us a man who is prepared to sacrifice himself to principle, and so is heroic; but who misunderstands who he is in history (at one point, his stubborn insistence that the spirit of Britain is imbued in him, and he must therefore prevail, seems identical to Richard II's belief that God will send His angels to defend him against the usurper) and thus is tragic. It requires a fabulous actor to pull this off; fortunately, STC has one in Joy.
McLinden and White, as the newly-installed Prince of Wales and his bride, play crucial roles in the play's development; and they render their character's own burgeoning development, both personally and in relation to Charles beautifully and realistically. The excellence of the cast reaches down to the actors playing multiple, smaller roles; Tim Getman is particularly strong as the Speaker of the House of Commons and as the man in charge of the Palace military detail.
The only quarrel I have — and it's not a small one — is with Smith's portrayal of Prince Harry. He proclaims himself with a hoarse, slow bellow; as he moves from event to event he appears to be blundering; and it is thus harder to take his dilemma seriously. I hesitate to lay this at the feet of Smith, a veteran Equity actor with international experience; it seems more particular to the way the production is currently conceived. (The West End production had Harry played as a drunk.) But the role — which admittedly has some comic elements to it — is not a comic one, but on the whole tragic. Harry's dilemma, like Prince Hal's, is real and relatable, and its resolution, like Hal's, is heartbreaking.
King Charles III is faux-Shakespeare, but it is honest and worthy faux-Shakespeare, as, for example, David Greig's brilliant Dunsinane was two years ago. And here is a way that Charles III is in no ways faux: as Shakespeare frequently did, Bartlett here shows the limitations of democracy. It has been a long time since we took regency seriously, but as the people in their passion err, here and elsewhere, we have cause to reconsider our enthusiasm for the alternative.
——–
King Charles III, by Mike Bartlett, directed by David Muse (Associate Director: Sivan Battat), featuring Robert Joy, Jeanne Paulsen, Christopher McLinden, Allison Jean White, Harry Smith, Dan Hiatt, Ian Merrill Peakes, Rafael Jordan, Jefferson Farber, Michelle Beck, Bradford Farwell, Chiara Motley, Tim Getman, Yesenia Inglesias, and Matthew Aldwin McGee. Scenic Design: Daniel Ostling . Costume Design: Jennifer Moeller . Lighting Design: Lap Chi Chu, assisted by Alex Fabozzi and Catherine Girardi . Sound designer and composer Mark Bennett (Associate sound designer: Charles Coes) . Stage Manager: Joseph Smelser, assisted by Elizabeth Clewley . Produced by American Conservatory Theater . Presented by Shakespeare Theatre Company . Reviewed by Tim Treanor.