"This role — and this play — lifts off the Earth. It flies in a certain way. It's such a great role and a great play." Robert Joy, who has had a remarkable career in theatre, film, and television, was talking to me about his title role in King Charles III.
The Queen is dead, and Prince Charles has ascended the throne. Shakespeare Theatre Company's just-opened production of the award-winning play by Mike Bartlett comes to town after runs in Seattle and San Francisco, with a cast led by Joy.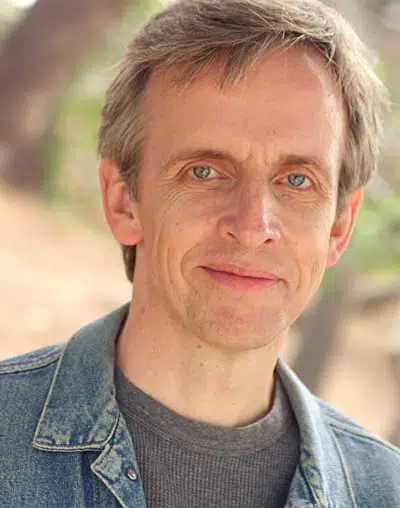 To begin, I asked Joy if he has worked before at any of the three companies who have joined forces on this production of King Charles III.
"No, but I have had several conversations with Carey Perloff over the years, and she has offered me roles that I was unable to take. So the first call I got about this role was from her: would I be interested? I read the play and I said, 'Absolutely.'" (Perloff is Artistic Director of San Francisco's American Conservatory Theater. Seattle Repertory Theatre is the third partner.)
"And then I had a meeting with [the play's director] David Muse, and that went very well. So I ended up with the offer for the role." (Muse, Artistic Director of Washington's Studio Theatre and former Associate Artistic Director of STC, recently directed Bartlett's play Cock at Studio.)
"You know, my agents put a little pressure on me (not too much) to consider staying in New York, where I can get maybe more television and film, but I said it was the role of a lifetime, and all three cities where it's going to play are cities that I'm interested in working in. So rather than thinking of it as keeping myself out of the market for seven months, I thought of it as if I was introducing myself to three fascinating markets. And I feel vindicated in that choice, because it's been a fabulous experience, and all three cities have been a pleasure to be in and work in."
I asked Joy whether he had previously seen the play. "No, so it was a revelation to me. I didn't see the production on Broadway that was nominated for a Tony and won the Olivier award. Which is probably a good thing, because I could come at the material freshly and interpret the role in a way that wasn't influenced by other performances."
I asked whether Joy's attitude toward the play's subject has changed since he began working on the part. "My attitude to Charles has changed, partly because of the text of the play, but partly because of the research I did: watching YouTube videos of Charles, and learning about the Prince's Trust, and about his passion for gardening and other things. My impression of Charles was based on very little information before this experience.
"I'd been aware of the scandal surrounding Diana, and the public turning-away from Charles based on that. There was a sense when I was growing up that he was a bit of a laughable figure, as a young man, that he was awkward or something. But these were all uninformed impressions. There's nothing like information for maturing one's impressions of famous people.
"So my impression of Charles has changed enormously. I had no idea how proactive he was, how informed on various subjects. And the revelation that he writes all these hundreds and hundreds of memos every year — I think they're called 'The Spider Memos,' because his writing looks like spiders. I was very impressed that he takes the time to let his opinions be known on a wide range of subjects."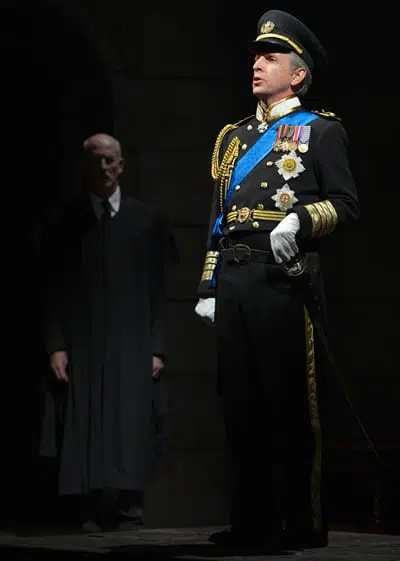 It sounds as though Joy now regards Prince C as a more admirable figure than he had before playing him. "Certainly more substantial. You know, when you get all your impressions from gossip — second- and third-hand — you don't really form a realistic impression. When I started to get a more realistic impression of him, I was certainly struck by his admirable qualities."
There's a sense in which Charles has had one of the longest "on-deck, in-waiting" experiences in history. Does that inform the character that Joy plays? "There's an important line early in the play that says, 'My life has been a'lingering for the throne.' And he feels that just after his Mother's funeral. But he hasn't been sitting around lingering, in the sense that he's twiddling his thumbs and simply waiting. He's been informed and active, very involved, and making contributions to the world, more than we used to expect of the royal family.
"We've come to expect that the royal family are figureheads who cut ribbons and say nice things and are Ambassadors from England around the world. He is that, but he is more.
"But I think I've gotten off the subject. Your question was, 'Does that sense of him waiting around for a long time inform the play?' It most certainly does. Because he's been waiting for so long, there's a kind of pent-up psychic energy that explodes in the play. In a very British way." (Chuckle.)
"You know, he's been waiting so long, and he wants to do everything right. But he wants to 'do.' He doesn't want to sit back or rubber stamp. He has things to do. He repeats that a couple of times. It's his calling. He has things to do. And that doesn't necessarily make for an easy transition."
In a sense, Shakespeare used his history plays as a caution to the absolute monarchs of his day: rule admirably, and history will remember you as we remember Henry V; rule corruptly, and it will remember you as we remember Richard III.
What does Joy think Bartlett is trying to say to the Prince, or to his subjects, with this play? "Gosh, that's a very interesting question. First of all, Shakespeare, if he were going to advise or criticize a monarch, would have to be very, very subtle about it. He'd look at Julius Caesar from centuries earlier and say, 'Take a look at these characters, and how they're acting, and how complicated and difficult it is to make progress. When you think you're a reformer, are you actually a murderer?'
"He could bring that up in kind-of a coded way. And his plays about the actual figures that are British, that everyone would know, were propaganda. Richard III has nothing to do with the actual King Richard III. It has to do with justifying Henry Tudor, who was Queen Elizabeth's Grandfather, basically conducting a coup.
If I hadn't done CSI: New York, I wouldn't have been able to have the rich theatre career I've had subsequently.
"Now, Mike Bartlett had a very different agenda. For one thing, he has no pressure on him to sugarcoat the royal family. On the contrary, he casts a very skeptical eye on the royal family. This is not the kind of royal family worship we're used to from Anglophiles in America. And it's not the kind of gossip-mongering that we're used to from the tabloids. It's something else.
"It is a cautionary tale, to be read by everybody, but certainly by Prince Charles, to say, 'What happens if you exercise the power that's there for you to exercise, and ignore the protocols that have built up over the centuries: that the King defers to Parliament; that the King defers to the democratic process?' Because if the King decides, for very good reasons of principle and rectitude, that he will not go along with the democratic process, what happens then?
"So it's a cautionary tale, not just for Prince Charles, but for the United Kingdom and for democracies everywhere. It's about the consequences of stubbornness, the consequences of failing to compromise."
We spoke on a day when newspapers were reporting the U.S. Executive Branch's conflict with the Judicial Branch. "Yes, there's a good example. And there were examples before that, and there'll be examples after that. But, certainly today, this morning, as we're talking — that is right in the bailiwick of the play we are doing. In a democracy, there has to be communication. There has to be a project that both sides of an argument have: to reach a solution. Not just to win the argument. So what happens in the play, the process breaks down, the process of 'let's all cooperate to find a solution.' And the consequences are dramatic. The consequences of that breaking down in our actual democracies are alarming."
Tim Treanor reviews King Charles III
The play is written in blank verse and alludes to the plays of Shakespeare. I asked whether Joy feels more as if he is playing a classical role or a contemporary part.
"It has several of the satisfactions of a classical role. It's language-rich. It has an advantage over, for example, a Shakespeare play, in that the poetic language is immediately understandable by everyone in the audience. [Chuckles.] So you don't feel like you're trying to emphasize in a certain way, or trying to layer-in the footnote, which sometimes is the subtext of your performance if you're doing Shakespeare. Sometimes.
"And having played Prospero — I loved playing Prospero. It's an amazing role. It lifts off the Earth, you know what I mean? And playing Charles is the closest thing I have felt to that experience since, because of the iambic pentameter and the high stakes of the play, both politically and personally.
"Because, remember, this play is not just a political play; it's a family play, like the greatest of Shakespeare's history plays. If you look at Henry IV, Part One: you've got a political crisis, but you've got a family crisis, and they're so connected. I have a line to my son William in the play: 'You cannot make distinction 'tween the two.' You know, they're bound up."
I asked how big the cast is. "There are fifteen of us up on that stage." Were all fifteen in all three cities? "No. What happened was, there are twelve of us who go to every theatre, and there's three people that we re-cast in each place. And so there's a fresh component as we move. New things came up in Seattle and have come up again in Washington; new, fresh outlooks in those scenes where those new people are involved. And it is a trigger for us to re-explore the whole play, really, thanks to David Muse's open mind, and we continue to explore the potential of every moment in this play."
It was just a couple of seasons ago that Joy was in town, playing Sir in Side Show. I asked if that had been his first time doing a run here. "Yes it was. That was a great time. We had a rehearsal period in Washington. It was my very first time in the city, and it was like opening presents on Christmas morning. Every day was some new delight. So, to come back here is a gift, and I can pick up where I left off, in a way.
"The only frustration is, I can tell that Washington is a great theatre town, but now I'm on a theatre schedule, an evening schedule, so it's very hard for me to see things. I've seen a couple of things since I've been here, during the brief rehearsal period. But I'll have to come back separately and just have a theatre week here."
Back in the early/mid 80s, Joy had a series of film roles that were the envy of many a young actor. He played the title role in Desperately Seeking Susan. (Not Susan, but Jim, who was the person who was desperately seeking Madonna. So I consider that the title role.) And he worked for some of the greatest European filmmakers of that generation: Louis Malle on Atlantic City; Miloš Forman on Ragtime.
"What happened was so unexpected and un-looked-for. I was having a good life as an actor in St. John's, Newfoundland. Then I had a chance to audition for a production of The Diary of Anne Frank in Toronto. Eli Wallach and Anne Jackson were playing Mr. and Mrs. Frank. I auditioned, and they invited me to play Peter. And before I know it, really, I'm in New York, off-Broadway, playing The Diary of Anne Frank with Eli Wallach and Anne Jackson and a wonderful cast.
"I'll never be able to thank the Wallachs enough for that un-looked-for and life-changing experience, because that put me in the market immediately for — that film Atlantic City, for example.
"Eli had done one of John Guare's plays. John Guare saw me as Peter and said to Louis Malle, when they were casting Atlantic City [Guare wrote the screenplay,] 'You've got to see this young fellow,' and that's how I got that part. And one thing led to another, and I suddenly found myself so lucky. And it's almost unfair, I feel like, in a way, to all those people who go through acting school and are waiters for years and struggling and struggling, for me to step into New York with a beautiful role and a beautiful production, get great reviews, and then, 'Okay, here I am.' It's an unbelievable gift. Never grateful enough."
Joy's film career involved working with some legendary movie stars. (Yes, even more legendary than Madonna.) Atlantic City featured a career-topping performance by Burt Lancaster. Ragtime saw James Cagney (who became a major star about twenty minutes after movies introduced sound) come out of a twenty-year retirement to lead the all-star cast of Forman's film from E. L. Doctorow's historical novel. I asked what it was like to work with living legends.
"The first experience I had that way was with Eli Wallach on-stage. I'd been an admirer of his work on film, mostly from a film that I saw called A Tiger Makes Out, and I thought, who is this fabulous actor? He's so passionate and funny; there was tragedy and comedy in the same person. I found myself working with him in The Diary of Anne Frank, and I thought, 'How am I going to ever feel like a colleague?' But that feeling, that reverence and awe, can't last in the work process. It disappears. You become a colleague of these people, because you have to. Because you're working on a project together.
"This happened with Burt Lancaster, too, in Atlantic City. We had scenes together — and he wants that scene to work. He was so generous. And James Cagney — I didn't have as much screen time with him, barely a second, really, but the same thing. We see them as superstars, and elevate them to this God-like status, and they deserve it, but when you're actually on the set with them, or in the rehearsal hall with them, those roles of acolyte and God don't work. [Laughs.] And you become a coworker, whether you want to or not."
Joy aged from ingenue into character actor. Later film roles include a memorable scene in Longtime Companion, and a part in the notorious flop Waterworld. He also enjoyed roles in classics of the horror genre, working with its leading lights George A. Romero (Land of the Dead) and Wes Craven (the 2006 remake of The Hills Have Eyes).
Joy's standing as a "go-to" character actor led to his inclusion in the documentary That Guy…Who Was In That Thing, which interviews several actors most audiences can recognize but not always identify. That film dealt with the pressure on actors to take the highest-paying gigs in order to make ends meet, but doesn't deal as much with the counter-impulse toward finding work that is artistically rewarding. I asked Joy to talk about that balance, in the context of his own financial brass ring, as a series regular on a hit TV show.
——–

Want to go?
King Charles III

closes
March 12, 2017
Details and tickets
——–
"If I hadn't done CSI: New York, I wouldn't have been able to have the rich theatre career I've had subsequently. Because in the past three or four years, I've had role after role after role that have been roles of a lifetime, you might say. Every time I get one, I think, 'Oh my God, I'm getting to do Prospero. Or I'm getting to play Charles in King Charles III.' And those things wouldn't be possible if I didn't have the financial pressure taken off my shoulders by CSI: New York. Some of them would have been possible, but you would really have to pick and choose. And in my pre-CSI: New York life, it was a much more challenging balancing act, where you'd have to turn down certain things because they just wouldn't pay your rent. But now I can go where my heart and head tell me is the richest experience.
"I don't mean to say that the television and film work isn't as rewarding artistically. I hope I didn't give that impression. But for a character actor, the roles that you get are almost, by definition, smaller."
To wrap up, I asked about roles he'd like to play in the future. "I've always wanted to play Richard III. One of these days, I'd like to play Lear. But I don't have a big bucket-list of roles. I think there's a role that's not been written yet that's gonna be another role of a lifetime.
"For now, it's hard for me to imagine a role that I'd want to do more than Charles. Charles is kind of an apogee for me right now. It really does feel like the role of a lifetime. And I'm going to savor every chance I get to do it, and then look for chances in the future to do it again. I can't imagine, when this is over, in mid-March, that I'm going to say goodbye to this role. I hope it's going to be done many places around the world. And I hope I'm part of it."