"We are at Church; the Minister (William T. Newman, Jr.) is about to preach the Gospel of Oedipus at Colonus, in the final years of his star-crossed life. He is a human tank of a man; deep-voiced and resonant; his voice is crisp with authority but softened by the nature of the thing he is about to reveal."
Oedipus, abandoned as a child and now an adult, traveled one day to Thebes. There he met a quarrelsome old man. They fought, and Oedipus killed him. When he arrived in Thebes, he learned that the King, Laius, had died and that the city was at the mercy of the Sphinx. Oedipus confronted the Sphinx, answered its riddle, turned it away and returned to Thebes. The people received him as a hero. He married the King's widow, Jacosta, and became the new King. Together they had four children.
Years later, they discovered that Laius was Oedipus' biological father, and Jacosta was his mother. Oedipus' daughters, Antigone and Ismene, were also his sisters; his sons, Theseus and Polyneices, were his brothers and his betrayers. When Jacosta learned this, she hanged herself. Oedipus found her body and cut her down. Then he removed the pins from her clothes and plunged them into his eyes, again and again, until he was bleeding and blind.
———————–
Do you ever wonder what would have happened if we had kept the old gods? The concept of divinity sprang from a human desire to bring order and reason to the chaos of our lives, but different peoples took different approaches. The God of Abraham was stern but just; and the calamities which the Jewish people experienced were the just punishments of a society which had internalized its disasters. But to the Greeks, there was no logical explanation for plague, famine, drought or any of the miseries which routinely afflicted our distant ancestors. So their concept of divinity was that it was capricious, and that the gods tormented humans for their own amusement. After all, what is the purpose of caprice, if not to be cruel?
As the human condition improved, we began to think more softly of divinity; the gods were not merely cruel or even just, but merciful. The rise of Christianity and Islam (which calls Allah the "All-Merciful") shoved aside the old gods, and the old legends, in favor of stories of a god who walked among men, and loved them. But maybe if the old religions had been more flexible, and nimble enough to meet the needs of their peoples, they would be around today, recognizable but different.
And maybe the story of Oedipus would have become The Gospel at Colonus. Lee Breuer's genius idea was to take the middle story of Sophocles' Theban cycle — Oedipus at Colonus — and recast it as a Gospel musical in an African-American church. The result is now being given buoyant performance at the Gunston Arts Center by WSC Avant Bard.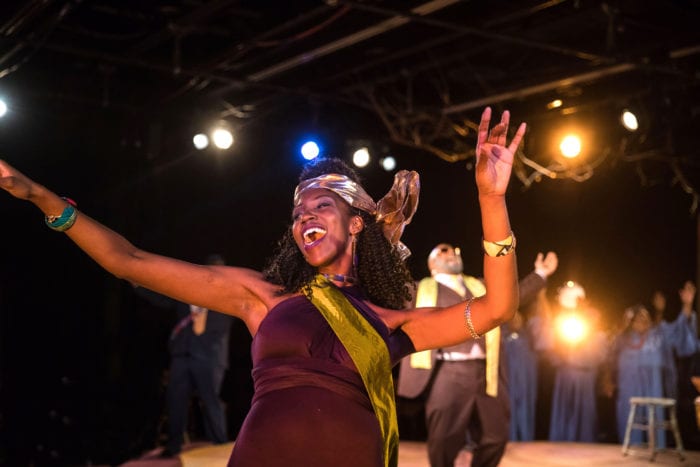 We are at Church; the Minister (William T. Newman, Jr.) is about to preach the Gospel of Oedipus at Colonus, in the final years of his star-crossed life. He is a human tank of a man; deep-voiced and resonant; his voice is crisp with authority but softened by the nature of the thing he is about to reveal. As he tells the story of Oedipus, damned to ceaseless wandering after he comes to realize his offense, a member of his Congregation (DeMone) becomes Oedipus, tapping his way with a huge thick stick, sister-daughter Antigone (Tiffany Byrd) at his side. He has reached the sacred groves of Colonus, outside the gates of Athens.
And then the world bursts out into song.
——–

Want to go?
The Gospel at Colonus

closes March 26, 2017 
Details and tickets
——–
In "The Secret Life of the American Musical," theater executive Jack Viertel writes, "Unlike in any other kind of story, the characters in musicals keep interrupting themselves to burst into song. They dance, they leap, they speak one line and sing the next; they convey what's in their brains in dialogue; they turn what's in their hearts into melody and movement."
What's in their hearts at this moment is "Live Where You Can," a vagabond's ballad turned into a joyous hymn of praise to life's opportunity: everywhere you are, you are home. The cast, joined by The Women's Ecumenical Choir (Becky Mays Jenkins, Minister), sweeps the stage; the brilliant e'Marcus Harper-Short creates a symphony on his keyboard, and we realize in this ecstatic, extended piece that Oedipus, hero, king and exile, has discovered the apotheosis of his eventful life: he has found a place to rest.
Listening to this hymn to the human experience, you could be forgiven for thinking that Breuer discovered an old gospel song and adapted it to his play. You would be wrong, though. Breuer and composer Bob Telson wrote this song themselves, as they wrote the play's other seventeen songs. Some of them – I'm thinking of "Numberless Are the World's Wonders", "How Shall I See You Through My Tears?", "Lift Him Up" and "Now Let the Weeping Cease", but you can pick your own after you see the show — are indistinguishable from church music. This is not only because they use the same complex harmonies and soaring riffs that gospel music does; it is also because, like gospel songs, these songs take the quotidian moments of our lives and reminds us of how miraculous they are.
Breuer doesn't rewrite Sophocles. Oedipus is joined at Colonus by his long-lost sister-daughter Ismene (the excellent Ashley D. Buster); he falls under the protection of Theseus, the King of Athens (A. J. Calbert); and his son Polyneices (the basso profundo Greg Watkins, a "smiling villain" if the term ever meant anything) comes, unsuccessfully, to secure his blessing in his battle with his other son, Eteocles. (Oedipus had abdicated in favor of his two sons, who were to rule in alternate years. Eteocles assumed the throne and the sons promptly abandoned their father. At the end of his year, Eteocles refuses to give up the throne, and Polyneices is now gathering forces to go to war.)
Jacosta's brother, Creon (Harper-Short), comes to Colonus to entice Oedipus back to Thebes, where he hopes the old king will bestow his blessing on Eteocles. But Creon has a more sinister agenda, which Oedipus susses out. It is remarkable to watch Harper-Short in this role, for until he steps out from behind the keyboards the stage is awash in passion; the characters overwhelmed by feelings of grief, joy, fear, and anger. Creon, though, is all calculation. You can see it in the cautious way Harper-Short tiptoes through the sacred groves; in the slight hesitation in his speech; in the pursed lips and poker face he displays as the townspeople repeat Oedipus' accusation. You do not know what he is plotting, but you know he is plotting something, and when he strikes you can guess that eventually this man becomes King (as he does, but not in this play).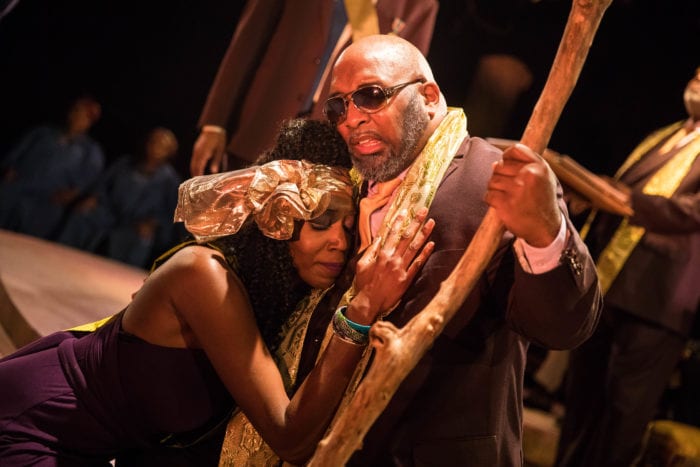 What Breuer and Telson have done with Oedipus at Colonus is to explore its understated moments, and mine them for optimism and grace. What appears to be a bleak tale in Sophocles' telling (or what survives of it) is rethought and reiterated with insight and compassion. It is mostly music, and thus, in Viertel's analysis, the story of what is in the human hearts of the characters to desire and understand. It is not a religious story, but we walk away understanding that human beings are more than just animated meat.
I've recommended the work of a couple of the performers, and will praise another, but this is a choral piece — an ensemble work in which every contribution is important. So please note that every performance is first-rate, including the high-tenor Chauncey Matthews as a balladeer, and the chorus and choir.
DeMone, whose well-rounded and resonant tones are so specific that they almost have an aroma to them, has an astonishing capacity to act while singing. A fine actor will have the full range of emotional responses; but DeMone displays them in song. He sings angry, he sings lonely, he sings joyous, he sings courageous. He has a wide vocal range, and a wide emotional range, and his vocals have a wide emotional range. He is superb.
Breur and Telson leave it to the director to represent the play's own heart in the ending; something happens to Oedipus, but they are not specific as to what it is. Nelson's choice — I dasn't tell you what it is — makes perfect sense, and does justice to this fabulous piece of art.
——————
The Gospel at Colonus, adapted by Lee Breuer from Oedipus at Colonus by Sophocles, music by Bob Telson, lyrics by Lee Breuer and Bob Telson, directed by Jennifer L. Nelson, musical direction by e'Marcus Harper-Short, chorography by Sandra Holloway, featuring William T. Newman, Jr., DeMone, Tiffany Byrd, Ashley D. Buster, A.J. Calbert, e'Marcus Harper-Short, Greg Watson, Chauncey Matthews, Brandon Mack, and Rafealito Ross. Keyboards by Harper-Short; percussion by Abdou "ClearHandz" Muhammad. Scenic and properties design: Tim Jones . Lighting design: John D. Alexander . Costume design: Danielle Preston . Sound design: Jason Schmitz . Stage manager: Keta Newborn . Produced by WSC Avant Bard in collaboration with Minister Becky Mays Jenkins and The Women's Ecumenical Choir .  Reviewed by Tim Treanor.