The air was electric at Kennedy Center Saturday night with the promise of a great fight mounted as opera on stage, and I had what amounted to ringside seats.  Champion clearly had some heavy hitters, headed up with a score by the great jazz trumpeter and composer Terence Blanchard and a libretto by award winning playwright and screenwriter Michael Cristofer. Sad to say opening night didn't even amount to a TKO. At best, it was a draw.
As I pondered, the production gave me an even greater respect for how difficult it is to bring all the elements together to make a successful opera.
The creative team had grabbed onto a great story. Several years ago, James Robinson, Artistic Director of Opera Theatre of St Louis, commissioned Blanchard to write a major jazz opera for the company.  While it was Cristofer's first operatic commission, the talented writer loves opera and certainly knows how to shape a dramatic tale.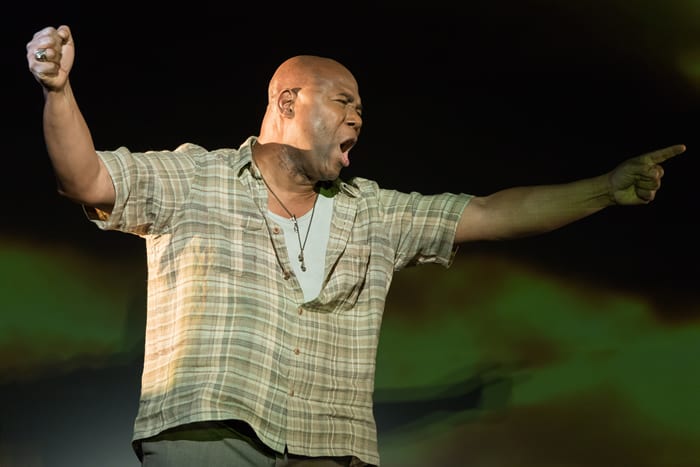 What could have been more compelling as an opera for our time than the story of Emile Griffith? As one of seven children, he had been abandoned by his mother and raised by a cousin who was determined to beat the devil out of him. He fled St. Thomas, coming as an immigrant to New York City, where he demonstrated early that what he had endured also made him strong. Although he started out pursuing his creative side as a hat-maker, he was picked up by Howie Albert, who could see there was a fighter in him and pushed him into boxing. Griffith ruled the ring in his class, winning something like eighty-five fights and becoming a world welterweight champion.
But the man had a secret. He was gay (or at least bisexual,) and in the macho world of boxing in the sixties this was not to be endured.  In the ring his opponent Benny "The Kid" Paret called him "maricón" ("faggot.") Griffith cornered him in the 12th round, and Paret took seventeen punches that put him in a coma. The man died ten days later.
Griffith goes on but is never the same, and in one historical incident becomes the victim of a hate crime, beaten up and left for dead by thugs as he leaves a gay bar. He suffers from dementia.  In the great line of the opera,  " I killed a man and the world loved me. I loved a man and the world wanted to kill me." (I have to ask, "Why would you not turn this line into an aria in true opera form?")
I take away some fine moments in the staging. I loved the opening where a handful of men worked out at a gym. Seán Curran managed to create a heightened reality, turning gritty routines and a lot of sweat into something swirling and choreographically compelling. While young fighters execute their warm ups, Principal Dancer Joe Orrach works his hand-eye coordination at a speed bag. There were cheers at the end of such a "smash" overture.
The use of projections by designer Greg Emetaz was terrific throughout the opera. Matching panels bordered the proscenium arch running the full height of the stage. Sometimes the screens carried us geographically from the colorful streets and poor shanties of Caribbean islands to the huge brown apartment complexes of New York City.  Other times they recorded fights and famous photos of Griffith throughout his career. My favorite was a black-and-white double picture of Griffith, each facing in as if staring at himself in a mirror. The image seemed to ask us to come behind the mask he was forced to wear.
The role of Emile Griffith was split between Arthur Woodley and Aubrey Allicock as the old and young Emile.  There was also a Little Emile played by Samuel Grace.  The triple physical presence, each taking turns looking down on their shared life, provided a powerful framing device. Woodley was understated but vocally and physically compelling, integrated details of physical deterioration caused by pugilistic dementia.
Allicock was impressive, especially in his scene confronting his mother. I also liked his work where he faced Peret in the big fight, a scene choreographed with slow motion and a kind of  "cover of Sports Illustrated" series of frozen pictures by Fight Master Joe Isenberg that was made all the more dramatic by Christopher Akerlind's lighting.
Act II brought us another strong scene where one Griffith is joined by another and then added to this was Victor Ryan Robertson as Paret. "In a cold coma on a sheet… the dark is all I got now."
Robertson's clear tenor voice gave us a strong operatic experience and his character work was a stand out as the cocky and homophobic Benny Paret. Frederick Ballentine as old Emile's caretaker proved moving with his growing conflicting feelings of frustration and gentle loving.
Blanchard's music has some great power and textures. I loved the addition of the jazz quartet – made up of Dan Hovey, Nathaniel West, Fabian Almazan and Jeff "Tain" Watts – to the traditional orchestra. Watts' percussion seemed to drive the opera with his complex rhythms that the singers were challenged to move through. There were moments when the brass kicked in that were riveting. Equally enthralling were some quiet moments, where a single instrument, an electric guitar or the double bass, accompanying a singer, gave an aria space, and formed a conversation of rich shimmering depth.
——–
Washington National Opera's
Champion


closes March 18, 2017
Details and tickets
——–
At other times, though, the music left me feeling let down. A clarinet doubling a singing part seemed an operatic cop-out.
For my taste, the libretto did not sufficiently support what seemed to be an experiment in integrating rap into a contemporary jazz opera. The rhymes were not sufficiently complex. At its worst, the rhyming came out like Dr. Seuss. ("I can make a hat. I can swing a bat.")  I felt also there was too much speaking on rhythm for the work to be satisfying musically as an opera.
There were a lot of other kinks opening night to be sure, and some of them will be worked out. But some seemed to expose deeper problems.
Wayne Tigges plays Howie Albert. The singer-actor was terrific in Dead Man Walking, so I know what he can do.  Ill on opening night, he bravely tried to sustain his work, but a young singer, Samuel Schultz had to take over and sing the role from the side of the stage.  Both singers should be highly commended for their courage and perseverance, but I missed the nuances that I knew Tigges would bring to the role.
The accident of fortune tipped me off to see another and broader problem: the unhappy split of acoustic and amplified sound that was chosen by the director. This is always a tricky argument between opera and Broadway audiences. Opera lovers prefer the "real" big sound of their singers while Broadway audiences have increasingly come to expect electronic instruments as part of the orchestral style which in turn requires heavily amplified aids to achieve balance.
A fight fan's take on Champion
This production hadn't integrated the sounds in a satisfying way so it came across as a show that hadn't decided if it was Broadway or opera. Directionality became an issue, and I got confused about who was singing.
Stylistically, some of the scenes made me wince. Meredith Arwady, a powerful operatic contralto, seemed to have been pushed into a belting Broadway "tits and ass" mama. In Tony Kushner's play Angels in America, there is a homosexual pick-up that is simultaneously desperate and funny. A similar set up involving the young Emile Griffith in Champion felt crude, the "sex duet" gratuitous.
Compounding the problem, the staging and lighting on opening night didn't help support the focus of the story.  Allen Moyer had created a beautifully functional set that should have supported this opera as it had for Dead Man Walking.  Instead, the elder Emile, staged to look down on his life from the second story bridge, felt too far upstage and often lit insufficiently.
Too much of this production got swallowed by the size of the Opera House.  A colorful St. Thomas street scene parade should have felt like a blast and instead seemed tentative. To my mind, a lot of the first act had some hesitation to it, as if the singers and orchestra were waiting for each other.
Finally we arrive at the performance of the divine Denyce Graves, one of my favorite sopranos and Washington's hometown girl. The librettist had loaded the Mother's lines to start with the punishable "aah" sound (as in "and") and it created a creaky glottal stop that permeated the aria "Seven Babies in the sun."  Was this intentional?
Blanchard had set much of her part to reveal a rich lower register but didn't let her high notes release and soar.  When finally Graves finally gets to sing a "real" aria, "Far Away and Long Ago" deep into the second act, I felt a rush of relief mingled with sorrow. Why had the score not let her do what she was born to do before this moment?
One moment needs to be mentioned which clearly belongs to Cristofer: we find the elder Griffith struggling with how to forgive himself for Paret's death. Cristofer has Griffith, the child and Griffith the young boxer ask the grieving man to forgive them for causing his sorrow. Absolutely stunning.
Nevertheless, my questions lingered as I left the hall. Was opera not the best form to tell this important story after all? Would a smaller scale have served the production better?Perhaps Cristofer felt the same way.  His play, Man in the Ring, covering the same subject, recently debuted in Chicago and was nominated for the Primus New Play Award.
Washington National Opera is presenting Champion in a pairing with Dead Man Walking.  This is admirable and so timely. Two shows, both about important issues for Washington and our nation.  Such works need to be part of the conversation, and I urge people to go see them.
———————– 
Champion. Composed by Terence Blanchard. Libretto by Michael Cristofer. Stage Direction by James Robinson. Conducted by George Manahan. Set Design by Allen Moyer. Costume Design by James Shuette. Lighting Design by Christopher Akerlind. Projection Design by Greg Emetaz. Fight Choreography by Joe Isenberg.  Hair and Makeup Design by Tom Watson. With Arthur Woodley, Aubrey Allicock, Denyce Graves, Victor Ryan Robertson, Wayne Tigges, Frederick Ballentine, Leah Hawkins, Meredith Arwady, David Blalock, Samuel Grace, Andre McLaughlin, Joe Orrach, Members of the Washington National Opera Orchestra joined by Jazz Quartet Dan Hovey, Nathaniel West, Fabian Almazan and Jeff "Tain" Watts. Produced by Washington National Opera at the Kennedy Center. Reviewed by Susan Galbraith