The women chant their lines over one another above a rising swirl of offstage clamor that reaches a crescendo pitch. Masha (Caroline Hewitt),—the most troubled of the three Prozorov sisters—begins to scramble up a tree like a cat as the scene goes dark.
Your typical Chekov this is not. From advent to finale, Studio Theatre's stirring production of the seminal Russian dramatist's Three Sisters carries a virulent and wholly unexpected streak of madness throughout.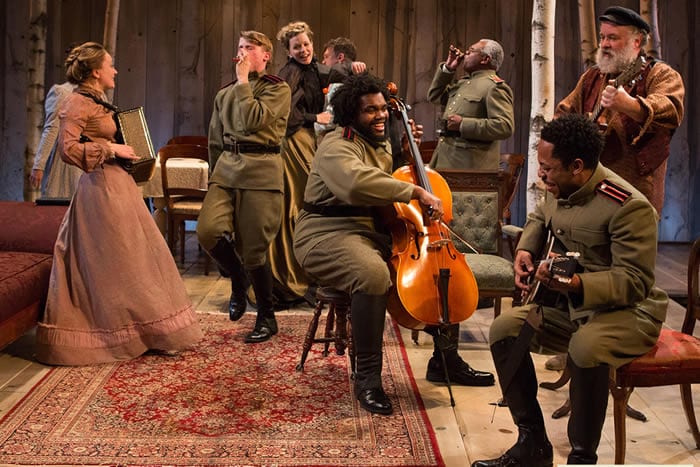 Taken in concert with Aaron Posner's world-premiere addendum-play, No Sisters, running in repertory (and simultaneously on weekends) in Studio's second floor Milton theater, it's Chekhov like you've never seen—bold, brassy, unhinged.
Enabled by librettist and Russian scholar Paul Schmidt's contemporized translation, the great naturalist's restrained sub-textual exploration of psychic disquiet is muscled to the surface and pressed to flower right from the get-go under Jackson Gay's direction.
Gay's lively, frenetic and surprising take on the cherished material opens with the senior of the titular sisters, Olga (Bridget Flanery) addressing Masha and Irina (Emilie Krause), the youngest—spit-firing her lines as if in a solipsistic seizure, and setting a beat in time which does not let up until Masha's final hallucinatory tree climb.
The drama of the three restless, unhappy young women living on the outskirts of Tsarist Russia just a few years before the imperial fall—their longing for salvation, and their groundbreaking modern urge to feel alive outside of their given lot among the soldiers and familiars who assemble at their home—is vibrantly and boisterously realized by Gay and the ensemble cast.
The characters gambol through each other's space, stopping here, flitting there, passing time and commenting on the passing of time with greater and greater stridency.
Admittedly, falling into the groove of Studio's rambunctious adaptation took a readjustment of expectations for someone attuned to the more subtle notes typical to Chekhov. Occasionally the tenor of the Chekhovian language and the contemporaneity of the action seemed out of sync, and characters sometimes expressed a casualness that doesn't quite jibe with the play's setting, but it is engaging throughout. Ironically, the festiveness of the gatherings—a birthday party, group dinner, extemporaneous singing and dancing—are all more believable in this production than the usual buttoned-up portrayals reverencing the father of realism.
Briefly, the sisters: Olga is the closest to the horror of spinsterhood, and piteously admits that she regrets not marrying someone, anyone, even an old man. Flanery gives the most classical performance of the three. Hewitt shows a great deal of range as Masha, alternatively melancholic and manic. If she is first presented as a kind of space cadet, she also radiates a tender girlishness and exhibits the peak of anguish for all three sisters. Finally, Krause's Irina begins the play wide-eyed and virginal, but gradually evidences a pathetic resignation with stolidity as time bears down upon her.
——–

Want to go?
Three Sisters

closes April 23, 2017
Details and tickets
——–
Kimberly Gilbert digs in to the pivotal role of Natasha, the local striver who labors to acquire what she wants—including Andrey (Ryan Rilette) the hapless Prozorov brother and the family home—while the titular women wrestle with their fading entitlement.
The supporting characters superbly fill in the mix, especially Craig Wallace as the boozy, existentialist doctor and Todd Scofield, the pedantic schoolteacher who insists he is a happy man despite his wife's resentment and infidelity.
Daniel Conway's set design is handsome and bright, incorporating the Russian birches so prevalent in the mind's eye when conceptualizing Chekhov's world. Jessica Ford's period costumes are finely rendered and the fluctuations in lighting calibrated by Jesse Belsky are splendid.
Studio Theatre's Three Sisters is a thrilling experience on its own, but doubling down to spend intimate time with many of the same characters in No Sisters (ideally on a weekend when you can see both the same day) is truly rewarding.
———–
Three Sisters by Anton Chekhov. Translated by Paul Schmidt. Directed by Jackson Gay. Featuring Ryan Rilette, Bridget Flanery, Caroline Hewitt, Emilie Krause, Kimberly Gilbert, Todd Scofield, Greg Stuhr, Ro Boddie, Biko Eisen-Martin, Craig Wallace, William Vaughan, Josh Thomas, Nick Torres, Nancy Robinette and Daven Ralston. Set design: Daniel Conway. Lighting design: Jesse Belsky. Sound design: Christopher Baine. Costume design: Jessica Ford. Stage manager: Keri Schultz. Produced by Studio Theatre and New Neighborhood. Reviewed by Roy Maurer.