Abolish all government funding for the arts and humanities? Eliminate the NEA? Seems inconceivable, yet that is what President Trump proposed in his budget sent to Congress. Hopefully it won't happen. Hopefully Congress will not accept this proposal and will at least maintain the minimal funding now in effect (spending on National Endowment of the Arts, The National Endowment for Humanities and the Corporation of Public Broadcasting last year totalled just $741 million in a 4 trillion dollar budget.)
But what if Trump wins the argument?  What do we, theatregoers in the DC area, stand to lose? To find out we asked local theatre companies, and have just posted the results.
Local theatre companies respond to threat of NEA shutdown
Yes, we would be facing fewer productions. Yes, with fewer resources, performers, directors, and designers will be impacted. Yes, we table the possibility of giving theatre makers a liveable wage. And, along with them, the teachers, trainers, and others who support their work.
Playwrights are responding to the Trump administration's policies. Robert Schenkkan (All the Way) has taken Trump's anti-immigration policy to its logical and horrifying conclusion with his new play Building the Wall. Forum Theatre has just announced that it will premiere it, along with four other theatres across the country, next month. Will such a response be even possible in the future?
Jason Loewith of Olney Theatre said in our article, "… it's not about the dollars.  It's about what the dollars say: that works like Hamilton and Angels in America and A Chorus Line and Fences – all brought to life by not-for-profit institutions – make such vital contributions to our nation's greatness that, as our government subsidizes soybeans and stadiums and interstate roads, so must it subsidize our cultural lives."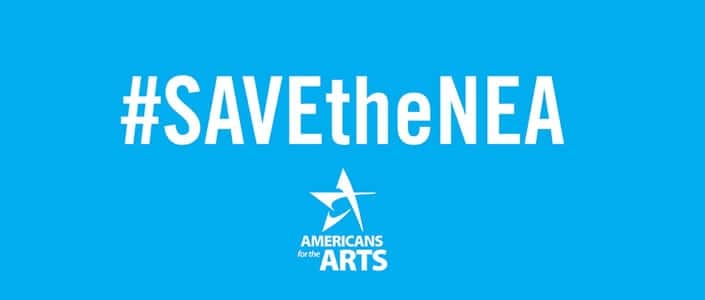 Eliminating arts funding to support military spending would speak volumes to the world about what our country values. Winston Churchill, when asked to cut arts funding to support the war effort, famously asked "Then what are we fighting for?"
It's time to take action.
Join us and many theatre companies in signing the petition to Support the NEA. And while you're there, the Americans for the Arts Action Fund has letters you can send to your representatives to show your support for funding the arts. Republicans and Democrats are beginning to speak out in support of the arts. Let them know you are with them.
On Twitter, check out #SavetheNEA.
And, may I suggest, make your action personal. When a play impacts you, when it adds to your life, when a performer illuminates something for you, let the producing company know. Yesterday, someone sent us a donation to thank us for our work. It was a surprise, and we were profoundly thankful and gratified. So don't wait to be asked. Simply send them a gift of thanks.