Against a backdrop of rising tribalism in the Western World, Theater J has selected a 2017-2018 season which explores the consequences of ascendant hate, particularly during the period of its greatest triumph in Nazi Germany.
Theater J will lead its season off with Sotto Voce, Nilo Cruz' (Anna in the Tropics) story about a man who investigates the history behind the S.S. St. Louis, a boat full of Jews trying to escape Nazi Germany which was turned away at every port at which it tried to land. His research leads him to an elderly, reclusive novelist whose lover was one of the people trying to escape — and who was instead returned to Germany, and the camps. "Cruz may speak with a soft voice in this play but he carries a bag of big thematic sticks — time, memory, love and its ability to survive and assert itself, in some fashion and at some level, against formidable obstacles," says Jeffrey Borak of the Berkshire Eagle.  José Carrasquillo will direct. The play will run from October 3 to 29, 2017.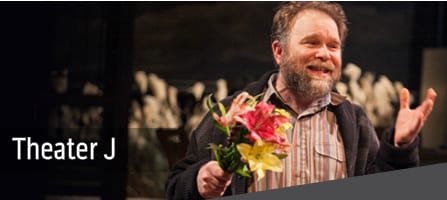 Then, from November 29 to December 31, Theater J will feature The Last Night of Ballyhoo, a Tony Award-winning (Best Play, 1997) effort by Alfred Uhry (Driving Miss Daisy). It is the story of an assimilated Jewish family in Atlanta preparing for a ball as Hitler invades Poland and the city readies itself for the premiere of "Gone with the Wind." But for the Freitags, the important issue is getting their frivolous niece LaLa married — and showing their contempt for the "other" Jews, whose families come from east of the Elbe. Penelope Taylor of TheaterJones calls it an "engaging romantic comedy." Amber McGinnis directs.
Theater J will start the new year with Simon Block's Everything is Illuminated, adapted from the Jonathan Safran Foer novel. A young man (named, incidentally, Jonathan Safran Foer) goes to Ukraine in an effort to find the woman who saved his grandfather's life from the Nazis. Jonathan, having virtually no knowledge of the land or its language, engages an eccentric old man and his equally eccentric grandson (as well as their eccentric dog, Sammy Davis Jr., Jr.) as his guides. "This is a thoughtful, nuanced piece of theater that takes a familiar theme and makes it at once strange and familiar. It is true to the specifics of its situation, but also reflective on the perils of memory, the longevity of regret, and the complex business of both acknowledging our inherent connection to, and asserting our independence from, whatever it was our relatives either did or did not do, far away and long ago," the Chicago Tribune said in an uncredited review. From January 11 to February 4; Aaron Posner directs.
So you think you know Dr. Ruth? Before she became the world's foremost grandmother/sex therapist, she was a Nazi escapee and a sniper in the Heganah for the infant Jewish state. Naomi Jacobson takes the title role in this one-actor Mark St. Germain (Freud's Last Session) play, Becoming Dr. Ruth.  "It's impossible not to admire Westheimer's resiliency and positive mental attitude as she makes her way," Marcus Crowder says for the Sacramento Bee. "playwright Germain gives it to us straight." From February 21 to March 18, 2018; Holly Twyford directs.
Theater J Artistic Director Adam Immerwahr will direct the next production, Karen Hartman's Roz and Ray. This play focuses on what should have been one of our greatest medical triumphs — the identification and manufacture of Clotting Factor VIII, an injection which allowed hemophiliacs to form blood clots when they are cut — but which became, because of AIDS, part of a great national tragedy. Clotting Factor VIII was a concentrated serum drawn from over 20,000 blood donations. Some of those donations were contaminated by AIDS, and so was Clotting Factor VIII. Roz is a physician who has worked with hemophiliac patients, including the two sons of Ray, who is bisexual. "In some ways, 'Roz and Ray' is a version of 'The Normal Heart' for hemophiliacs and, as such, it does us all a great service, especially in this moment of drastic political realignment," says the Chicago Tribune's Chris Jones. "For their suffering was our collective responsibility. And so it remains." From April 3-29, 2018.
Theater J wraps up its season with a world premiere: Lindsay Joelle's Trayf, which tells the story of a young man who manages to combine devout orthodoxy with a rock-n-roll lifestyle. But Zalmy must come to an accounting with himself during the 1991 Crown Heights riots. Benjamin Kamine directs this play, which will run from May 30 to June 24 of next year.
Theater J season subscriptions will go on sale April 15, 2017.