It took over 400 years for A King and No King to receive a DC area premiere.  Yet were authors Francis Beaumont and John Fletcher still alive, they would certainly be pleased with the Brave Spirits Theatre's fine production of their tragicomedy about a king's attraction to his sister. 
King Arbaces of Iberia (Brendan Edward Kennedy) has just won a lengthy war over King Tigranes of Armenia (Gary DuBreuil).  To solidify the conquest, he plans to wed Tigranes to his sister Panthea (Kathryn Zoerb), despite the fact that Tigranes is already engaged to Spaconia, an Armenian lady (Alison Talvacchio).
When the two men witness the comely Panthea, who Arbaces last saw when she was only nine, both men are smitten by her beauty.  Tigranes loses his loyalty to Spaconia, while Arbaces nearly loses his mind over the thought of another man being with Panthea.
Meanwhile, Arbaces has to deal with other problems and palace intrigues.  He learns that his mother Arane (Rebecca Ellis) has attempted to have him killed, but was foiled by the regent Gobrius (Darren Marquardt).
A King and No King is paired with 'Tis Pity She's a Whore as part of "The Incest Rep" of Brave Spirits Theatre.  It is the more light-hearted of the two plays.
The two plays have different perspectives.  In 'Tis Pity She's a Whore the love of brother and sister is established at the start and the threat of discovery and consequences looms large.  A King and No King's mystery has more of a classic romance comedy overlay, where the issues of "Will he act and how will she respond?" occupy much of the play.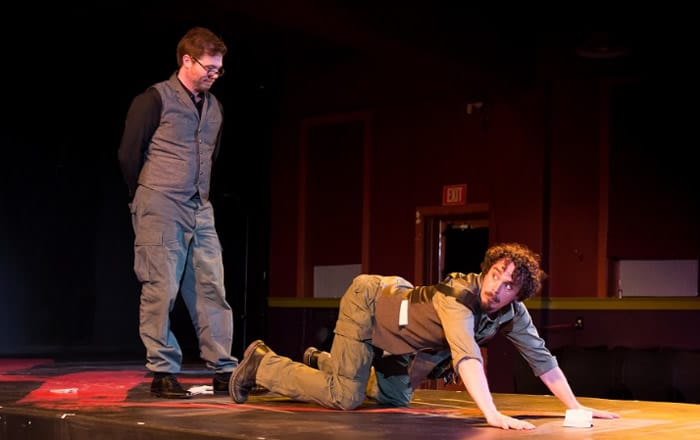 The plot of A King and No King is not very complicated (until a late twisty ending), so holding the audience's interest and making the play work requires a bravura portrayal of the troubled king.  Fortunately, Brendan Edward Kennedy is more than up for the challenge.  He provides an energetic and captivating performance of a man whose internal strife pushes him to behave oddly, especially towards his increasingly confused sister.
Shakespeare's not the only Bard: Charlene V. Smith of Brave Spirits
The play is presented on a plain dark thrust stage with minimal props and relies on the skill of the company to present the grand language in the intimate setting of Lab at Convergence without the comfort of artifice or distance.  Fortunately, the breadth and depth of the acting talent is impressive.
——–
A King and No King

closes April 23, 2017
Details and tickets
—
'Tis Pity She's a Whore
closes April 23, 2017
Details and tickets
——–
Director Cassie Ash excels at helping the actors demonstrate convincing relationships.  The discussions between King Arbaces and his confidant General Mardonius (an impressively strong Briana Manente) ring true.  Zoerb's Panthea quickly develops an almost sisterly bond with Talvacchio's sympathetic Spaconia when the latter pleads for the opportunity to marry Tigranes.  In turn, Tigranes' unhappy submission to the triumphant Arbaces shows the right degree of prideful competitiveness between the two men.
Another compelling aspect of Ash's direction is her ability to bring out the play's humor.  Most of it comes from a subplot involving a soldier named Bessus who left for the war with a reputation for cowardice but comes back as a vain braggart.  There is a wonderful scene where Panthea is worriedly inquiring about her brother's fate which Bessus uses as an opportunity to boast repeatedly of his own feats.
Bessus then has to face a community full of people he wronged before fleeing to war.  Ian Blackwell Rogers gives a sparkling comedic performance as Bessus, one that is far funnier than the role would appear on paper.  Other funny scenes involve Jenna Burke as the parent of Sporania as well as a scene involving a group of ladies dressed for a beach party excursion.
Both plays in "The Incest Rep" are worth seeing.  The more frequently performed 'Tis Pity She's a Whore is the superior work from a literary standard, but the higher balance of tragedy and the accompanying body count may not suit the taste of all audience members.
Brave Spirits Theatre's skillful production of A King and No King has many charms so take advantage of this rare opportunity to see one of the better examples of early modern English theatre this side of Shakespeare.
——
A King and No King by Francis Beaumont and John Fletcher.  Directed by Cassie Ash.  Featuring Jenna Berk, Danny Cackley, Gary DuBreuil, Rebecca Ellis, Erik Harrison, Lisa Hill-Corley, Brendan Edward Kennedy, Briana Manente, Darren Marquardt, Ian Blackwell Rogers, Alison Talvacchio, and Kathryn Zoerb.  Stage Manager: Deborah Gur. Costume Designer: Adalia Tonneyck.  Set Designer: Leila Spolter.  Lighting Designer: Jason Aufdem-Brinke. Music Director: Zach Roberts. Fight and Blood Director: Casey Kaleba. Dance Choreography: Alison Talvacchio.  Produced by Brave Spirits Theatre.  Reviewed by Steven McKnight.