You would expect a company which derives its name from a speech in Henry V to do a good job with the play itself, and by and large We Happy Few acquits itself well. But there are shortcomings in both the concept and the execution, and they prevent the production, now running in the Capitol Hill Arts Workshop, from being all it could be, or all Shakespeare intended.
We Happy Few sets out to do a proletarian Henry. "Henry's speeches are beautiful and rousing," director Kerry McGee writes, "but for me, it was never his play; it belonged to his old buddies from Cheapside….modern audiences have less in common with Henry, King of England, than we do with Pistol, Bardolph, and Nym."
The problem is that the Henry V that Shakespeare wrote is his play, which is why it's called "Henry V" and not "Pistol, Bardolph, and Nym." Moreover, modern audiences have little in common with Pistol, Bardolph, and Nym, unless the audience members are also belligerent drunks more likely to kill each other than to fight the enemy. (Such audience members should be seated in the rear, so as not to disturb the other patrons). Shakespeare was no friend to the common man, who, when he portrayed them at all, appeared as fools and bumblers (consider Peter Quince and Bottom from Midsummer Night's Dream, Dogberry and the Watch in Much Ado, or the rabble in Julius Caesar or Coriolanus.)
McGee could have told the story from the point of view of the Cheapside gang by rewriting it, à la Aaron Posner, but short of that the best strategy is to delete scenes which do not feature them. This is what she does, stripping Henry V to 90 minutes, with mixed results. Much of what is excised is mere excess baggage, but some cuts are to the bone, and make one of Shakespeare's less accessible plays even more inaccessible.
The problem is that Henry V, even as Shakespeare wrote it, is less a play than a celebration; Shakespeare was telling a tale every English schoolboy knew, about great Henry's victory at Agincourt, the high point of English history to that date. Shakespeare used Henry V to embellish the reputation of a national legend, much as Parson Weems used his "biography" to embellish George Washington's reputation with nonsense about the cherry tree and the silver dollar thrown across the Rappahannock. The details are not so clear to us, though, more than four hundred years later. And a production which stints on these details is a little hard to follow.
Let me address three important omissions briefly:
Salic Law. Henry really did have a legitimate claim to the throne of France. Their King Philip V died without male issue, and his sister, Isabel, claimed the French throne on behalf of her son, England's Edward, who soon became King Edward III. The French invoked Salic law — which says that the monarchy cannot pass through a woman — to bypass her claim, but, as Shakespeare's play noted, the French hadn't applied Salic law consistently in their succession. In the play Shakespeare wrote, Henry is first reluctant to go to war over this interpretation of Salic law, but when he sees that his nobles are all of one mind, he organizes for war. (This underscores a thought which persists throughout the Histories: that a King can lead a country only where it wants to go.) In this production, though, Salic law gets only a mention and no explanation, and it seems like a mumbo-jumbo excuse for a war Henry wants.
Death to Traitors. In Shakespeare's script, three traitorous aristocrats are brought before Henry, unaware that he has detected their crimes. Before he outs them, he asks for their opinion as to how he should punish a drunk who insulted him recently. The aristocrats unanimously vote for death, at which point Henry invites them to look at their "commissions" — which direct them to the gallows. In this production, the aristocrats, here reduced to two (Raven Bonniwell and Robert Pike), are not asked about the drunk, and so we lose an important point Shakespeare was trying to make: that Henry understood justice and mercy both, and thus was a more complete leader than those around him.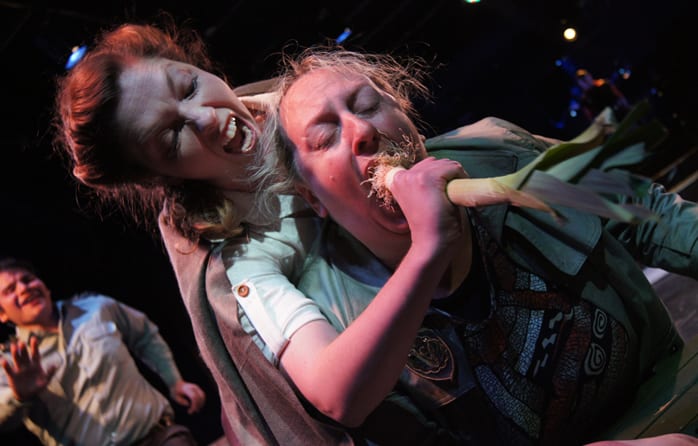 Speaking Freely. Henry has led his army into France, but morale is poor. The troops are malnourished and outnumbered, and there are mutterings and curses. Henry decides to disguise himself and move about his troops freely, to hear what they say about him. He gets an earful from a soldier named Williams (Josh Adams). In the Henry Shakespeare wrote, Williams is later brought before the King, and held to account for his utterances. Instead of punishing Williams, though, Henry gives him a glove full of money for his honesty. This later scene is excised from this production and, worse, Adams, playing another character, is brought before Henry's Court and condemned to hanging — leaving the distinct impression that it was Williams who was hanged; and thus making precisely the opposite point that Shakespeare made in his play.
——–

Want to go?
Henry V

closes April 29, 2017
Details and tickets
——–
All right. Other than that, Mrs. Lincoln, how did you like the play? It was pretty good, featuring two very fine performances and some excellent fight choreography from Lorraine Ressegger-Slone. CHAW has a tiny stage, and to make matters all the more complicated, people are seated on the stage to create a miniscule theater-in-the-round. Nonetheless, the production carries off several battle scenes convincingly if not with the total illusion of reality (nobody bleeds, and we can see the various punches and smacks landing short of their targets). What's more, you'll feel safe no matter how close to the action you are; the actors are measured and precise, as well as vigorous and explosive.
Kudos as well go to Adams, a fine actor who I wish Washington stages would utilize more. He is superb as the truculent, whiny Nym and even better as the Constable (a ranking French military position, not a policeman.) His detached demeanor and clipped responses, particularly to the self-aggrandizing Dauphin (Niusha Nawab) perfectly capture the mien of the professional soldier as he deals with amateurs with dreams of military glory. It is not an interpretation of this character that I have seen in previous productions, so all honor and glory to Adams and McGee for conceiving and executing it.
I must also note the superb performance of Natasha Gallop as Exeter and as the Boy, posted to the unit to which Pistol, Nym and Bardolph are assigned. In this production, Gallop burnishes her credentials as a classical actor: her crisp, ringing tones identify her as someone we can expect to see doing Shakespeare for the next – oh – fifty years or so. As Exeter, she radiates an older, Yoda-like presence; her measured cadences promising wisdom, and delivering. As the Boy, she was so affecting that when he was (spoiler alert) killed, it caused the audience in the production I attended to gasp audibly.
Beyond that — well, some things worked, and some things didn't. Accents were not entirely reliable; Bonniwell's Fluellen sounded more Scottish than Welch, and Riley Bartlebaugh's Montjoy's French accent had an Eastern European note to it. (Both actors performed well in other roles). Kiernan McGowan's Henry had the monarch's charm (Andrews Allen said that his eyes "flashed from the mildness of a dove's to the brilliance of a lion's") but little of his authority; when he means to be angry, he seemed merely petulant. The famous Crispin's day speech, the greatest in all Shakespeare (my opinion, but you agree with me) falls short; here, Henry begins it in an angry snarl, and thereafter cannot build the speech convincingly.  The company's decision to punctuate the last part of the speech with drumbeats seems to me misplaced; we know that Henry's speech has roused the nobles, but the drumbeats drown out the words, which are the most compelling elements of the speech.
It is hard to do Henry, and we should credit the company for its effort; it falls short of Shakespeare's intention, but in an interesting way. This is probably not the production for a novice to Shakespeare to see, (if you are unfamiliar to the play, you might want to read it first) but if you are at home with Henry V, you might find yourself challenged and provoked by this production.
———————-
Henry V, by William Shakespeare. Directed by Kerry McGee. Choreographer: Lorraine Ressegger-Slone . Featuring Josh Adams, Wickham Avery, Riley Bartlebaugh, Raven Bonniwell, Natasha Gallop, Kiernan McGowan, Niusha Nawab and Robert Pike (who also did sound design). Set design: Arnel Sancianco . Lighting design: Jason Aufdem-Brinke . Costume design: Liz Gossens . Stage Manager: Sam Reily . Produced by We Happy Few. Reviewed by Tim Treanor.