Is it sacrilegious to suggest that Easter was a good day to see The Magic Play, since the story of Easter, if true, is the greatest magic act in human history? I here use magic in its broadest sense: as the phenomena we, in all our well-honed rationality, cannot explain but which is true nonetheless.
Thus is it true that the four of diamonds, notwithstanding our efforts to conceal it in the middle of the deck, has somehow magically appeared at the deck's top; thus it is true that despite the fact that we are unlovable, and incapable of love, we find ourselves magically and helplessly in love with The Other, and The Other magically and helplessly in love with us; thus it is true that in spite of our sodden, fallen natures, our lives are magically redeemed, and we are in fact eternal creatures.
Why not? We crave magic as the salmon craves his upstream swim, since the unmagical reality of our condition is supernally unsatisfactory. When we go to the theater we enter the fictive dream, and thereafter imagine that love can conquer anxiety (Much Ado About Nothing), or that courage can prevail in the face of bigotry (Raisin in the Sun), or that a good man, armed with nothing but his ability to say no, can face down all the angels of heaven (Angels in America, Part II). Is this not the magic of theater?
This is how we experience magic, but what is it for the magician? To master his art, the stage magician practices audience deception for hours; to master their art, theater artists get MFAs from Catholic or some similar place, and thereafter work to be truthful while speaking words someone else wrote; to master his art, the lover learns to listen attentively as the beloved speaks, or to praise the beloved's new hair style, or the beloved's writing (always effective) when he would rather be watching the hockey playoffs on TV.
Is magic fake? Is it despicable? To explore this question, Andrew Hinderaker has written, and Olney Theatre has staged the rolling world premiere of The Magic Play, in which Jamie, a magician (Brett Schneider), in the midst of an impressive display of tabletop magic, reveals the failure of magic in his relationship with Daniel (a superb Jon Hudson Odom), an Olympic-class diver.
I don't want to gloss over the tabletop magic: Schneider is a first-rate magician, and if you came to the play expecting only a magic show (some in the audience, confused by the play's title, did) you would not be disappointed. I would say that the first third of the play is taken up by his magic act, which makes liberal use of people conscripted from the audience. But the magic is all in service to the play.
Here, I'll give one example: Jamie calls a young woman down from the audience. He asks her to shuffle a deck of cards and then to display the order of the cards (there is a video camera which streams what's on the tabletop onto the wall). Then, at Jamie's instruction, the young woman writes the name of someone important to her — someone with whom she could not live without — on the side of the deck. We all see the name. Then Jamie shuffles the deck, and the name melts away. The young woman's eyes begin to glisten (or perhaps this is an illusion, a trick of the light). At the last moment, Jamie taps the cards and — presto change-o! — the name reappears. And shortly thereafter we realize that Jamie cannot perform this trick in his own personal life.
Magic involves deceiving people to achieve an effect, but is it wrong to deceive to achieve an effect in a relationship? Is it manipulative to do unto others as you would have them do unto you, instead of expressing your true feelings? Manipulation and deception is second nature to Jamie, and it is what has put the stake in the heart of his relationship with Daniel. But can Jamie even follow another path?
To find out, he hunts down his father (Harry Winter), a much less skilled magician working in a crummy Reno casino. There, dad reveals that he is now unable to distinguish between his stage patter and his real thoughts. Is this the magician's Alzheimer's, waiting for Jamie when his time comes?
The point is provocative; the magic is excellent; and the acting is wonderful. Schneider, in addition to being a first-rate magician, is an Equity actor who creates a believable and understandable character: an anxious man who can calm himself only by completely controlling his environment. Schneider shows us a man with the weight of the world on his shoulders, convinced that he is only one misplay away from ruin in his career and his life.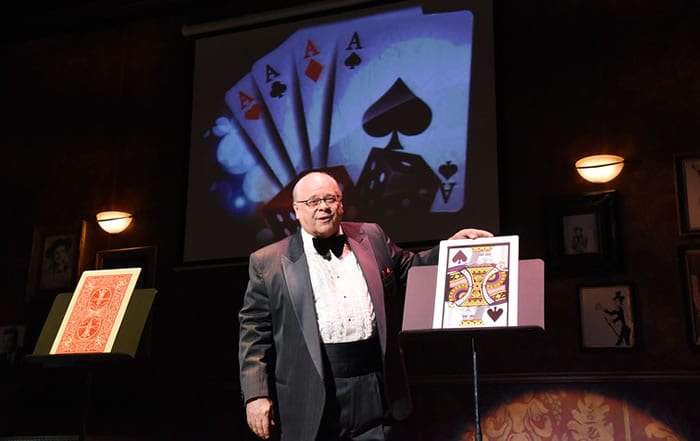 Odom's Daniel is his polar opposite; filled with the athlete's easy grace and self-confidence, he approaches life's obstacles with a sneer on his face, and even in the face of catastrophe, he is both calm and realistic. This is a difficult combination of characteristics, but Odom seems to have a patent on it. His Daniel resembles Belize whom he portrayed in the Round House/Olney Theatre co-production Angels in America, albeit in a radically different context.
——–
The Magic Play

closes May 14, 2017
Details and tickets
——–
And what can I say about Harry A. Winter that hasn't already been said? He is perfect in his brief scene with Schneider; his sloppy fake avuncularity radiating during his magic show, and his flop sweat showing afterward, when he and Jamie talk privately. I imagine one of the hardest things for an actor, who trains to be truthful all his life, is to be authentically fake on stage, but Winter has it down, to the play's benefit and the audience's delight.
So much in this production goes well, it's hard to notice how thin the play itself is. The first Act, after the close-up magic, is all done in retrospect; Jamie and Daniel talk about how their relationship began, and how it ended. It is like seeing a murder mystery where the culprit is led off in chains at the start of the play. What happens may be interesting — it is here — but there's no strong narrative question driving it forward. The second Act takes us on Jamie's journey of self-discovery; those who have been on such journeys know, however, that the trip will not be completed in a single Act and it isn't here.
—————
The Magic Play, by Andrew Hinderaker. Directed by Halena Kays. Featuring Jon Hudson Odom, Brett Schneider and Harry A. Winter . Scenic designer: Lizzie Bracken . Costume designer: Alison Siple . Lighting designer: Jesse Belsky . Sound designer: Matthew M. Neilson . Projections designer: John "Smooch:" Medina . Magic consultant: Jim Steinmeyer . Arial consultant: Sylvia Hernandez-DiStasi . Flying effects: D2 Flying Effects . Director of Production: Dennis A. Blackledge . Acrobatic training: The Actors Gymnasium . Stage manager: Elisabeth Ribar . Produced by Olney Theatre Center . Reviewed by Tim Treanor.